He used to threaten her with pistol, but cops paid no heed: Kin
Chandigarh, July 25
High drama was witnessed after the murder in the hospital when the victim's family created a hue and cry and accused the UT police of shielding the constable, who had threatened his wife with the pistol many a time in the past too. Infuriated relatives tried to break into the ward where the constable, Anand Kumar, was being operated upon when a huge posse of police was called in for security and the relatives were stopped from barging into the ward.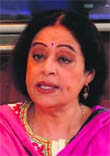 Kirron Kher seeks red beaconn
Chandigarh, July 25
Newly elected Member of Parliament (MP) Kirron Kher has sought red beacon, hooter and parking sticker for her car.Kirron Kher had written a letter to the UT Deputy Commissioner, seeking these facilities. The office of the Deputy Commissioner has forwarded the case to the Municipal Corporation for parking sticker and the UT traffic police for permission to use red beacon and hooter. A senior official of the UT Administration said they had received the request from the MP. But as per a Supreme Court order, an MP was not entitled to red beacon and hooter.
Secy gets additional charge
Chandigarh, July 25
After relieving UT cadre IAS officer Satya Gopal, the UT Administration has given additional charges of the Secretary, Food and Supplies & Consumer Affairs, the Secretary, Science & Technology, and the Secretary, Environment & Forests, to UT Home Secretary Anil Kumar. — TNS
Building plans: Estate Office starts email facility for applicants
Chandigarh, July 25
The UT Estate Office has started the email facility for building plans for applicants. All applicants who are applying for revised building plan and other works in the estate office are required to give their mobile numbers and email ID so that they may be informed regarding the status of their work in the Estate Office telephonically or through email.
Patients inconvenienced at GMSH-16
Chandigarh, July 25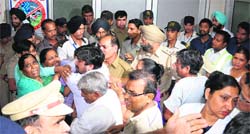 Firing incident at the Government Multi-Speciality Hospital, Sector 16, here this morning created chaos-like situation in the emergency ward and confusion among patients and their attendants.A number of patients and their attendants, who were roaming outside the emergency ward, were in a dilemma as to why the emergency ward had been cordoned off by the police.
Family members of the victim, Dimple, protest at the Emergency of Government Multi-Speciality Hospital in Sector 16, Chandigarh, on Friday. Tribune Photos: S Chandan
Municipal Corporation to spend Rs 1 lakh on gifts for councillors
Chandigarh, July 25
The Teej celebrations planned by the Municipal Corporation (MC), Chandigarh, at a cost of around Rs 9.73 lakh would include Rs 1 lakh to be spent on phulkari and sweets as gift for councillors. The 13 female councillors and the wives of 22 male councillors will be getting the gifts during Teej.The estimated budget for the Teej celebrations was approved in the special meeting of the Finance and Contract Committee (F&CC).SAD councillor Malkiat Singh, who is also a member of the F&CC, opposed the decision during the meeting of the committee.
ETT teachers stopped from meeting Punjab CM
Mohali, July 25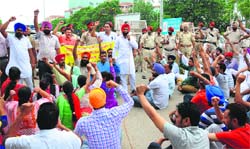 Protesting ETT teachers were today prevented by the police from proceeding towards Fortis Hospital here where Punjab Chief Minister Parkash Singh Badal had come to attend a function.


ETT teachers hold a protest; and (below) a policeman stands guard near a barricade at Phase VIII in Mohali on Friday. Tribune photos: Vicky Gharu
'Startup Weekend' for budding entrepreneurs
Chandigarh, July 25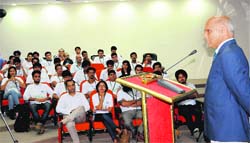 The Entrepreneurship Development Centre (EDC), is buzzing with activity.




KK Sharma, Adviser to the UT Administrator, addresses delegates of 'Startup Weekend' at the Entrepreneurship Development Centre, Rajiv Gandhi Technology Park, Chandigarh, on Friday. Tribune Photo: S Chandan
'India longest surviving low-income democracy in history'
Chandigarh, July 25
India is the longest surviving low-income democracy in history and Jawaharlal Nehru played a great role in strengthening democracy.
SAD core committee to meet today, anti-SGPC voices get louder
Panchkula, July 25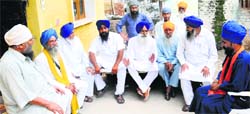 The voice of protest against the Shiromani Gurdwara Parbandhak Committee (SGPC) and Shiromani Akali Dal (SAD) leaders camping at the historic Sikh shrine of Nada Sahib is getting louder ahead of the SAD core committee meeting that will be held in Amritsar tomorrow.
Accompanied by Sikh leaders associated with the Haryana Sikh Gurdwara Management Committee, Rattan Singh (centre), former head of the Nada Sahib gurdwara, holds a meeting at the shrine near Panchkula on Friday. Tribune Photo: Manoj Mahajan
'Ignoring chronic constipation can be fatal'
Chandigarh, July 25
"Chronic constipation is a common problem that we encounter frequently. But if it remains persistent and untreated, it can lead to cancer or hernia," said Manmohan S Bedi, consultant, GI Surgery, Max Super Speciality Hospital, Mohali, while addressing a health talk on 'Risk factors for intestinal tumours and cancers' at the Defence Services Officers' Institute (DSOI) in Sector 36, here, on Wednesday.
Probe rising crime incidents in dist: BJP
Panchkula, July 25
Coming down heavily on the Congress-led Haryana Government, senior BJP leader Virander Singh Bhau blamed the party for the deteriorating law and order situation in the district.
Chandigarh Police caught on the wrong side of law
Chandigarh, July 25
The gruesome murder at the Government Multi Specialty Hospital in Sector 16 has once again brought to light the rising number of crimes committed by men in khaki, especially the UT police constables. The policemen are getting involved in sensational crimes which calls for a serious overhauling in the police recruitment process.Only last year, a fugitive UT police constable Basant had brutally stabbed a UT police Inspector Sucha Singh to death in Sector 17.
'My mother came for my treatment and got injured'
Chandigarh, July 25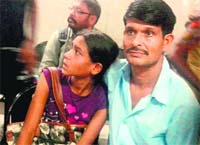 The constable fired as many as seven shots using his service revolver, aKansal resident, Savitri, who had come for treatment of her daughter was shot at. Savitri (36) sustained a bullet injury in her shoulder and her condition is stated to be stable.


Babli, a Kansal resident, whose mother was accidentally injured in the firing incident that took place at Government Multi-Speciality Hospital in Sector 16, Chandigarh, on Friday. Tribune Photo: S Chandan
Experts dwell upon ways to meet financial crunch
Chandigarh, July 25
To discuss the challenges of finance in Indian universities and find innovative ways to meet the financial crunch, the UGC - Academic Staff College of Panjab University (PU), today organised a national meet for the finance officers of various universities.
DETC directs closure of 15 liquor vends for two days
Chandigarh, July 25
The UT Deputy Excise and Taxation Commissioner (DETC) has ordered closure of 15 vends for two days due to selling of liquor below the minimum retail price and for other violations.A penalty of Rs 7500 had been imposed on another five vends.Sources reveal that on July 23, the DETC, Tanvi Garg, pronounced the orders for closure of 15 vends and penalty for another five vends.
Electricity Dept employees hold protest in support of their demands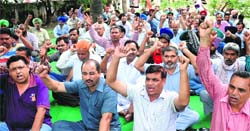 Chandigarh, July 25
The UT Powermen Union held a rally in support of their long- pending demands at Sector 19 here on Friday.


Members of the UT Powermen Union stage a protest outside the office of the Electricity Department at Sector 19 in Chandigarh on Friday. Tribune photo: Manoj Mahajan
For Diwali, civic body raises the minimum bid by 10%
Chandigarh, July 25
The Municipal Corporation (MC), in a special meeting of the Finance and Contract Committee (F&CC), today decided to increase the minimum bidding amount for the exhibition ground in Sector 34 for Diwali mela by 10 per cent.
attack on class x student
Victim implicating me: Accused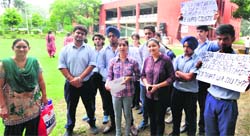 Chandigarh, July 25
In another revelation, one of the students — accused of thrashing a Class X student of Government Model Senior Secondary School-35 — today alleged that he had been falsely implicated in the case by the victim.

Family members of the accused student hold a press conference at the GMSSS, Sector 35, Chandigarh, on Friday. Tribune Photo: Pradeep Tewari
INSO protests; PU withdraws temporary allotment of hostels
Chandigarh, July 25
Starting this academic session in Panjab University (PU), there will be no temporary allotment of hostel facility to the freshers.
NSUI wants bus service on PU campus restarted
Chandigarh, July 25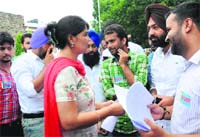 Activists of the National Students Union of India (NSUI), today lodged a protest to restart the shuttle bus service in Sector 14 and Sector 25 for the students of Panjab University — to ferry them from their respective departments to their hostels.


NSUI representatives hand over a memorandum to an official outside the Vice-Chancellor's office at Panjab University on Friday. Tribune Photo: Manoj Mahajan
Workshop on portfolio development
Chandigarh, July 25
A workshop on portfolio and personality development for senior secondary students and teacher trainees of DECEd (NTT) Institute was organised at DAV Model School, Sector 15-A, today.