Move to shift PSEB office from Abohar to Fazilka draws flak
Abohar, July 30
The move to shift the regional office of Punjab School Education Board (PSEB) from Abohar to Fazilka has stirred up a controversy. The move has been widely opposed by the sub-divisional unit of the Recognised Affiliated Schools Association and Private Affiliated Schools Association. Students and teachers from remote villages situated near the inter-state border will have to cover 140 km (to and fro) to get even a small work done, they said.



Akali councillors clash over presidentship in Talwandi Sabo
Bathinda, July 30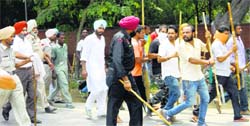 The ongoing tussle between two factions of SAD councilors today took an ugly turn, when they got into heated arguments and started pelting stones at each other. The police had to resort to lathi-charge and fire tear-gas shells to disperse the crowd. Several members of the mob were carrying sticks, iron rods and sharp-edged weapons. Around six people got injured in the incident.

The police try to control the mob outside the office of the Talwandi Sabo Municipal Council on Wednesday. Tribune photo

Akalis misusing state machinery, says Jassi
Talwandi Sabo (Bathinda), July 30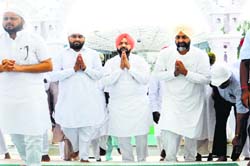 Congress candidate Harminder Jassi today launched his campaign for the Talwandi Sabo bypoll after paying obeisance at Takht Sri Damdama Sahib. He accused the state government of misusing administrative machinery to help the SAD candidate win the byelections.


Congress candidate Harminder Jassi (centre) and PPP president Manpreet Badal pay obeisance at Takht Damdama Sahib in Talwandi Sabo on Wednesday. Tribune photo: Pawan Sharma

SAD, BJP leaders meet to sort out issues
Patiala, July 30
There seems to be a lack of trust between the alliance partners, the SAD and the BJP. The two parties today held a meeting to sort out various issues a day ahead of Chief Minister Parkash Singh Badal's visit to the city.
Tough triangular contest on cards
Patiala, July 30
The Patiala (Urban) bypoll is likely to witness a tough battle between candidates of the three major parties.
Gurdaspur BJP unit to end 12-day protest today
Gurdaspur, July 30
Gurdaspur district BJP leaders, despite not being backed by their own Member of Parliament (MP) Vinod Khanna, managed to coerce the state government into giving in to their long-pending demands.


NRI threatens self-immolation at Badal's residence


Chandigarh, July 30
Claiming to be a victim of Ludhiana's "police shielded" land mafia, a 66-year-old NRI woman today threatened to commit self-immolation in front of the residence of the Punjab Chief Minister Parkash Singh Badal on August 15, if the "police aided" Ludhiana land mafia continued to torment her.
Joginder Kaur Sandhu
50 industrialists threaten to shift business to Haryana
Chandigarh, July 30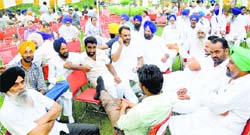 The owners of over 50 pyrolysis (furnace oil, carbon black, steel wire) units in Punjab, which have been lying closed for almost two years now, have threatened move their business to Haryana alleging that the Punjab Government had failed to make its policy transparent and industry-friendly.
People wait for Deputy Chief Minister Sukhbir Singh Badal's arrival at his Sangat Darshan programme at Punjab Bhawan, Chandigarh, on Wednesday. Tribune photo: Manoj Mahajan


JE stages dharna against 3 colleagues
Faridkot, July 30
The PSPCL authorities in Faridkot were caught in a difficult situation today when one of corporation employees sat on dharna accusing three other employees of indulging in corruption.


Jaswinder Singh on dharna in front of the SDO office at Jaitu. Tribune photo

SGPC advertisement sparks outrage
Amritsar, July 30
The SGPC advertisement, titled, "Shri Akal Takht Sahib is supreme and its 'hukamnamas' (edicts) are binding on the Sikh Sangat", has sparked an outrage among Sikh scholars who say the move has eroded the Akal Takht sanctity.
Move to dilute SGPC quota in Hazur Sahib mgmt: Makkar
Amritsar, July 30
The SGPC today accused the Congress of conspiring to finish off SGPC quota in the Takht Shri Hazur Sahib Management Board.
Western Command chief calls on Badal
Chandigarh, July 30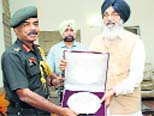 On the eve of his trip to New Delhi, where he will take over as Vice Chief of the Army Staff, Lt Gen Philip Campose, Western Army Commander, called on Chief Minister Parkash Singh Badal here today. They discussed issues pertaining to the welfare of ex-servicemen and opportunities for the youth to join the Army.

Lt Gen Philip Campose, Western Army Commander with the CM in Chandigarh on Wednesday. Tribune photo

Hoshiarpur welcome CWG medalist Chana
Hoshiarpur, July 30
Commonwealth Games silver medalist judoka Navjot Chana received a warm welcome on his return to Hoshiarpur.

Athlete Navjeet returns to rousing reception
Amritsar, July 30
A rousing reception was accorded to Navjeet Kaur Dhillon, a student of Khalsa College for Women (KCW), who returned home today after bagging a bronze medal in the World Junior Championship at Eugene in the US.


Navjeet Kaur Dhillon who won a bronze medal in the World Junior Championship in the US. Photo: Vishal Kumar

3 die, 38 hurt as tempo overturns
Ropar, July 30
Three persons were killed and 38 others were injured, when a Tata 407 Tempo overturned at Ropar-Chamkaur Sahib road here today. The victims were returning to their house in Shahbazpur village near Raikot in Ludhiana district after paying obeisance at Naina Devi temple.


Babbar Khalsa militant Chaura convicted under Arms Act
Chandigarh, July 30
The Court of Judicial Magistrate Jaswinder Singh today convicted Babbar Khalsa terrorist Narain Singh Chaura in a case under Sections 25, 54, 69 of the Arms Act case registered against him in 2004. The quantum of sentence will be pronounced tomorrow.
June 6 clash: All 21 accused granted bail
Amritsar, July 30
A local court has granted bail to 21 persons arrested in connection with the violent clash between the SGPC task force and activists of radical Sikh outfits in the Golden Temple complex on June 6.
Illegal detention: HC tells cops to file affidavit
Chandigarh, July 30
A sordid account of alleged harassment and illegal detention has surfaced in the Punjab and Haryana High Court. During the hearing of a habeas corpus petition, Justice Rajan Gupta of the High Court was told that a man was allegedly picked up by the police in Bathinda district during Chief Minister's Sangat Darshan and harassed during his illegal detention for being "near the security zone of the CM".
100 bags of poppy husk seized, 3 held
Moga, July 30
The Moga police seized 100 bags of poppy husk weighing around 35 quintals today. The seizure was made on a link road near Daroli Bhai village in the Moga district. The consignment was reportedly smuggled into the state from Rajasthan in two trucks and two cars. The bags containing poppy husk were hidden in consignments of garlic and onions. The market value of the seized contraband is estimated around Rs 1.5 crore.
Booked for dacoity, farmer leaders on the run
Pringni (Tarn Taran), July 30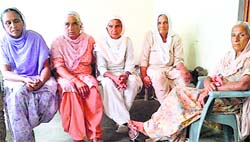 Ranjit Singh of Pringni village was allegedly beaten up by the police while in "illegal" detention two weeks ago. He has difficulty working in his fields. Gurmeet Kaur of the same village is alone in her house with a toddler. Her husband Major Singh, a farmers' leader, has been behind bars since June 7 on the charge of looting 1,000 wheat bags from the Patti grain market.
Women of various villages in Tarn Taran narrating their tale of woes. Photo by writer

Morinda resident held for duping NRI brothers
Ropar, July 30
The NRI wing of Nawanshahr police has arrested Chhinder Singh of Doomchheri village near Morinda allegedly for duping three NRI brothers. Chhidner Singh was produced before the local court from where he was sent to judicial custody.
Nine arrested for gambling; Rs 3.6 lakh seized
Fazilka, July 30
The Fazilka police have apprehended nine persons for gambling and seized an amount of over Rs 3.60 lakh from their possession.
After attack on docs, phone snatched
Abohar, July 30
An hour after civil and police officials visited Nehru Park in Abohar to instill confidence among visitors following the Monday night attack on Health Department deputy director Rakesh Arora and his medico son Saurabh, motorcylcle-borne youths snatched a mobile phone from a doctor outside the park.
School bus driver killed
Abohar, July 30
Balkar Singh (40), a driver of Khalsa Academy, was killed when the bus he was driving was allegedly hit by a tractor-trailer that was on its way from Abohar to Sriganganagar today.
School bus fired at, none injured
Batala, July 30
About 40 students of Guru Nanak Senior Secondary School, Jourian Kalan, near Batala, had a narrow escape, when four unidentified miscreants opened fire at the vehicle today.