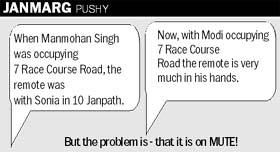 UT all set to get City Bus Service
Chandigarh, July 30
The City Beautiful is all set to get a new City Bus Service. With a proposed fleet of 400 buses, the bus service will run under the aegis of the Chandigarh City Bus Service Society. The society will be controlled by a governing body, comprising the UT Adviser as its chairman and heads of different UT departments as its members.
Clash on PU campus: 2 student leaders arrested
Chandigarh, July 30
Acting tough against trouble-makers on the Panjab University (PU) campus ahead of the student council elections, the local police today arrested two senior SOI leaders, Rashpal Hakuwal and Robin Brar, for their alleged involvement in yesterday's clash on the campus in which an ABVP leader was injured.


Constable had planned murder, cops tell court
Chandigarh, July 30
As UT constable Anand Kumar was produced in court today, five days after he shot his wife to death at Government Multi-Speciality Hospital in Sector 16, the UT police told the court that they suspected that he had planned the murder and it was not committed in a fit of rage or due to a sudden provocation.
Constable Anand Kumar, accused of gunning down his wife Dimple, being taken to the court. Tribune photo: Parvesh Chauhan





Lawlessness: (Left) Two groups clash over the illegal sale of a shop near Ram Lila ground in Dera Bassi on Wednesday. The situation remained tense for at least five hours as both groups attacked each other with rods and batons. The police reportedly took over 10 persons in custody and started investigation. Injured Sunder Singh (right) being treated at the Civil Hospital in Dera Bassi. Tribune photos: Nitin Mittal

Upcoming five-star hotel in troubled waters
Chandigarh, July 30
The upcoming five-star hotel in the Industrial Area, Phase II, is in troubled waters as Punjab National Bank (PNB) and the Finance Corporation of India Limited (TFCI) has pasted possession notice, outside at the hotel construction site, for not paying Rs 57 crores.
A notice put up by Punjab National Bank on the property of Joy Hotel and Resorts in the Industrial Area, Phase II, Chandigarh, on Wednesday. Tribune photo: Manoj Mahajan


Self-certification to be made mandatory for building owners
Chandigarh, July 30
Realising that inspecting fire-fighting equipment in all commercial buildings across the city could become a mammoth task, the Municipal Corporation (MC) has decided to incorporate the clause of self-certification by the building owners in the Fire Prevention and Fire Safety Rules 1991, according to which the owner will have to annually certify the building has all fire-fighting equipment in the working condition.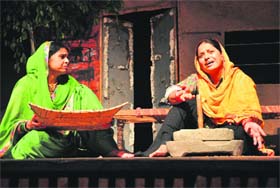 All for love: Artistes enact a scene from Balwant Gargi's first play, "Loha Kut", during the Third TFT Summer Theatre Festival at the Punjab Kala Bhawan, Sector 16, Chandigarh, on Wednesday. The play, written in 1944, deals with emotions of love, disgust and jealousy scripted in such a manner that it is relevant even in contemporary times. The play was directed by Sudesh Sharma. Tribune photo: Parvesh Chauhan
Soon, there will be no need to line up for lab reports at PGI
Chandigarh, July 30
The nightmare of obtaining a lab test report at th PGIMER by frequenting counters on numerous occasions and waiting for several hours in a queue will be over in three months time.
Teej Celebrations
Panel yet to decide on chief guest's name
Chandigarh, July 30
The committee constituted to organise Teej held its meeting today to look into the arrangements of the function, but ignored the issue of finalising the name of the chief guest that had kicked up a row recently.
Jobless ETT teachers lock doors of govt office
Mohali, July 30
High drama was witnessed at Vikas Bhawan, which houses the Punjab Rural Development and Panchayats Department, when members of the ETT (TET-pass) Unemployed Teachers Union, Punjab, locked all the doors of the building at around 8 am today.
(Left) Protesting members of the ETT (TET-pass) Unemployed Teachers Union raise anti-establishment slogans after locking the doors of the Vikas Bhawan at Phase VIII in Mohali on Wednesday; and visitors face harassment due to the locked entry points of the building. Tribune photos: Vicky Gharu
GMADA owes Rs 1,800 cr to banks
Mohali, July 30
The Greater Mohali Area Development Authority (GMADA) that is responsible for the overall urban development of the Greater Mohali area itself is in troubled waters. Once a cash-rich department, it is currently under the debt of a whopping Rs 1,800 crore, which it has taken from at least five banks.


Road median in P'kula a bone of contention
Panchkula, July 30
A small road median in Sector 7 has courted political controversy in Panchkula and is high on the agenda of politicians. Candidates in fray for the post of MLA in Panchkula are making claims to get the median open, but in vain.
The median on the road separating Sectors 7 and 8 was closed two years ago by HUDA on the recommendation of the police, which said it was accident-prone. A Tribune photograph
City sees 57% rain deficit this season
Chandigarh, July 30
During this monsoon, the city received 57 per cent less rainfall than the normal. As per the Met Department, monsoon season commences from June 1 and this year, the city has recorded only 192.2 mm of rainfall, which is 202.3 mm less than normal.
Mentally challenged youth goes missing from P'kula
Panchkula, July 30
A 27-year-old mentally challenged and speech impaired youth went missing from a temple in Sector 25 here. On July 27, Kunal, a resident of Sector 22, Chandigarh, had come along with his family to pay obeisance at Hanuman temple here.
landslide-hit village
Chandi Kotla residents await rehabilitation
Panchkula, July 30
Despite repeated demands from the affected residents, there is no rehabilitation plan in sight for residents of over 75 houses in Chandi Kotla village here. BJP leader Virander Singh Bhau, who is also a former president of Zila Parishad here, has taken a strong note of the ruling party's 'failure' to rehabilitate the residents of the village.


Prayer hall handed over to Christian Community
Chandigarh, July 30
City Mayor HC Kalyan, today handed over the keys of the prayer hall of the Christian Cemetery to the Christian Community in Sector 25. The Mayor, area councilllor and former Mayor Subhash Chawla, other councillors and senior officers of the MC, Chandigarh, were present on the occasion.
(From right to left) Rev. Bishop Ignatius L Mascarenhas, bishop of the Shimla Chandigarh Catholic Church, along with Mayor Harphool Chander Kalyan and area councillor Subhash Chawla during a prayer in Sector 25 cremation ground, Chandigarh, on Wednesday. Tribune photo: S Chandan
IAS officer K Narsimha to join UT Admn
Chandigarh, July 30
The Ministry of Home Affairs (MHA) has issued transfer orders of 1991 batch UT cadre IAS, K Narasimha, from Delhi to the UT Administration. Sources said Narsimha was likely to join the UT Administration next week.
tricity scan
Appointed
Chandigarh: Anil Vohra was unanimously elected as the president of the Market Welfare Association, Sector 44 D, during the association's general body meeting. The chairman of the association-cum-election in-charge, KC Goyal, said now, Vohra was authorised to constitute his panel.
BUSINESS NEWS
Currency chest branch inaugurated
The Central Bank of India on Wednesday inaugurated a well-furnished premises at the Ambala City Branch with currency chest. Rajeev Rishi, Chairman and Managing Director of the Central Bank of India inaugurated the branch.



Panjab University Council Elections
Ban SOI from poll: Student parties
Chandigarh, July 30
Several incidents of clashes and attacks on student workers of other parties in the past one month have rung alarm bells among the student fraternity. In view of this, two student political parties have sought a ban on the Student Organisation of India (SOI), student party of the Akali Dal, from contesting the forthcoming Panjab University Council Elections.


ABVP members stage a protest in front of the Vice-Chancellor's office at Panjab University in Chandigarh on Wednesday. Tribune photo: S Chandan
Strengthen security on varsity campus, ABVP tells VC
Chandigarh, July 30
Lodging their protest against the attack on Abhishek Luthra, president of the South campus, the Akhil Bharatiya Vidyarthi Parishad (ABVP), today submitted a memorandum to the Vice-Chancellor to strengthen the security apparatus on the campus.
ABVP members, along with Abhishek Luthra (second from right), at the police station in Sector 11 and (right); the victim's family outside the Vice-Chancellor's office at Panjab University in Chandigarh on Wednesday. Tribune photos: S Chandan

NSUI starts indefinite hunger strike at PU
Chandigarh, July 30
The National Students Union of India (NSUI), today started an indefinite hunger strike in front of the Vice-Chancellor's office in Panjab University. The students were forced to sit on an indefinite hunger strike due to the indifferent attitude of the authorities in addressing their pending demands.

NSUI supporters protest in front of the Vice-Chancellor's office at Punjab University on Wednesday. A Tribune photograph
GMCH MBBS Admission
NRI candidate given provisional admission to 'disputed' seat
Chandigarh, July 30
The Government Medical College and Hospital (GMCH), Sector 32, today granted provisional admission to an NRI candidate on a seat, reserved for Scheduled Caste-NRI candidates. Earlier, the Punjab and Haryana High Court had put a stay on the orders of reservation.
Bhavan Vidyalaya students shine
Panchkula, July 30
The Students of Bhavan Vidyalaya, Sector 15, clinched the top four positions in the Spellathon competition held at Daffodils organised by the Spell Genie for different age groups.


from schools
Teej celebrations
Chandigarh: Aanchal International School celebrated Teej festival with fervour today. The children beamed with joy. To highlight environment issues, the children were dressed up as flowers, butterflies, animals, trees etc.
Students in a jubilant mood during the Teej celebrations at Aanchal International School, Sector 41, Chandigarh, on Wednesday. Tribune photo: Parvesh Chauhan