HSGMC: Will hit back at right time, says Badal
Lambi (Muktsar), August 1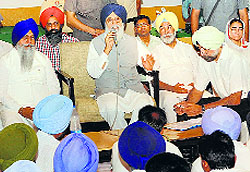 Chief Minister Parkash Singh Badal today said the "sinister" move of the Congress to wrest the control of gurdwaras in Haryana through its "modern Mahants" would not be tolerated at any cost. He said the future course of action to oppose it would be taken at appropriate time after due deliberations with the Sikh panth.


Chief Minister Parkash Singh Badal during a sangat darshan programme in Lambi Assembly segment in Muktsar district on Friday. A Tribune photograph

SGPC to continue hold on Haryana shrines: Makkar
Amritsar, August 1
A day after the HSGMC made its intentions clear to take over the control of gurdwaras in Haryana, SGPC president Avtar Singh Makkar today said they would continue to manage the shrines in Haryana as they had been doing in the past.
Now, trouble brewing for SGPC at Hazur Sahib
Amritsar, August 1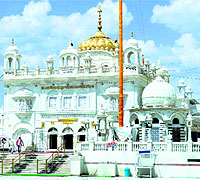 After receiving a jolt in Haryana with the formation of the HSGMC, the SGPC is facing rough weather at Takht Sri Hazur Sahib Management Board. The Board members hailing from Nanded are advocating more representation to the local Sikh leaders and curtailing the SGPC quota. Talking to The Tribune on phone from Nanded, Board member Jarnail Singh said, "Takht Sri Hazur Sahib Management Board has 17 members, of whom four are nominated by the SGPC."

Takht Sri Hazur Sahib
Patiala and Talwandi Sabo bypoll
No BJP leader in 40-member Akali list of star campaigners
Chandigarh, August 1
The Shiromani Akali Dal (SAD) has not included any leader from the Bharatiya Janata Party (BJP), its coalition partner, in the list of 40 star campaigners, submitted to the Chief Electoral Office, for the Patiala and Talwandi Sabo bypoll.
AAP cancels party ticket to Balkar Sidhu
Talwandi Sabo, August 1
The AAP candidate for the Talwandi Sabo byelection, Balkar Sidhu, today said that the party's decision to replace him at the eleventh hour had hurt him.
Cong, SAD candidates file papers in Talwandi Sabo
Talwandi Sabo (Bathinda), August 1
Jeet Mohinder Singh Sidhu of the SAD and Harminder Jassi of the Congress today filed their nomination papers for the Talwandi Sabo byelection.
Amarinder asks Congress workers to pull up socks
Patiala, August 1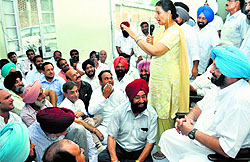 A day after his wife Preneet Kaur wrote to the Election Commission alleging misuse of the state machinery by the state government, her husband Capt Amarinder Singh expressed confidence in the officials. He, however, warned officials who were "misusing their position to favour the Akalis." He said the Congress was certain to form the next government in the state.


Congress candidate for Patiala Preneet Kaur addresses an election meeting on Friday. Amritsar MP Capt Amarinder Singh is also seen. Tribune photo: Rajesh Sachar

AAP's Adaltiwala files papers amid fanfare
Patiala, August 1
Aam Aadmi Party (AAP) candidate Harjit Singh Adaltiwala today filed his nomination papers for the Patiala (Urban) byelection amid fanfare.
sad-bjp rift widening?
Snub to Joshi as govt says NOCs given for 1.41 lakh plots
Chandigarh, August 1
The state government today hit back at BJP leader and Local Bodies Minister Anil Joshi, claiming about 60 per cent of the plot-holders had no-objection certificates (NOCs).
Poor rainfall: MPs Ghubaya, Bittu seek special assistance
Chandigarh, August 1
The Punjab Government is keenly awaiting the Union Government's response to its request for special aid to tackle the drought-like situation in the state. Besides a 90 per cent subsidy on diesel, the state government has sought a package of more than Rs 2,300 crore.
SC students allege principal biased in awarding marks
Hoshiarpur, August 1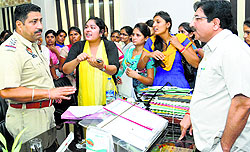 Students of the DAV College of Education who have been availing the Centre's Scheduled Caste Post-Matric Scholarship Scheme today lodged a protest against the Principal, blaming him of "bias" by awarding less marks to them in internal assessment in B.Ed examination.



Students of the DAV College of Education speak to a policeman in the office of Principal Dr Sham Sunder Sharma (right) in Hoshiarpur on Friday. Tribune Photo: Malkiat Singh

Paper mill tanker caught unloading waste into canal
Faridkot, August 1
A paper mill's tanker met with an accident in the wee hours today while it was unloading toxic waste into Gung Canal near a bridge on the Faridkot-Ferozepur road. The Punjab Pollution Control Board (PPCB) had demanded the closure of the paper mill a month ago because of the practice.
Officers reprimanded by Debt Recovery Tribunal
Chandigarh, August 1
Highly influential officers of Punjab have been castigated by the local bench of the Debt Recovery Tribunal for obstructing the process to recover debt totalling Rs 21.80 crore initiated by the Punjab National Bank (PNB) by adopting delaying and strong-arm tactics.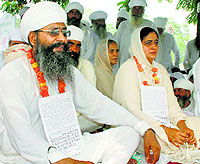 Namdharis protest in Ludhiana
Ludhiana, August 1
A faction of the Namdhari sect owing allegiance to Thakur Dalip Singh today staged a massive protest outside the mini secretariat here. Some of the followers started a relay fast.



Harvinder Singh and his wife Parveen Kaur on an indefinite fast in Ludhiana. Tribune photo: Himanshu Mahajan

Border farmers protest, seek compensation
Amritsar, August 1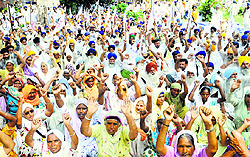 Activists of Kisan Sangharsh Committee today staged a dharna outside the PSPCL border range office here. They were seeking a compensation of Rs 35,000 per acre for facing "drought-like conditions". They also sought a Rs 500 per quintal bonus on their produce.



Farmers protest in Amritsar on Friday. Photo: Vishal Kumar

Govt school collects PTA funds from students, inquiry on
Jalandhar, August 1
In blatant violation of the Right to Education Act, the staff of a government school collected Parent Teacher Association (PTA) funds from students of classes VI to VIII from July 5, 2012 to October 4, 2013.
Patiala school 1st choice of meritorious students
Bathinda, August 1
The Senior Secondary Residential School for Meritorious Students, Patiala, has admitted the maximum number of students for its maiden academic session that starts on August 4.
Vocational courses in schools
Ropar, August 1
The state government has decided to start four-year vocational courses in schools. Students of Class IX would be offered vocational courses in information technology (IT), automobile and health care etc.
Symbolic last rites of 1857 martyrs performed in Ajnala
Amritsar, August 1
All-faith prayers today marked the symbolic last rites of the 1857 uprising martyrs whose mortal remains were exhumed from historic Kallianwala Khu by Gurdwara Shaheed Ganj Committee in Ajnala a few months ago.
17 IPS officers promoted
Chandigarh, August 1
The Punjab Government has promoted 17 IPS officers in the rank of Inspector General of Police (IGP) with retrospective effect.
State can't afford to lose battle against drugs: HC
Chandigarh, August 1
Making it clear that Punjab cannot "afford to lose the battle against drug addiction", Justice Rajive Bhalla of the Punjab and Haryana High Court has made it clear that the secretary concerned will be held responsible if licensed de-addiction and rehabilitation centres are not provided adequate infrastructure or staff.
service matters
HC raps Centre for red-tape approach
Chandigarh, August 1
The Punjab and Haryana High Court has virtually admonished the Union of India for displaying complete non-application of mind and emblematic bureaucratic red tape approach in a service matter.
Held for drug smuggling, BSF man handed over to police
Amritsar, August 1
The BSF today handed over to the Tarn Taran police its head constable, Suresh Kumar Tyagi, who was allegedly caught helping the cross-border smugglers sneak in contraband.
4 held for beating bank officials
Abohar, August 1
The police today arrested Rajinder Kaur, Herry, Lalit Dhuria and Simranjit Singh for ransacking the Punjab and Sind Bank office on Circular Road in Abohar and beating some employees.