Choosing appropriate honorific titles
Sharda Kaushik
He … merely bowed and responded in kind.
"Lady 'elen."
"My name is Helen, Mr. Brundy," she said coldly.
"Very well- 'elen," said Mr Brundy, surprised and gratified at being given permission, and on such short acquaintance, to dispense with the use of her courtesy title."
— Sheri Cobb South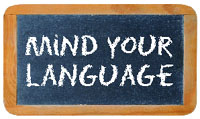 Honorific titles like "Mr/ Mrs/ Ms" and "Miss" can be of key importance in courteous communication. Our choice of titles to address others is as much a matter of social conventions as it is of individual preferences. They generally add to the civility in communication but their inappropriate use can at times cause awkwardness, as discussed below:
1. The invitation for the reception is addressed to Mrs and Mr Varun Sinha.
Even if we had addressed the couple as "Mr and Mrs Varun Sinha" in the initial draft of the invitation, the copy editor would have edited it as "Mrs and Mr ...", simply because it seems so obvious. The title "Mrs" tacked to the full name of the husband completes the married couple's identity. The sequence to be observed is "Mr and Mrs", followed by the first name and then the surname of the husband. If the husband occupies a senior position, the invitation may read as "The Chief Commissioner and Mrs Varun Sinha".
2. Mr Anthony danced with abandon to his favourite song.
"Mr" used with just the first name is an Indian variant though at times it is heard in certain regional varieties of the US too. The usage is regarded as unacceptable in standard language. Since one Anthony Gonsalves is being referred to, the speaker can either prefix the title "Mr" to the surname, as in "Mr Gonsalves" or to the full name, as in "Mr Anthony Gonsalves".
3. My Mrs is away to Moradabad but will be back soon.
Due to social inhibitions, some men avoid saying wife when referring to another man's wife or their own. They substitute it with "Mrs", an Indian variant. "Mrs", an abbreviation of the word "Mistress", was used as a stand-alone word centuries ago to mean "a married woman".
4. Mrs Sherry Lamba is here with her father, Mr Manohar Lamba.
Since Sherry is married to Amit Goyal, she should be called "Mrs Amit Goyal" or just "Mrs Goyal". Going by popular usage, she could also be called "Mrs Sherry Goyal". Only "Ms" can take in her maiden surname, as in "Ms Sherry Lamba" or just "Ms Lamba". Also, it cannot be "Miss" either because "Miss" is reserved for unmarried women. "Ms", pronounced as "miz", became popular in the 20th century to serve as a generic title in place of "Mrs" and "Miss".
In countries like the US, where most people drop the honorific titles easily and communicate with each other on a first name basis, certain professionals still assert their preferences for them. Indians are largely inclined towards using them, given their socio-cultural background. However, the debate here is not about using or not using honorific titles but about using correct forms and making appropriate choices when using them.