Dharna near Dhindsa's residence too
Sangrur, August 3
ETT teachers posted at various schools under zila parishads and municipal councils staged a dharna near Finance Minister Parminder Singh Dhindsa's house here. They blocked traffic for around two hours.
33% teachers' posts vacant in Sangrur
Sangrur, August 3
The statewide protests by unemployed teachers in demand of jobs notwithstanding, thousands of vacancies have been lying unfilled in various schools across Punjab.
Police misusing powers: Capt
Amritsar, August 3
Congress Deputy Leader in the Lok Sabha and Amritsar MP Capt Amarinder Singh has condemned the alleged brutal use of force on the peaceful ETT teachers by the police.
On HC direction, Army hands over 4.4 acres to Fazilka MC

Fazilka, August 3
After a prolonged legal battle, the Army authorities have handed over the possession of 4.4 acres of land adjacent to the Deputy Commissioner's office. The Army had taken the land on lease from the Municipal Council to set up a supply depot. The market value of the land is estimated to be Rs 25 crore.

The move will also pave way for the completion of the Fazilka District Administrative Complex. Tribune photo

PPCC chief can't issue me notice, says Brar
Chandigarh, August 3
Asking Punjab Pradesh Congress Committee (PPCC) president Partap Singh Bajwa to adhere to the party constitution, Jagmeet Singh Brar, former member of the Congress Working Committee (CWC), today said that AICC general secretary in charge of Punjab affairs alone had the authority to issue him a notice.


Benches in Patiala carry SAD slogan; CEO to seek report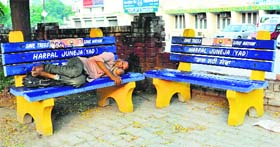 Patiala, August 3
The benches installed for the general public at various places in Patiala have become a cause for concern for the Congress ahead of the Assembly byelections.



Benches in Patiala painted with SAD slogan "Raj Nahin Sewa". Tribune photo: Rajesh Sachar

Senior leaders to descend on Talwandi Sabo
Talwandi Sabo, August 3
Campaigning for the Talwandi Sabo byelection is expected to gather momentum with several leaders of prominent parties arriving here tomorrow. Punjab Pradesh Congress Committee chief Partap Singh Bajwa will reach here tomorrow evening. He will meet the local party cadre. He is expected to launch an attack on the SAD-BJP government a day later.
BJP looking to expand base in villages
Chandigarh, August 3
The state BJP intends to use the Talwandi Sabo byelection as an opportunity to expand its base in villages even as it battles infighting.
Akalis ignored Patiala: Preneet
Patiala, August 3
Former Union Minister of State for External Affairs and Patiala Congress candidate Preneet Kaur today accused the babudom in the state of deliberately "creating hindrances" in the release of funds for development of Patiala. She said officials created obstacles in the release of MPLAD funds at the behest of the SAD-BJP government.


Namdharis protest state govt 'apathy'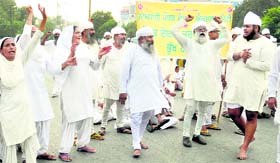 Ludhiana, August 3
Several followers of the Namdhari sect today blocked the Ludhiana–Ferozepur highway near the Mini Secretariat here to protest the alleged apathetic attitude of the authorities.




Namdharis block the Ferozepur road near Mini Secretariat in Ludhiana on Sunday. Tribune photo: Himanshu Mahajan

Traders told to deposit 8-year rent for shops they didn't occupy
Mandi Gobindgarh, August 3
The Transport Nagar market complex at Chattarpura village remains non-functional, but the municipal council (MC) has decided to recover eight-year rent from the shopkeepers who were allotted shops there on rent in 2006.
Year on, govt yet to decide on Red Cross fund misuse
Chandigarh, August 3
More than a year after the names of nine serving and retired IAS officers surfaced in cases involving misuse of Red Cross Society funds, the state government yesterday said most of these cases were now awaiting final decision by the personnel department.
43 more youths rescued from Iraq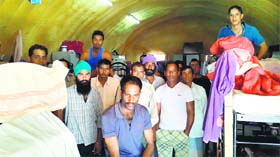 Jalandhar, August 3
The Union Government today rescued 43 more Punjabi youths from strife-torn Iraq. One of the youths, Navdeep Saroha of Adampur in Jalandhar, said: "They have had a harrowing experience.




youths at their makeshift accoMmodation in Baghdad.

Work on PGI centre in Ferozepur hangs fire
Ferozepur, August 3
The project to set up a satellite centre of the Post Graduate Institute of Medical Education and Research (PGIMER) in Ferozepur has been hanging fire for a while. The project is yet to take off even though the Ministry of Health and Family Welfare had approved the project some time ago.
Sangrur to have new bus terminus soon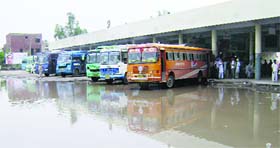 Sangrur, August 3
The PRTC bus stand project, which has been hanging fire for about three years, may see light of day in the near future. A proposal to construct the new bus stand in Sangrur was finalised a few days ago. Local residents have been complaining that the existing bus stand was poorly maintained.


The old PRTC bus stand in Sangrur. Tribune photo

Despite name change, Sheranwala village still Kuttianwali in records
Muktsar, August 3
The name of Kuttianwali village in Lambi block was changed to Sheranwala in January but some government departments are yet to receive the notification in this regard.
Village euphoric as youth bags bronze at CWG
Amritsar, August 3
The family members of Arpinder Singh and the residents of his native village Harsha Chhina erupted in joy as the 21-year-old gave India its third medal in athletics in the men's triple jump event at the 20th Commonwealth Games. He won a bronze.
Woman poisons kids, attempts suicide
Abohar, August 3
A woman reportedly tried to end her life after feeding a poisonous substance to her son and daughter in Sandwan village near Hanumangarh today.
Schoolteacher missing for 4 months
Fatehgarh Sahib, August 3
The parents of a 24-year-old girl are running from pillar to post in search of their daughter who went missing about four month ago.


Murdered ASI's family alleges intimidation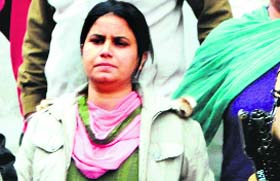 Chandigarh, August 3
For the past 18 months, Paramjit Kaur and her daughter Robinjit, residents of Rampura village near Chheharta, have been living in fear. At times, their doorbell rings in the thick of night.They hear cars zooming by their house, apparently in a bid to scare them.




A file photo of Robinjit, slain ASI's daughter.

Bhola drug case: Police tampered with facts, accused tells court
Chandigarh, August 3
The functioning of the Punjab Police has come under the scanner with Jagjit Singh Chahal, an accused in the multi-crore drug racket, contradicting their claims over his alleged involvement in the racket.

Industrialist, banker booked for loan fraud
Fatehgarh Sahib, August 3
The Mandi Gobindgarh police have registered a case against a number of persons, including an industrialist, a bank manager and a lawyer, for allegedly committing a fraud worth Rs.1.14 crore with Bank of Baroda in connivance with each other.
2 cops held for detaining man, get bail
Tarn Taran, August 3
The local police today arrested Sawinder Singh, Station House Officer (SHO) of the Sadar police station and head constable Charanjit Singh for allegedly keeping a local resident in illegal detention for four days.
6 held for robbery in Abohar town
Abohar, August 3
A youth, who recently claimed to have been kidnapped, and a five-member gang of criminals have been arrested. Senior Superintendent of Police (SSP) Swapan Sharma said that Satveer Singh's parents from Bakayanwala village had recently informed Khuyiansarwer police station that some miscreants had kidnapped him.
6 booked for defrauding NRI
Phagwara, August 3
The police have booked six persons for allegedly duping a California-based NRI, Jatinder Singh, by selling his 15-acre land near Chack Hakim in the town after preparing forged documents.