Tapping innovative sources of power
There is an urgent need to evolve energy sources in out-of-the-box ways that benefit both men and machines. These sources have to be renewable as well as cost-effective.
VK Jindal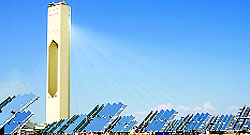 The PS 10 solar power plant concentrates sunlight from a field of heliostats onto a central solar power tower. The heat energy is used to drive a steam turbine to generate electricity

The cry for power is growing not only because of shortfall but also because power bills are rising. All solutions for reduction of power bills are not going to deliver until we address the major issue of power production, costing and the realisation of how complex this issue can be. The focus of this article is to put on the table what we have and what we do not and therefore the way to go.
Dwindling resources, ever-increasing requirements, high production costs and dirty sources are primary questions which need analysis. It is true that the dependence on electricity has increased manifold and exposure to automation has resulted in the button era for all solutions — be they in transport, cooking, congenial temperature conditioning in houses, workplaces or in any temporary transit — all cost huge energy. No other power source is as convenient, thanks to Faraday, as it is this simple two-wires connection which you can hide and twist behind a wall and carry tremendous energy on the push of a button.
High cost of production
A unit of energy which has been used to quantify power is measured in Kilo Watt Hour (KWh) — your standard AC would cost around this one unit in about half an hour. But the amount of energy required for this half-an-hour of cooling will mean burning about 1kg of coal or about 200 ml of petrol. These are relatively high energy-density fuels but if you agree to do manual work equivalent to one unit, it would mean a heavy man weighing 100 kg going up a 10-storey building 10 times. If this man does not agree to generate it this hard way, we have to realise that energy is hard to produce and it will cost.
However, if you have Uranium 235 and use it to generate energy you will only require a mg of Uranium. So the energy-density of nuclear fuel is million times larger. On the other hand, you may need a full roof area of a standard apartment to produce one unit in one an hour of full sunshine, using efficient, expensive photovoltaic solar cells. Thus energy-density is extremely high for nuclear fuel and very small energy/area for solar sources.
Exhausting sources
We want everything to be power driven and all this is costing us huge energy. Our effort is to use all the waterheads, all the coal, all the gas which got accumulated with nature's effort of centuries. This reserve is getting exhausted because our rate of using is far more than the rate of production and thus it can't sustain, and we will be forced to resort to primitive living.
Indeed, the world requirements of energy are in tens of Terra Watts. Using nuclear fission to meet this, despite hazards, is also a tremendous effort. It requires building of 15,000 nuclear power stations supplying 1 Giga Watt each. Also, at this rate of consumption, we only have economically recoverable uranium reserves to last five years, and thus global-scale investment is not justified. Even extension of fuel lifetimes with breeder cycles does not justify this level of investment, given the costs and risks.
Renewable sources of energy
Nuclear fusion is a technology that does not exist yet though solar energy results from fusion reactions. We have no guarantee that fusion will be both safe and economically viable. Claims are far too premature. Even if we hypothetically consider fusion, it irreversibly transmutes lithium. Lithium is a scarce resource that has a host of industrial uses and is used in batteries in every laptop computer and mobile phone.
This leaves us with renewable such as wave, wind, hydroelectric, biomass, geothermal, and solar power. Wind, wave, biomass, and hydroelectric power are all indirect forms of solar energy, with enormous conversion efficiency losses. So this leads us to ask: Why not go directly to solar? The fact is there is about 350 times more solar power available than all other renewable energy put together. In fact, it has been calculated that a 500x500 sq km area is adequate if utilised for solar conversion and this area can be made available from a desert or on the surface of sea.
These sources have been supplemented by newer research on methods of production of green energy either from hydrogen, combination of solar and chemical processes which act like absorption of solar energy and its re-emission through excitation and de-excitation processes, artificial photosynthesis or other newer cleaner methods which do not cost oxygen and are non-nuclear but are like solid-state fuels delivering energy transiting from excited to de-excited states.
Sensible & sustainable options
The most sensible alternate option even for vehicles appears to be hydrogen, as it can be obtained from splitting water and turns back to water on combustion. Thus, it is infinitely sustainable and mimics the Earth's natural water cycle. However, the production by splitting of water is usually costly unless it is so done as a byproduct. But then density of hydrogen is low, and its storage and transportation is problematic. Hydrogen fuel cells are simple clean and green silent generators which convert hydrogen into electricity but these do not scale for a global solution due to the use of expensive membrane technology coupled with exotic chemicals.
As a result, energy requirements are not easily met, whatever the source. Before we say that we must be conservative to use energy since energy saved is energy produced, we must rethink on strategic production and usage. We can't throw any of the methods in the dustbin, we have to keep exploiting easily manageable waterheads, fossil fuels, wind, etc. depending upon the locations. Even nuclear fission needs to be exploited, especially in India where strategic locations on nearby islands can be figured out near our south end, where small islands close to the mainland exist and can be fully dedicated for this purpose.
We must use a combination of methods to generate electricity depending upon the location. The usage of solar energy has been much in focus in recent times. The sun gives us light and heat and both are exploitable. The light is used by exploiting photovoltaic (PV) effect and some special materials like silicon and dopants like arsenic have provided us with direct conversion of sunlight into electricity through PV cells. This low voltage DC is inverted to get AC domestic supply. This is a high-tech area, additionally requiring constant cleaning of the exposed surface from dust etc. However, when we calculate the PV silicon solar cell area required to supply the world's power consumption, the PV technology does not seem a winning game. Apart from meeting silicon requirements, toxicity is also an issue, and the dopant e.g. arsenic alone would exceed world reserves. One may think of supplementing PV technology using solar concentrators to reduce the effective cell area. The rate of chemical usage is still not tenable because the cells will not withstand high temperatures due to concentrating solar light as heat also gets concentrated.
Concentrated solar power
In fact, it turns out that high-tech solutions are not cost-effective. Low-tech solar-collecting dishes, concentrators can survive higher temperatures and provide easier technology and large-scale solutions. This concentrated solar power ( CSP) is using solar heat rather than solar light and converting it direct to AC supply through steam turbines and generators is another option of using solar energy. CSP is being adopted more and more and we have seen about 740 MW of generating capacity added between 2007 and the end of 2010. As of January 2014, Spain had a total capacity of 2,204 MW, making this country the world leader in CSP. It is expected to meet 25 per cent of the world requirement in some decades. The technique is to use low-tech CSP like parabolic-trough plants which superheat water and run steam-based turbines from free solar fuel, giving us green power at nearly the price of fossil fuel. The largest CSP project in the world has been installed in Abu Dhabi, but do we have these steam turbine-based CSP in India? We do have lot of effort on usage of high-tech PV technology and a floating unit on sea has also been commissioned in Kerala, including the 600MW park at Charanka, Gujarat.
Thus, whereas effort to evolve new sources of energy will go on, nothing is going to match the hunger for power. We have to live a life closer to nature. If you concentrate only on solar energy, it is not apparent though at this time but surely it will be at the cost of other vegetative and animal life. We should leave electricity for industry, education, hospitals, public transport etc. but not for too much luxury and wastage. Design houses which are not air-conditioned but have natural cooling architecture. Use the cold temperature in basements to pump up cold air for cooling. Or cool or heat only your jackets to cut down on the volume. Use Peltier chips for cooling processers and not the whole of the machine.
Hybrid fuels
This means, we should choose innovative ways of introducing comfort for men and machines which require a fraction of the power. For vehicles, use hybrids of fuels like hydrogen and fossil fuels. For hydrogen, use water-splitting at sources, where abundant solar or wind energy is used. Also, the overcharging battery current while a vehicle is run on alternate fuels can be used to split water and hydrogen thus produced used to feedback into the fuel cycle and save some percentage of fuel. Indeed intelligent use of this convenient commodity, coupled with a combination of production methods is the only answer. Thus India needs to develop low-tech CSP, supplemented by existing conventional technologies plus nuclear-energy generation only at strategic locations, well isolated but close to the mainland, to meet future power requirements. For vehicles, the green energy source of hydrogen needs to be produced from water splitting at arbitrary and random sources of electricity, along with rechargeable batteries.
The writer is Professor, Department of Physics, Panjab University, Chandigarh
Energy matters
We should leave electricity for industry, education, hospitals, public transport etc. but not for too much luxury and wastage.
The effort should be to design houses which are not air-conditioned but have natural cooling architecture.
We should use the cold temperature in basements to pump up cold air for cooling.
You should be able to cool or heat only your jackets to cut down on the volume.
Peltier chips should be used for cooling processers and not the whole machine.
There is about 350 times more solar power available than all renewable energy put together.