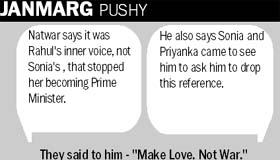 Class VIII girl raped, found pregnant
Chandigarh, August 3
A 13-year-old student of Class VIII was allegedly raped by a 19-year-old labourer. She is now five months pregnant. The UT police today arrested the labourer on a charge of raping the minor. The accused has been identified as Ranjit Singh, a resident of Burail.
Gang rape of 6-year-old girl in Bengaluru
Parents worried over students' safety in school
Chandigarh, August 3
The shocking incident of the gang rape of a six-year-old girl by two gym instructors at a high-profile school in Bengaluru, which triggered national outrage and protests, has kicked off a debate over the safety of children in schools. The incident has come under close public scrutiny, raising several questions among parents.


Open House response
Outsource or not, MC cannot shirk responsibility
Prompt action needed
Streetlights in southern sectors of the city are the least attended to. While these sectors continue to get congested because of a number of cooperative housing societies, the authorities are shirking its responsibility of maintaining the streetlights and putting it on the shoulders of residents.


Vehicles move on a poorly lit road in Chandigarh. A file photo

comment
New technology needed to light up the city
AS the sun sets, Chandigarh loses its tag of being a well-lit city as non-functional streetlights turn many of its parts into dark alleys. These not only become the "hunting ground" for anti-social elements, but also lead to fatal accidents with motorists failing to notice stray cattle.

2015: New terminal to host int'l flights
Chandigarh, August 3
Come April 2015, the upcoming international terminal of the airport here, is all set to host international flights to different destinations of middle-east and south East Asia.

Work under way at the international airport in Mohali on Sunday. Tribune photo: Vicky Gharu




Legal eagles dwell on need for national judicial commission

Chandigarh, August 3
Legal eagles from Haryana, Himachal, Punjab, Chandigarh, Delhi and Uttar Pradesh today deliberated upon the need for a national judicial commission during a discussion the "National Judicial Commission, Do We Need It or Not" held by the Inter-State Association of Lawyers' here today.
Advocates from Punjab, Haryana, Chandigarh, Delhi and UP interact during a meeting at the Punjab Bhawan in Sector 3, Chandigarh, on Sunday. Tribune photo: S Chandan
Scattered showers bring respite from humidity
Chandigarh, August 3
Even as weak monsoon resulted in scattered rainfall in the city and Panchkula this evening, it brought respite from the humid weather. It rained heavily in parts of Sectors 8, 9, 29, 30 in Chandigarh. In Panchkula, Sector 4, 5, 6 and Mansa Devi Complex area received heavy rainfall.
Will hold Teej function, says area councillor
Chandigarh, August 3
Rising above politics, the councillor from Mani Majra in whose ward the Teej function was scheduled to be held was postponed, has decided to organise the function on his own. The councilor, Gurcharan Dass Kala, will be meeting MC officials on Monday over the issue.


Defacement of public property
Mohali admn to register cases
Mohali, August 3
Going strict against those, who deface the public property by pasting posters, stickers, pamphlets and other such material, the Mohali administration has decided to register cases against them.

Posters pasted on an electricity pole at Phase I in Mohali. Tribune photo: Vicky Gharu
assembly elections
Naveen Jindal's name doing the rounds for P'kula seat
Panchkula, August 3
With the Indian National Lok Dal (INLD) fielding businessman Kulbhushan Goel from Panchkula in the upcoming Vidhan Sabha elections considering 'Baniya votes', all eyes are now on the Congress and Bhartiya Janta Party(BJP) candidates.
Political activities gain momentum
Panchkula, August 3
With the assembly election ahead, political activities have start gaining momentum in the district. While the Indian National Lok Dal (INLD) has declared its candidate for Panchkula and Kalka assembly constituencies, the district unit of BJP has also started mobilising party workers and supporters.
BJP leader quits post
Panchkula, August 3
Following allegations of physical abuse by a female party worker in the local unit Bharatiya Janta Party (BJP) against the general secretary Bharat Bhushan Rehod, the latter resigned from his post today.
Residents hold protest over fencing of colony
Zirakpur, August 3
Scores of resident of Vishranti, a housing colony, and other neighbouring housing colonies in Singhpura village protested against the ongoing dispute over the ownership of a chuck of land between the land owner and the builders, here.
Market assn installs CCTV cameras
Chandigarh, August 3
The Booth Market Welfare Association of Sector 47 D has installed CCTV cameras in the corridors of the market and parking to keep a check on thefts. Sixteen CCTV cameras worth around Rs 60,000 have been installed at several points in the market.


REPORTERS' DIARY
A case of mistaken identity, indeed!
Living in constant fear of suspected strikes by a 'Kaala Kacha Gang', a woman resident of Sector 10 called the police to inform them that a gang had struck at her place. As the police rushed to the spot, it came to light that it was some children plucking mangoes from the tree outside the house by scaling the wall and were mistaken to be the members of a 'Kaala Kacha Gang' by the elderly woman.

Commuters can expect respite from the daily traffic chaos as work on widening the road near shops alongside the Zirakpur flyover is on in full swing. Tribune photo: Nitin Mittal
FOSWAC proposes revival of Chief Commissioner's post
Chandigarh, August 3
The executive committee of the Federation of Sectors Welfare Association (FOSWAC) today proposed the revival of the post of Chief Commissioner in the UT. FOSWAC general secretary JS Gogia proposed this resolution during a meeting at the Sector 46 community centre.
Tomato prices come down by Rs 10 a kg
Chandigarh, August 3
Giving a breather to city residents, tomato prices came down by Rs 10 per kg. The prices were slashed from Rs 60 per kg prevailing last week to Rs 50 today. Market sources said the prices are likely to come down further, as supply of tomato is expected to restore in city markets.
Admission to Class XI
Medical aspirants in a fix
Chandigarh, August 3
Medical aspirants from the UT seeking admission to Class XI are in a fix as the Department of Punjab Medical Education is yet to decide the eligibility criterion for 85 per cent state quota for MBBS seats in Punjab for the 2016 batch.
Counselling venue turns campaigning ground at PU
Chandigarh, August 3
Chaos prevailed due to overcrowding at the gymnasium hall of Panjab University this morning during the counselling for physical verification of documents of candidates for admission to engineering and architecture courses.
Students show their documents; and (right) candidates and their parents jostle for space during the counselling at the gymnasium hall of Panjab University. Tribune photos: Pradeep Tewari

ETT teachers block Kharar-Kurali highway
Mohali, August 3
The protesting ETT teachers gave a tough time to the Mohali Police when they blocked the traffic flow on the Kharar-Kurali highway this morning. As Punjab Chief Minister Parkash Singh Badal was scheduled to visit Kharar to attend the bhog ceremony of noted leader Mann Singh Manhera, the protesters wanted to meet the CM, but the police did not allow them.



Members of the ETT Teachers Union block a highway during their protest at Kharar on Sunday. A Tribune photograph
Radio singing talent hunt show
Contestants prove their mettle on varsity campus
Chandigarh, August 3
Regional final for radio singing talent hunt show was organised on the Chandigarh University campus here today. Punjabi folk singer Dolly Guleria was the judge on the occasion. She judged the five selected contestants - Sonalika, Satyajeet, Shrutika, Virender, Akhil - from the tricity.


Model United Nations conference concludes

Chandigarh, August 3
The 5th edition of the Model United Nations Conference, "BVCMUN'14", concluded today. It was organised by Bhavan Vidyalaya. PR Aggarwal, honorary secretary of Bharatiya Vidya Bhavan, Chandigarh, and Madhukar Malhotra, Rotarian and Kendra Committee member, were the guests of honour for the closing ceremony.

The prize distribution ceremony being held on the concluding day of the 5th edition of the Model United Nations Conference in Chandigarh on Sunday. A Tribune photograph
Vivek High School to host 'Discover Tomorrow' workshop
Chandigarh, August 3
Vivek High School, Sector 38, here will host "Discover Tomorrow" workshop for tricity schools on August 4. The school authorities said the workshop was being conducted with an objective to promote advanced learning in classrooms and to prepare students for a technology dependent and connected world.
Mystical dance enthrals audience
Chandigarh, August 3
The Chandigarh Sangeet Natak Akademi in collaboration with Sadhya, Delhi, presented "mystical forest dance" at the Tagore Theatre here today. The contemporary dance production by Santosh Nair left the audience spellbound.