Lack of staff in rural colleges
AAP wants HC to intervene
Shimla, August 3
Activists of the Aam Aadmi Party (AAP) and the Right to Information Act have sought the HP High Court's intervention, accusing politicians heading successive state governments of opening colleges out of political considerations without providing basic facilities, staff and infrastructure to students.
Get a driving licence for Rs 1,500 in Solan
Solan, August 3
With a nexus of well-connected touts facilitating easy availability of driving licences to all and sundry, without fulfilling the basic requirements, untrained drivers are getting easy licences in the district.
Immersion of minjars into Ravi marks end of international pageantry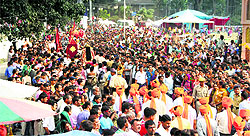 Chamba, August 3
The immersion of minjars (paddy and maize shoots) and coconut into the holy water of the Ravi by state Forest Minister Thakur Singh Bharmouri heralded the end of the eight-day international Minjar fair amid traditional performances in Chamba today.

A Minjar procession leads to the Ravi in Chamba on Sunday.

Minister directs IPH Dept to enhance sewage connections
Solan, August 3
Social Justice and Empowerment Minister DR Shandil on Friday directed officials of the Irrigation and Public Health (IPH) Department to enhance the usage of the sewage scheme by making sewage connections compulsory within the next six months.
Youth lost during Kinner Kailash yatra rescued
Shimla, August 3
A 24-year-old pilgrim, who had lost his way while returning from Kinner Kailash, was rescued by the Kinnaur district administration last night.
Nagni fair celebrated with religious fervour
Nurpur, August 3
The traditional Nagni fair of Nurpur was celebrated at the Nagni Mata Temple near here yesterday with religious fervour and fanfare. Thousands of devotees from far-off places and neighbouring states thronged the temple to pay obeisance.
Social networking sites affect females more: Study
Mandi, August 3
Social networking sites have more influence on females than their male counterparts, reveals a study conducted by a team of teachers of the Post Graduate Government College, Mandi.
Life-long therapy to be given to HIV-positive pregnant women
Kangra, August 3
The Department of AIDS Control has decided to provide life-long anti-retroviral therapy to HIV-infected pregnant and breast-feeding women, regardless of CD4 count or World Health Organisation (WHO) clinical stage, both for their own health and to prevent HIV transmission to their children.
Eminent educationist Ranchan passes away
Shimla, August 3
Eminent educationist, scholar and writer Prof Som Ranchan (82) died here on Friday night after a brief illness.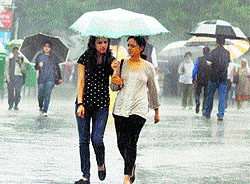 friendship showers:

Girls walk under an umbrella during rain in Shimla on Sunday. A Tribune photograph

Wild bear attacks 2 women in Chamba
Chamba, August 3
A wild bear attacked two women at Halel village of the Chadi area falling in Mehla block of Chamba district, according to reports reaching the district headquarters here yesterday.
VIGNETTES
Forgotten aesthetics in architecture
I am pained to see that most of the recently constructed government and private buildings in Shimla have missed the heritage architectural features. Had these features been maintained, Shimla would not have been named "a gracious lady who has aged and wrinkled long before her time".
Instill moral values in students, teachers told
Chamba, August 3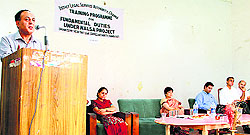 The District Legal Services Authority organised an awareness programme on fundamental duties for teachers of government and private schools here today. District and Sessions Judge RK Sharma presided over the function.


District and Sessions Judge RK Sharma addresses teachers in Chamba on Sunday.

Teacher's role in technical institute discussed
Mandi, August 3
A week-long Technical Education Quality Improvement-sponsored workshop on Induction Training Programme began yesterday at Jawaharlal Nehru Government Engineering College (JNGEC) Sundernagar. It was inaugurated by Prof IK Bhat, Director, NIT, Jaipur.
Performing fundamental duties is patriotism: Judge
Una, August 3
District and Sessions Judge CL Kochar today said all citizens should perform their fundamental duties as enshrined under the Constitution of the country, adding that this was a part of patriotism.
Senior citizens demand day-care centre in Chamba
Chamba, August 3
The Senior Citizens' Welfare Society, Chamba, reiterated its demand of setting up of a senior citizens home or a day-care centre in the town.
Traders seek insurance scheme
Palampur, August 3
The Himachal Pradesh Traders' Association and Beopar Mandal has urged Chief Minister Virbhadhra Singh to introduce a social security scheme in the form of an insurance cover for traders on a par with other states.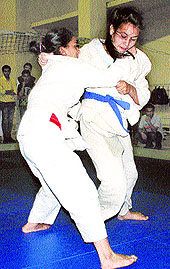 Players in action during the District Judo Championship at the Indira Gandhi Sports complex in Shimla on Sunday. A Tribune photograph

Rs 27 cr to be spent on Bharmour
Bharmour, August 3
To speed up development activities in remote tribal terrains of Bharmour in Chamba district, Rs 27 crore has been kept under the tribal area sub-plan during the current fiscal year.
Campaign on fodder cultivation launched
Kangra, August 3
Dr Vipin Chander Katoch, Deputy Director, Animal Health and Breeding, Kangra, launched a fodder campaign at the Veterinary Hospital at Baroh yesterday.
Retd Armyman held for duping two youths
Kangra, August 3
A 33-year-old retired Lance Naik from 3 Punjab Regiment was today arrested from Salol village for allegedly impersonating as Lieutenant Colonel and duping two youths.
Youth arrested for minor's rape
Kangra, August 3
A 22-year-old youth was arrested this morning for allegedly raping a minor at a school in Massal village, the police said here today.