Return ticket
If you found those UK de munde cute and endearing, then you can have their company once again. For, they are back. And the leader of the pack, Jimmy Shergill, is more than happy to return in his Roop avatar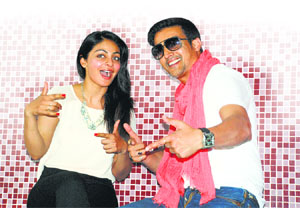 Munde UK De are back…and backed by none else but Yash Raj Films this time! Roop and Disha come again, albeit in a new story. Aa Gaye Munde UK De repeats its cast with a significant addition—Om Puri. In Chandigarh, on Monday, the lead pair, Jimmy Shergill and Neeru Bajwa, looks fun, flirty, pleased and proud. "When a banner like Yash Raj distributes a film of yours, you know you have arrived," chorus the duo.

Fun intended: Neeru Bajwa and Jimmy Shergill. PHOTO: Nitin Mittal

Lost & found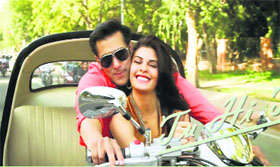 It is not easy being a lost soul in maximum city. Every setback expected was acceptable but what made the struggle grueling was finding one's bearings. "Everything was difficult but the most taxing part was getting your voice noticed and that is the very reason I was there," playback singer Mohammad Irfan Ali looks back at the past couple of years in Mumbai, before life changed for good.

A still from the song Tu Hi Tu

Spice route
Nothing feels better than a hot cup of ginger tea when cold gets you down and out. In fact, our kitchen is full of remedies for such problems. The herbs stacked in small jars not just add up on the flavour but are also disease fighting agents. Here's a head up if you have missed them on your daily journey and underestimated their goodness.
STAR TRACK
My father-in-law was proud of us: Kareena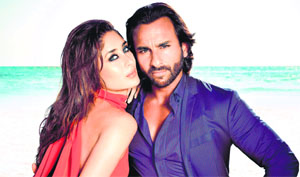 Actress Kareena Kapoor Khan, who terms her father-in-law Mansoor Ali Khan Pataudi as a 'man of few words', said he was proud of her and her husband and actor Saif Ali Khan. Saif, son of the late cricketer and actress Sharmila Tagore, is planning to make a film on Pataudi's life.

Special gesture: Kareena Kapoor Khan and Saif Ali Khan

Recreating Mary Kom's wedding
Vivacious Priyanka Chopra will be seen wearing the same wedding gown which Mary Kom had worn on her wedding. Ace designer Rajat requested Mary to give her wedding dress to replicate the same dress for Priyanka in her upcoming flick, Mary Kom.
Entertainment is Akshay's buddy for life
Akshay Kumar is not known to fraternize with his co-stars beyond the sets and locations, but the Bollywood star has made an exception for his furry friend from the movie Entertainment.
Are you hiding Fanny?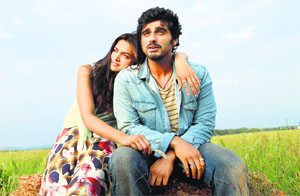 Arjun, Deepika might be in your house looking for this character. In a unique promotion route, the cast of Homi Adajania's film Finding Fanny will be paying surprise visits at the homes of people in various cities to find Fanny Fernandes. Makers of Finding Fanny are gearing up to make this meet and greet more interesting and exciting. The stellar star cast of the movie starring Arjun Kapoor, Deepika Padukone, Naseeruddin Shah, Pankaj Kapoor and Dimple Kapadia have been an instant hit among audiences as the trailer of the quirky comedy was appreciated by one and all.
Mistaken identity
Ali Fazal and Ali Zafar are the namesakes in Bollywood and their common first name is becoming the source of much confusion. Now the latest is Ali Fazal is receiving a lot of calls on a daily basis to be a part of a special corporate event to be held in Lucknow. The organizers want him to sing a song for the occasion.
Rising to the occasion
When Sylvester Stallone set out to cast action heroes for his multi-million dollar franchise The Expendables, everyone assumed it was a lost cause. They put down the success of his first two movies as a stroke of sheer luck but had to eat their words when the final cast of yet another installment of The Expendables was announced.
When Saldana met Spears
Guardians of Galaxy star Zoe Saldana says she has huge respect for pop star Britney Spears and her positivity.
A natural canvas


Nature has been Chandigarh-based artist Subhash Shorey's constant source of inspiration for over three decades now. A man of few words and many thoughts, he is happy to be invited for an exhibition titled International Tsi-Mo Shoes Art Exhibition, which will take place in Taiwan this September. Subhash looks forward to travelling overseas and experimenting with a different subject as he shifts to painting objects.
Master Chef
Awesome aloo!
The humble potato is like the common man who fits in everywhere, but has its own special place and importance. We can almost combine every vegetable and even non-vegetarian dish with aloo. We can make it all by itself too. Here is a combination of dry fruits with our dear aloo.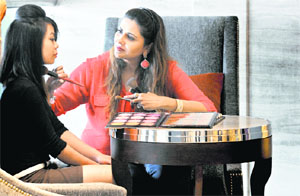 Brush with success
"When my father, then DIG, used to come home, he was so strict that my siblings and I used to hide away in bathrooms. Yet, he was an intelligent and understanding person; and after initial frowns of my grandmother, he allowed me to follow what I always dreamt of since I was a little kid — a wish to beautify people," says Ritu Kolentine, Chandigarh-based make-up artist, who was in Ludhiana for an event.
Flavours of China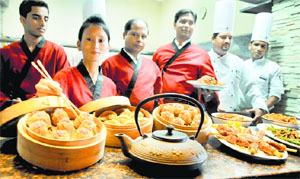 The Radisson Blu, Ludhiana, is commemorating the Chinese Valentine Day during the first week of August. This week-long affair is also called the Double Seventh Festival, as it falls on the seventh day of the seventh month according to the Chinese calendar and popularly known as the Qixi festival. The legend associated with this festival dates back to the story of love between Zhinu (weaver maid) and Niulang (cow herd).
it's rocking
A real dawat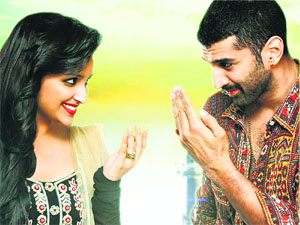 Sung by Sonu Nigam, Shreya Ghoshal and Keerthi Sagathia, the song Mannat from the film Dawat-e-Ishq is a dawat for all those of you who are die-hard romantics. While Sajid & Wajid have given the music of the song, its lyrics have been penned by Kausar Munir. While the song is already doing the rounds on several music channels, it has also become the new romantic anthem. Here's what Chandigarh folks have to say about the song.

A still from the song Mannat from the movie Dawat-e-Ishq

Fresh look
Fem, facial bleach brand from the House of Dabur, hosted the first semi-final audition of its mega model hunt — Fem Miss North India Princess 2014 — in Chandigarh.
CHATTER BOX
Bulk loss
Do you think losing weight like a celebrity is tough? Here are secret tips by actors who have shed the kilos in a healthy manner...
Diet matters: Gunjan Utreja
Previous weight: 83 kg Current weight: 68 kg
The year ahead
If your birthday is August 5...
Astro Turf
ARIES: The day would be quite busy, since you would be taking care of issues such as bills, appointments and miscellaneous errands. Yet, once you are through, you would be able to lie back and take it easy.