M A I N N E W S
For Bishnoi, BJP draws the line: Take it or leave it
Ravinder Saini
Tribune News Service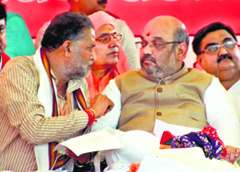 BJP chief Amit Shah with state unit chief Ram Bilas Sharma.

Mahendragarh, August 14
Sounding the bugle for the forthcoming Assembly elections, the BJP national president Amit Shah has made it clear that the party would go alone in the Assembly polls if its ally HJC does not accept the revised conditions of seat sharing.
Shah was addressing a gathering at 'Vijay Sankalp Rally' at the new vegetable market today. Though he was to flag off the party's 'Vijay Yatra', the programme was postponed.
"The BJP has an alliance with the HJC but I make it clear that we shall discuss the changed political scenario in the state after the Lok Sabha polls to take a final call. The BJP honours the alliance dharma but the HJC will have to understand the sentiments of the people. If it does not do that then we will go alone in the polls and form the government with full mandate," said Shah.
He maintained, "The alliance conditions will be as per the performance of both the parties in the Lok Sabha polls. We will respect the alliance if the HJC goes with the conditions. Otherwise, the BJP alone will contest on all 90 Assembly seats and get the clear mandate."
The BJP national president said the party cannot disrespect the public verdict by carrying on the coalition with the HJC as per the previous pact as the people wished to contribute to Modi's campaign of forming the BJP government in all states in order to ensure overall development at the nation level.
Dubbing the Hooda government as anti-farmer, Shah said farmers had played a vital role in the formation of the Congress government in the state but Chief Minister Bhupinder Singh Hooda, instead of working for the welfare of the farmers, paid his full attention to please Congress leaders close to Sonia Gandhi during the last 10 years.
"This attitude of the Hooda government not only hit the farmers hard, but also served to bring agriculture development rate down to three per cent. Land price has shot up considerably in the state during Hooda's tenure but the farmers could not get any benefit. Their fertile and costly land has been acquired by the government in the name of development," said the BJP president.
Shah also slammed the Chautala regime allegedly for promoting hooliganism and crime.
He exhorted the people to give the BJP a chance to banish corruption and make the state crime free.