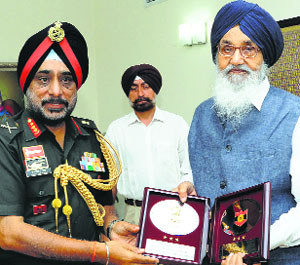 Lt Gen KJ Singh, General Officer Commanding -in- Chief, Western Command, with Chief Minister Parkash Singh Badal at the latter's residence in Chandigarh on Thursday. A Tribune Photograph
PUDA asks state govt to return loan amount
Chandigarh, August 14
The Punjab Urban Development Authority (PUDA) has asked the state government to return some instalments of the Rs 2,000-crore loan that it raised for the government last year. PUDA mortgaged its properties with various banks last year to raise a loan for the cash-strapped state government, which was finding it difficult to meet its committed liabilities.
Now, dope test must for govt job
Chandigarh, August 14
To prevent drug addicts from joining government jobs, Punjab has made dope test mandatory for all fresh recruitments. This decision was taken at a meeting chaired by Chief Minister Parkash Singh Badal to review government measures to check the drug menace.

Campaign trail: Talwandi Sabo
Candidates sweat it out on dusty village roads
AAP candidate banks on personal rapport
Talwandi Sabo, August 14
At a small gathering at Sangat village, the Aam Aadmi Party (AAP) candidate, Baljinder Kaur, strikes an emotional chord with the people." While teaching in a Fatehgarh Sahib College, my colleagues would often tell me that Talwandi Sabo is a backward area and people are reluctant to marry their daughters with youths of the area." Adjusting the 'dupatta' over her head, she says: "I always knew that I would come back to my people."
Congress' Jassi targets jobless youth on warpath
Talwandi Sabo, August 14
"I am shocked that the government has turned a blind eye to protesters who climb water tanks and threaten to commit suicide," says a charged up Harminder Jassi, Congress candidate, at a rally in Jeevansinghwala village. He sits with a group of agitating job aspirants who have cleared the teacher eligibility test (TET) and are yet to be called for counselling. Straightening the crease of his immaculate white kurta-pyjama, he then walks towards another group of voters. "Go anywhere and people approach you with a long list of grievances. I just visited Ramsran village where residents are living in hell owing to the stench emanated by the oil refinery," he tells The Tribune.
SAD's Sidhu promises to bring big projects
Talwandi Sabo, August 14
"I quit the Congress because nobody helped me fulfil your demand for clean drinking water and development projects. However, when approached, Akali leaders gave me a patient hearing and moved files," Jeet Mohinder Sidhu, SAD candidate, tells a crowd gathered under a 'shamiana' in Bhagwangarh village."With SAD's help, I can bring major projects to the constituency. You can expect a bonanza now that the SAD's ally BJP heads the government at the Centre," he tells the gathering as he adjusts the frame of his spectacles.
No acrimony with SAD on INLD ties, claims BJP president
Patiala, August 14
Punjab BJP president Kamal Sharma today credited Chief Minister Parkash Singh Badal for defusing whatever little differences there were between the SAD and the BJP. Sharma said there was not too much to read between the lines. "The association of the alliance partners is old and growing with time," he said.
It's an attempt to muffle my voice, says Jagmeet Brar
Chandigarh, August 14
Congress leader Jagmeet Singh Brar today said that the decision to suspend him was "dictatorial" for which the party would pay dearly in the two byelections in the state. Speaking to The Tribune on the phone, he said the move was an attempt to muffle his voice. Brar had demanded reforms within the party after the Congress' humiliating defeat in the Lok Sabha elections.
Begowal: Work on despite stay, says Khaira
Jalandhar, August 14
Punjab Congress spokesperson Sukhpal Khaira has alleged that despite a High Court stay on construction on a petition alleging that MLA Bibi Jagir Kaur had encroached upon about 20 acres of Begowal Nagar Panchayat land, the construction activity is still on.



SGPC rubbishes Jhinda's charge on offerings
Amritsar, August 14
The SGPC today hit out at HSGMC chief Jagdish Singh Jhinda over the latter's allegations about gold and cash going missing from Nada Sahib Gurdwara in Panchkula.
President's Police Medal for DGP Pandey
Chandigarh, August 14
Ganesh Dutt Pandey, DGP-cum-Commandant General, Home Guards & Director, Civil Defence, has been awarded the President's Police Medal for distinguished service.
BSF jawan commits suicide
Gurdaspur, August 14
A 26-year-old BSF jawan allegedly shot himself in the head with his service weapon late yesterday night. He died on the spot. NK Mishra, DIG, BSF, said investigations into the incident were being held by the Gurdaspur police.
Anganwari union chief begins fast, demands jobs
Muktsar, August 14
Hargobind Kaur, president, All Punjab Anganwari Employees' Union, today began an indefinite fast near the District Administrative Complex (DAC) here. She demanded the recruitment of anganwari workers as supervisors in the Social Welfare and Child Welfare Department. Anganwari workers had been on an indefinite fast since August 22.
State set to implement new land acquisition Act
Chandigarh, August 14
The Punjab Government has no major objection to The Right to Fair Compensation and Transparency in the Land Acquisition, Rehabilitation and Resettlement Act, 2013. The state has already issued a notification to implement the Act and is in the process of forming a land acquisition, rehabilitation and resettlement authority.
Govt colleges to have smart classes
Chandigarh, August 14
The state government today announced setting up of smart classes in all government colleges besides finishing schools in various districts.
Four killed in mishaps
Abohar, August 14
Four persons were killed in road accidents and four bodies were found in various canals in the past 24 hours in and around Abohar. Those who died in the mishaps are Satnam Singh, Surjit Singh, Malkiat Singh Bawri and Subhash Chander Meghwal.
Farmers rejoice as water released into canals
Abohar, August 14
Hundreds of farmers heaved a sigh of relief as officials of the Irrigation Department released water into the Malukpura and Panjawa distributaries of Abohar sub-division.



Girl sent to Nari Niketan as two women claim to be her mother
Faridkot, August 14
Two families have been in a dispute over taking the custody of a 14-year-old girl in the court of Sub-Divisional Magistrate (SDM), Faridkot. Four days after the Faridkot police recovered Puja from Naldoh village of Nagpur area in Maharashtra, two women claimed to be the girl's mother. While Munni Devi of Faridkot claims to be the biological mother of the girl, Usha Rani from Naldoh village of Nagpur says she is her adoptive mother.
Mohali court allows Capt to travel abroad
Mohali, August 14
In a case pertaining to Amritsar Improvement Trust land scam, a local court today permitted Capt Amarinder Singh to travel abroad to attend international events.
HC stays suspension of Food & Supply officers
Chandigarh, August 14
Justice Mahesh Grover of the Punjab and Haryana High Court today stayed the operation of an order placing under suspension the services of two Food and Supplies officers.



PSPCL officer held for graft
Chandigarh, August 14
The Vigilance Bureau has nabbed an SDO of Punjab State Power Corporation Limited (PSPCL) red-handed while allegedly accepting a bribe of Rs 40,000.
Drunken man shoots at father, brother
Tarn Taran, August 14
A drunken man shot at his father and younger brother in the border town of Patti today. His father Partap Singh and brother Gurwinder Singh have been referred to Guru Nanak Hospital, Amritsar. Inspector Gurwinder Singh, Station House Officer, Patti, said the accused had been identified as Karanjit Singh (35). A case under the Arms Act has been registered.