Central relief a cruel joke on state farmers
Chandigarh, August 8
Though the Central Government has announced relief for rain-deficit states, official sources say that Punjab's farmers will gain little from it. The decision to award relief was made by the Union Agriculture Minister in Parliament yesterday.
Centre returns file for promotion of 6 IPS men
Chandigarh, August 8
The Government of India has pulled up the Punjab Government for promoting six IPS officers of the 1987 batch one month before they completed the requisite length of service for getting into the next scale.
State-level woman hockey player didn't have college fee, so she chose to end life
Sunam (Sangrur), August 8
Poverty claimed the life of a 20-year-old state-level woman hockey player from Sunam, Rajwinder Kaur, after her parents expressed their inability to get her admitted to a college outside Sunam with hostel facility. Rajwinder had passed her BA-I examination in April by securing 432 marks out of 800 from a college in Bathinda.
Election-bound Talwandi Sabo sees several demonstrations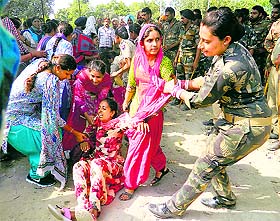 Talwandi Sabo, August 8
With top politicians camping in Talwandi Sabo in connection with the forthcoming Assembly byelection, the place has become a favourite of protesters as it allows them a chance of airing their grievances right into the ears of the persons who matter. Holding a protest at Talwandi Sabo comes with another added advantage - greater media attention.





Nurses being rounded up at Talwandi Sabo on Friday. A Tribune photo

Senior leaders of main parties converge on Patiala
Patiala, August 8
The byelection for the Patiala (Urban) seat is turning out to be a litmus test for senior leaders of all three major political parties. While the Chief Minister Parkash Singh Badal is expected to visit the constituency on August 14 and then after August 17 to address rallies in favour of the SAD-BJP candidate Bhagwan Dass Juneja, Deputy CM Sukhbir Badal is to address three rallies after August 11.
Panic after US air strikes on Iraq
Chandigarh, August 8
Reports of US air strikes on ISIS militants in Iraq today sent the families of Punjabi youths trapped in Iraq into panic. Hira Lal of Amritsar, whose elder brother Sonu was kidnapped along with 40 others in mid-June, said they were disturbed by the turn of events. "I don't know how to handle Sonu's two sons, aged eight and five, who want to be with their father.
string of faith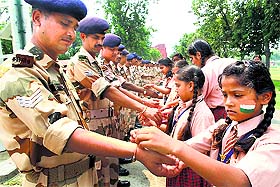 Girl students of St Soldier School tie Rakhi to the personnel of 30th Battalion, ITBP, at Saray Khas in Jalandhar, on Friday. Tribune photo: Malkiat Singh
Police avert clash among Namdhari factions
Ludhiana, August 8
The police today denied entry to the members of Namdhari Panthak Ekta Action Committee to a well inside Namdhari Shaheedi Samark. The police said they did so to avert a clash between the warring factions of the sect. The water was needed to fulfil "maryada" of the seven persons who are on hunger strike. The strike — the protesters have been seeking free access to Bhaini Sahib for all the Namdharis — entered its eighth day.
Polluting units won't be spared: Sandhu
Jalandhar, August 8
The Principal Secretary to the Chief Minister, SK Sandhu, who visited the city today, reiterated the government stand on zero tolerance towards polluting units.
Excise officials, traders spar over 'bogus' bills
Jalandhar, August 8
The tussle between the local traders and the Excise and Taxation Department officials over penalty on account of alleged bogus billing seems to be unending.
State to form task group for policy-making soon
Chandigarh, August 8
Punjab will constitute a task group comprising academicians which will help in policy-making, said Chief Secretary Sarvesh Kaushal at a seminar organised by Institute for Development and Communication here today.
Z-angioplasty new hope for those with recurrent blockage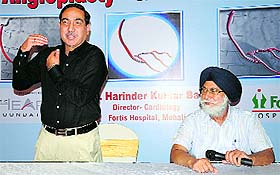 Chandigarh, August 8
There is a ray of hope for patients with recurrent heart ailments. Perhaps for the first time in the country, a team of cardio-vascular surgeons performed 'Z'-angioplasty on a 69-year-old Chandigarh resident who had undergone two bypass surgeries and had blockage in another artery.

Cardiologist Dr HK Bali (left) at a press conference in Chandigarh on Friday. Tribune Photo: S Chandan
Waste mgmt plant to come up in Faridkot village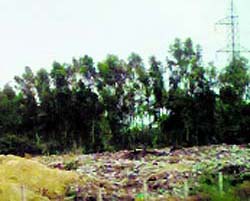 Faridkot, August 8
With the residents of several villages in Faridkot opposing the disposal of garbage in the open, Ashok Kumar, Secretary, Local Bodies Department reached the city today to placate the villagers. He promised to expedite the construction of a modern solid waste management plant on 18 acres near Bir Chahal village in the district. The project would take care of garbage disposal in 18 municipalities of Faridkot, Ferozepur, Muktsar and Fazilka, said Kumar.

A dumping site in Faridkot. Tribune photo
Addicts getting hooked on medicines
Badal (Muktsar), August 8
Since the prices of poppy husk and drugs have been escalating, drug addicts are now getting hooked on medicines prescribed at de-addiction centres. They are consuming the medicines that are prescribed for three to five days in a day. Around 300-400 drug addicts are turning up daily at the de-addiction centre, Civil Hospital, Badal village. Addicts from as far as Sirsa in Haryana and Hanumangarh in Rajasthan are also thronging the centre.
Protest against 'black' law
Amritsar, August 8
Various farmer and labour organisations today gathered at Attari and protested against the "anti-protest legislation and anti-people policies" of the SAD government.
Govt seeks time to frame policy for farmers on Andhra pattern
Chandigarh, August 8
Just about six months after the Punjab and Haryana High Court directed the state of Punjab to frame an "appropriate scheme" for granting financial assistance to farmers, the government today sought an additional three months to come up with a policy on the Andhra Pradesh module.
State aid not a matter of right: HC
Chandigarh, August 8
In a first, the Punjab and Haryana High Court has recommended taking over education as an essential state activity to prevent commercial exploitation of students. Justice K Kannan has also ruled that state aid for a private educational institution was not a constitutional necessity.
Teenaged girl from Moga village kidnapped, raped by relative
Moga, August 8
A 17-year-old girl of a remote village in the Baghapurana subdivision was allegedly kidnapped and raped by the kidnapper and his two friends, the police sources said today. An FIR under Sections 363, 366-A, 365, 376 and 120B of the IPC has been registered against Manpreet Singh, the main accused, his mother and his accomplices Satta Singh and Bachi Singh, all residents of Barnala district, for helping him in the crime.
Man axes wife to death, 5 booked
Fazilka, August 8
A man allegedly axed his wife to death over a land dispute in Chack Balochan village of Fazilka district last night. The police have booked five persons. Balwinder Singh in his statement to the police said his father Balveer Singh assaulted his mother Sheelo Bai with an axe in the courtyard of their house in the early hours. Sheelo Bai died on the spot. Balveer Singh fled from the scene along with the weapon used in the crime.