Joshi cornered; CLU fee exempted five years ago, says government
Chandigarh, August 6
The state government today claimed that the change of land use (CLU) fee was exempted five years ago. A government spokesman said that Deputy Chief Minister Sukhbir Badal had exempted the fee in the industrial policy: 2009. He said the Department of Industries was then under Manoranjan Kalia.
Police intimidating Cong workers: Preneet
Patiala, August 6
Reiterating her demand for the deployment of Central paramilitary forces in Patiala for the electioneering period, Congress candidate from Patiala (Urban) constituency Preneet Kaur today said Congress workers and supporters were being continuously hounded and harassed by the police.
Money no tool for winning elections: AAP candidate
Jagah Ram Teerth (Bathinda), August 6
Revival of the missing fire to excel among Punjabi youth is the biggest challenge for Baljinder Kaur, Aam Aadmi Party (AAP) candidate from the Talwandi Sabo Assembly constituency.
Kejriwal, Yadav to campaign in Patiala soon
Patiala, August 6

With an eye on the Assembly elections in Punjab, Aam Aadmi Party's senior leadership has shifted its focus on the Patiala (Urban) Assembly byelection to be held on August 21. While the party is likely to release the schedule of the visit of Arvind Kejriwal, Yogendra Yadav and party MPs from Punjab shortly, other senior leaders have already started visiting Patiala to seek support for AAP candidate Harjit Singh Adaltiwala.

AAP leader Sucha Singh Chhotepur during an election meeting at Daru Kutiya in Patiala on Wednesday. Tribune photo: Rajesh Sachar


Byelections may prove game changer for SAD
Muktsar, August 6
The Talwandi Sabo and Patiala byelections can prove a game changer for the SAD which needs just two more seats to get a clear majority in the Assembly. Senior Akali leaders say that they have been told to work hard to achieve this goal.




Namdharis at loggerheads over water
Ludhiana, August 6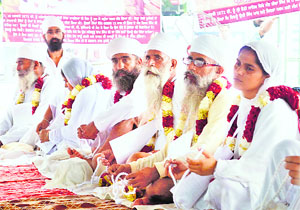 To avert any clash among followers of the Namdhari sect, police personnel were seen fetching water from a well belonging to the sect today. The development took place this afternoon when Namdhari couple Harvinder Singh and Parveen Kaur ended their five-day-long fast. Immediately thereafter, seven members of the Namdhari Panthak Ekta Action Committee, Tirlok Singh, Malkit Singh, Manjit Kaur, Hardeep Singh, Mahinder Singh, Manmohan Singh and Rajwinder Kaur, sat on a fast.

Seven members of the Namdhari sect on fast in Ludhiana on Wednesday. Photo: Inderjit Verma

Panchayats can now lease out common land
Moga, August 6
The Punjab Government has issued a notification allowing panchayats to lease out the village common land to private parties for industrial, educational, commercial and professional purposes under the Punjab Village Common Land (Regulations: First Amendment) Rules, 2014.
Cotton factory in Abohar gutted
Abohar, August 6
A cotton waste-processing factory located near a thickly populated residential area was gutted in fire that was probably triggered by a short circuit.
Rain leaves Patiala flooded, claims of civic body exposed
Patiala, August 6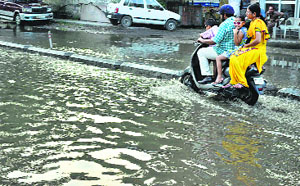 A brief spell of rain today exposed the state government's tall claims over development as many parts of the city going to the polls on August 21 were inundated. While the Congress claims the government is not bothered about city residents, especially Patiala, SAD leaders claim enough funds have been released for the development of the city.
A scooterist wades through a waterlogged road in Patiala on Wednesday. Tribune photo: Rajesh Sachar

Protesters demand removal of toll plazas
Ropar, August 6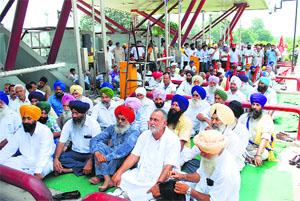 Members of the Toll Plaza Virodhi Sangharsh Committee, Punjab, today staged a dharna demanding removal of the toll plazas from the state at Solakhian toll plaza here. The protest was led by committee patron Darshan Singh Mattu. Members of various political parties, including CPI (M), Aam Aadmi Party, People's Party of Punjab and SAD (A), trade unions and other organisations also participated in the protest.
Members of the Toll Plaza Virodhi Sangharsh Committee at Solakhian toll plaza in Ropar on Wednesday. Tribune photo

Eight districts get new SSPs
Chandigarh, August 6
With the government today transferring 18 IPS and 7 PPS officers on administrative grounds with immediate effect, eight districts have got new SSPs.
Armyman donates blood for 108th time
Abohar, August 6
An Armyman donated blood for the 108th time at a military hospital in West Rajasthan.
PU panel to probe SC students' allegations
Hoshiarpur, August 6
A panel from the Panjab University (PU), Chandigarh, will visit the DAV College of Education on August 9 to look into the allegations of "bias" levelled by Scheduled Caste (SC) students against the institute's authorities.
All set for TET on August 24
Chandigarh, August 6
The state government will hold the Teacher Eligibility Test (TET) on August 24. Education Minister Daljit Singh Cheema said today that all necessary arrangements had been made by the SCERT. A large number of unemployed teachers' unions have been opposing the test. Dr Cheema said that the state government had set up 400 exam centres for 1,83,690 aspirants. Thirtysix nodal centres had been set up at the district and subdivisional level. A helpline 1860 180 1814 (toll-free) had also been set up.
CM to unfurl National Flag in Patiala
Chandigarh, August 6
The state government will organise the state level Independence Day function in Patiala this year, where Chief Minister Parkash Singh Badal will unfurl the National Flag.
6,000 dairy farmers join hands to set up plant in Ludhiana
Chandigarh, August 6
In a unique initiative, almost 6,000 progressive dairy farmers in Punjab will come together to set up their own hi-end milk plant at Ludhiana for processing milk and retailing it. The state-of-art milk plant will be set up at an estimated cost of Rs 10 crore.
Power corporation reintroduces VDS
Jalandhar, August 6
With Punjab Power Corporation receiving an overwhelming response to its Voluntary Disclosure Scheme (VDS), under which unauthorised load is regularised, the Punjab State Power Corporation Limited (PSPCL) has re-introduced the VDS.
Info on Obama's decision to invite Modi sought
Washington, August
A US-based Sikh rights group has filed a request under the Freedom of Information Act (FOIA) seeking documents relating to the President Barack Obama administration's decision to invite Prime Minister Narendra Modi for a meeting at the White House here in September.
Sikh man called 'terrorist' by US driver who ran truck over him
New York, August 6
A Sikh man, critically injured after being hit by a truck, was called a "terrorist" by the attacker, the victim's wife said, demanding justice for him and terming the assault as an attack on her community.
Sikh trader killed, 2 hurt in Pak attack
Peshawar, August 6
A Sikh businessman was today killed and two others injured when unknown gunmen opened fire on them in this northwestern city of Pakistan, prompting protests and road blockade from the members of the minority community.
Hoshiarpur court rejects Cheema's application
Hoshiarpur, August 6
The court of theJudicial Magistrate (First Class) today dismissed an application by Education Minister Daljit Singh Cheema seeking exemption from personal appearance. The court told his counsel to ensure that he came to court along with documents on the next date of hearing on August 28. Balwant Singh Khera, a social activist, had filed a criminal complaint in the court of the CJM in February 2009 against SAD president Sukhbir Badal, SAD patron Parkash Singh Badal,SAD general secretaries Sukhdev Singh Dhindsa and Daljit Cheema and other members of the party's core committee.
HC: Cops must ensure help to rape victims for MTP
Chandigarh, August 6
To prevent miscarriage of justice in the case of pregnant rape victims, the Punjab and Haryana High Court has made it clear that permission for termination of pregnancy is hardly required and has asked the Director-General of Punjab Police to issue "general instructions" to all police stations to render assistance to the victim for medical opinion on "cessation of pregnancy" and admission to government hospitals.
Two brothers get life term for murder
Ropar, August 6
District and Sessions Judge Amarjot Bhatti today awarded life imprisonment to two brothers for the murder of a cattle trader.
5-yr-old boy kidnapped in Amritsar
Amritsar, August 6
Harvanshbir Singh, a five-year-old child, was kidnapped from outside his residence in the Ranjit Avenue area this afternoon.
The police question the owner of the house from where Harvanshbir was kidnapped in Amritsar on Wednesday; (right) Victim's parents, Harpinder and Navjot. Photos: Vishal Kumar
Primary Education Officer suspended
Jalandhar, August 6
The Education Department has suspended Block Primary Education Officer (BPEO) Surinder Singh Lakha following allegations of misappropriation of government funds and harassment of female teachers.
Man commits suicide after killing wife
Abohar, August 6
Sohan Lal Jat (52) allegedly committed suicide by consuming an insecticide after killing his wife Kaushalya Devi (50) in Ratanpura village of Sangria segment near Hanumangarh, Rajasthan, last night.