Byelection means little to Kanakwal residents
Phullo Kheri, August 4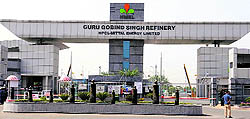 Elections mean nothing to residents of villages in the vicinity of Guru Gobind Singh Refinery in the Talwandi Sabo Assembly constituency.



Poll observers appointed

A view of Guru Gobind Singh Refinery in Bathinda. Tribune photo: Pawan Sharma

Kirpan row: Rajasthan minister orders probe
Abohar, August 5
Rajasthan Health Minister Rajinder Rathore has announced that Deputy Inspector General (DIG), Kota, will probe an incident wherein a youth was denied entry into a test centre at Kota as he refused to give up his 'kara' and 'kirpan'.
Brar writes to Ahmed, denies remarks against Sonia, Rahul
Chandigarh, August 5

Former member of the Congress Working Committee Jagmeet Singh Brar today informed AICC general secretary Shakeel Ahmed that he stood by all issues raised by him in the media, except for the uncharitable remarks on AICC president Sonia Gandhi and vice-president Rahul Gandhi, asking them to hand over the party command to somebody else.

Jagmeet Brar, AICC member
HSGMC row: Badal meets party MPs in Delhi
New Delhi, August 5
Punjab Chief Minister Parkash Singh Badal had an hour-long meeting with his party MPs and senior leaders here to take stock of the situation arising after the HSGMC imbroglio.
Will sue MLA over land grab remark: Adaltiwala
Patiala, August 5

Lashing out at senior Congress leader and sitting Sanaur MLA Lal Singh for trying to tarnish his image ahead of the Patiala Urban byelection, Aam Aadmi Party candidate HS Adaltiwala said the MLA should apologise within a week otherwise he would file a defamation case against him.


AAP candidate Harjit Singh Adaltiwala campaigns in Patiala on Tuesday. Tribune photo: Rajesh Sachar

patiala assembly byelection
Cong re-assigns duties, Brahm Mohindra left out
Patiala, August 5
The Congress high command's decision to "sort out" the growing differences between the two factions of the Punjab Congress on the issue of deputing leaders on election duties in Talwandi Sabo and Patiala has further deepened the fissures.



Voters in mood to punish SAD, says Bajwa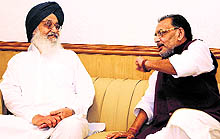 Centre promises aid for farmers
New Delhi, August 5
The Centre today assured the Punjab Government that it would extend all possible support to provide relief to farmers reeling under drought-like conditions.



PS Badal with Union Minister Radha Mohan Singh in New Delhi on Tuesday. Tribune photo

Balad Kalan land row
Attempt to murder charge dropped against 41 Dalits
Sangrur, August 5
The district police have dropped charges under Section 307 (attempt to murder) of the Indian Penal Code against 41 Dalits who were arrested following a clash with the police at Bhawanigarh on June 27.
CM orders review of post-2007 works in Lambi constituency
Muktsar, August 5
After getting reports of alleged misappropriation of funds for carrying out development works in villages in his home constituency Lambi, Chief Minister Parkash Singh Badal has ordered the district administration to review all the projects since 2007 and submit a report by August 11.
Pak delegation visits sugarcane farms
Amritsar, August 5
A delegation comprising experts and sugar mill officials from Pakistan today visited sugarcane farms in different parts of Amritsar district and also met the cane farmers to acquaint themselves with the technology being used by them.
2 years on, traders resent lack of facilities at ICP
Amritsar, August 5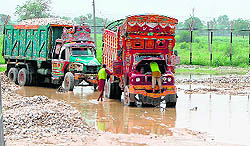 Two years after the Integrated Check Post (ICP) at Attari became operational, the trading community is not satisfied with the services at the facility that witnesses India-Pakistan bilateral trade worth millions of dollars every year.



The open area where gypsum imported from Pakistan is unloaded at the ICP. A file photograph

$600 for woman rickshaw-puller
Muktsar, August 5
A cheque for $600 was today handed over to Jinder Kaur, a woman rickshaw puller of Muktsar. The cheque was sent to the Editor-in-Chief of The Tribune by a resident of Seattle, US.
Sufi singer Jyoti, husband sent to protection home
Chandigarh, August 5
The Nooran sisters have been singing the same tune for long. But discord between the celebrity-duo surfaced today as the younger Nooran, Jyoti, appeared before the Punjab and Haryana High Court against her mother and sister Sultana.
SC students protest in Hoshiarpur
Hoshiarpur, August 5
The students of DAV College of Education at Hoshiarpur today sat on a fast outside the Deputy Commissioner's office here.
Badal's picture back on '108' ambulances
Ludhiana, August 5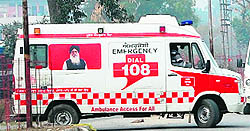 Despite the fact that the '108' ambulance service is a Central scheme under the National Rural Health Mission, the state government tries to project it as its own by putting the picture of Chief Minister on the ambulances.



These were covered due to model code of conduct during LS poll

EC to inquire into Juneja's affidavit
Patiala, August 5
An affidavit submitted by Patiala (Urban) SAD candidate Bhagwan Dass Juneja is under the scanner for concealing facts about him and his campaigning via social media.
Prisoner's murder: 4 cops surrender
Amritsar, August 5
Four dismissed police personnel, including the prime accused in the murder of jail inmate Bikramjit Singh, surrendered in the court of Chief Judicial Magistrate (CJM) Yukti Goel here today.
Get medical fitness certificate without check-up for Rs 50
Muktsar, August 5
Rural Medical Officers (RMOs) deputed at the Suwidha Centre in the District Administrative Complex (DAC) here are issuing medical fitness certificates without conducting a check-up.
Govt denotifies colleges, draws flak
Abohar, August 5
By reversing former Ashok Gehlot-led Congress Government's decision on taking over colleges in Sriganganagar and Hanumangarh districts, the Vasundhra Raje Government in Rajasthan has come under heavy fire from various quarters.
smuggling
Delhi High Court reserves verdict in Moga MLA's case
New Delhi, August 5
The Delhi High Court today reserved its judgment on an appeal by the Customs Department against the acquittal of Joginder Pal Jain, Akali Dal legislator from Moga, by the trial court in a case related to smuggling of foreign currency and travellers' cheques (TCs) worth Rs 16 lakh in 1988.
Drug racket: Charges framed against Jagdish Bhola, 8 others
Mohali, August 5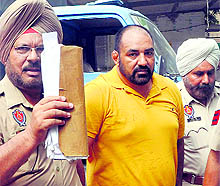 Charges were framed against alleged drug kingpin Jagdish Bhola and eight others in the multi-crore drug racket case in the court of Additional District and Sessions Judge (Senior Division) Parminder Pal Singh here today. However, the court discharged NRI Anoop Singh Kahlon, who was arrested last year.




Jagdish Bhola, alleged kingpin of the multi-crore drug racket, outside a court in Mohali on Tuesday. Tribune photo: Vicky Gharu


Technical snag in car no basis to deny relief: HC
Chandigarh, August 5
The Punjab and Haryana High Court has made it clear that a vehicle owner cannot steer clear of his legal responsibility in case of an accident due to technical snag.




Milk contractor booked for fraud
Chandigarh, August 5
An ingenious milk contractor of Samrala allegedly made more than Rs 1.20 lakh every day by creating a cavity in the 11,000 litre-capacity milk tanker to store 1,700 litres of water.

Minor girl kidnapped in Bassi Pathana


Bassi Pathana, August 5
The police have registered a case against a youth for allegedly kidnapping a minor girl on the pretext of marriage.

Doc held for graft
Chandigarh, August 5
The Vigilance Bureau today nabbed a doctor from Amritsar red-handed while accepting a bribe of Rs 5,000. Narinder Singh of Sandhu Colony, Khooh Khudian Wala (Amritsar), had lodged a complaint that he had admitted his son at Guru Nanak Dev Hospital after being injured in a scuffle.

Woman's body found in Cong leader's house


Kotkapura, August 5
The police recovered the body of a 28-year-old woman from the house of a Congress leader today. The house was set on fire after the murder of the woman, identified as Anjali.

Liquor worth Rs 60 lakh seized


Abohar, August 5
The Rajasthan Police claimed to have seized a truckload of countrymade liquor and beer, distilled in Punjab and Haryana, last night. The seized liquor is said to be worth Rs 60 lakh.