PFA raid creates a flutter at Vivek High School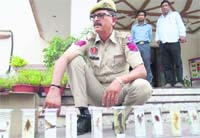 Chandigarh, August 5
Panic gripped students and teachers at Vivek High School, Mohali, this afternoon when three "armed men" suddenly barged into the school premises at around 1.45 pm with an agenda of raiding the biology lab.

A policeman displays specimens of animals found in the biology lab at Vivek High School, Mohali, on Tuesday. A Tribune photograph
Major relief for power consumers
Chandigarh, August 5
Providing a major relief to power consumers, the Joint Electricity Regulatory Commission (JERC) has rejected a review petition of the Chandigarh Electricity Department to levy fuel and power purchase cost adjustment (FPPCA) charges.



building violations
No pick-and-choose policy, UT tells Estate Office staff
Chandigarh, August 5
Already under fire for harassing property owners on account of delay in approving building plans, the Chandigarh Administration has now directed the Estate Office to bring more transparency while reporting building violations across the city.
Cong councillors meet UT Adviser
Chandigarh, August 5
A delegation of Congress councillors today met the UT Adviser seeking action against BJP councillors for holding the Teej function at Sector 38 West allegedly without paying the ground rent and stealing power through a kundi connection.
Family members pledge their bodies
Chandigarh, August 5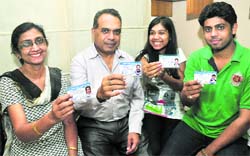 For Kamal Sharma (52), a businessman, convincing his family for giving consent for body donation rather came as a pleasant surprise. While fearing resistance from the younger generation in the family, which differs with the older generation in most of the decisions, and his wife, who believes in social stigma, he asked them to give consent as he decided to pledge his body for donation.
Family members show donation cards at their house in Sector 50, Chandigarh, on Tuesday. Tribune photo: Parvesh Chauhan
PGIMER to start 'living organ donor transplant programme'
Chandigarh, August 5
Amid shortage of organ donors, despite finding high number of brain-dead patients, the PGIMER has proposed to start living organ donor transplant programme this year. Lives of patients needing liver, kidney, lung, intestine or pancreas transplant would be saved with the facility of living donor transplant.
INLD fails to strike a chord with students
Chandigarh, August 5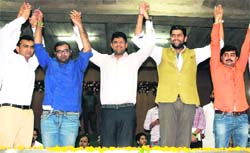 The leaders of the Indian National Students Organisation (INSO) wing of Panjab University (PU), and local colleges were left disappointed when Dushyant Chautala, grandson of INLD stalwart OP Chautala, preferred to speak about the forthcoming Haryana Assembly elections rather than the university student council elections.
MP Dushyant Chautala (centre) with INSO leaders during the foundation day celebrations of the party at Panjab University, Chandigarh, on Tuesday. Tribune Photo: S Chandan
INSO-SOI alliance on the cards
Chandigarh, August 5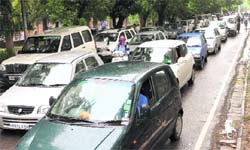 On the day the Indian National Lok Dal (INLD), entered into an alliance with Punjab Chief Minister Parkash Singh Badal's Shiromani Akali Dal (SAD), for the Vidhan Sabha elections, their respective student parties at Panjab University also united for the forthcoming student council elections.

A traffic jam was witnessed during the foundation day celebrations of INSO at Panjab University, Chandigarh, on Tuesday. Tribune Photo: S Chandan
Crores sanctioned, P'kula roads still in bad shape
Panchkula, August 5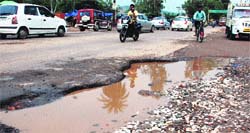 It has been over one year since the Municipal Corporation was formed, but still potholed roads greet commuters in Panchkula. A total of Rs 60 crore was sanctioned for development, but it seems to go down the drain.

Water accumulated on a potholed road near Majri Chowk in Panchkula. Tribune Photo: Nitin Mittal
Role of social media discussed
Chandigarh, August 5
The Public Relations Society of India, Chandigarh Chapter, organised a seminar on "Role of social media in the present and future scenario" at Sector 27 here on Sunday.
Finally, MC to hold Teej function on August 9
Chandigarh, August 5
Ending the controversy over Teej celebrations, the Municipal Corporation (MC) is finally going to hold the function on August 9.
e-seva centre inaugurated
Panchkula, August 5
To facilitate residents in the Surajpur area, a common service centre - E-seva centre - was inaugurated by Panchkula Deputy Commissioner SS Phulia here today.


SD College students end hunger strike
Chandigarh, August 5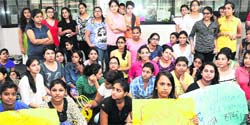 The students of SD College ended their hunger strike today after a meeting with the college principal wherein all issues pertaining to the hostel inmates were resolved.



Students protest in support of their demands at SD College, Sector 32, Chandigarh, on Tuesday. Tribune photo: Manoj Mahajan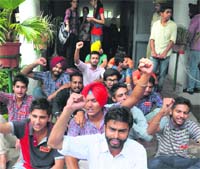 Reopen canteen in botany dept: PUSU
Chandigarh, August 5
The Panjab University Students Union (PUSU) today staged a protest in the Botany Department to reopen the canteen in the department which has been lying closed from the last few years.




PUSU activists stage a dharna at Panjab University in Chandigarh on Tuesday. Tribune Photo: S Chandan.
CCET employees stage protest
Chandigarh, August 5
The employees of the Chandigarh College of Engineering and Technology (CCET), today staged a gate rally regarding the non-fulfillment of their demands.