OPED —

Governance
How to make the police people-friendly
Rohit Choudhary
Indian police historically, systemically and culturally remain essentially ruler-centric. However, today we are living in times when the society is gradually accepting the principle that police must derive their power from public and must be held accountable to them. The Supreme Court order regarding the constitution of regulatory bodies in the form of Police Boards, Complaints Authorities and State Security Commissions is a firm and decisive step in this direction. These bodies in time to come would decide what has to be done, but the police would have freedom to decide how this is to be achieved, giving the police considerable professional autonomy. In time to come, police would no longer derive their authority solely from their relationship to the political executive and work in vertical orientation but also from the competencies that they develop in the course of their direct contact with the people they serve, which means also working in horizontal orientation.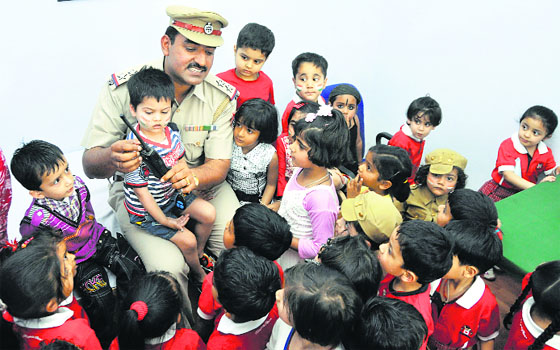 Freedom from fear: The police will have to conscioulsy forge a bond with the community and undertake activities that encourage public participation. Community policing is a very important function of the police force and collaborative planning a useful tool to make it a two-way process. Tribune photo: Himanshu Mahajan
The new mechanism would allow police to put in practice their views, developed by being close to public, on the best way to improve safety. However, it would also place an increased responsibility on the shoulders of the police administrators towards the people. And this can only be shouldered by a professionalised force, enjoying the trust and confidence of the public. To achieve that, police need to initiate steps towards embracing community empowerment strategies such as: Formation of consultative committees, partnerships with community and stimulating community-based compliance, alongwith some measures, within their means, to empower the frontline policemen.


How the police can try and be partners with the public
While empowering the community, it should be ensured that the communities get a clear charter, there is accountability, there is some training input to the community members, and the culture of the Police Department is also changed so that they collaborate effectively with the community. They should make citizens the focus of police activities and planning. In order to do that, they should:

Identify public needs systematically and tailor policing activities to meet these.


Encourage collaborative planning through consultative committees.


Forge police-community partnerships.


Stimulate community-based compliance.


Set up community-governance bodies.


Develop an organisational culture that encourages public participation.
Transform the force

Having been used by the British to curb citizens during pre-Independence days, citizens in India still look upon police as a tool of state harassment, rather than a friend. Thus community policing can act as a bridge between the police and the common man.


The Bureau of Police Research and Development, while recommending a model for community policing, referred to it as "normal policing of society in consultation, cooperation and partnership with the community at large".


The objective of this approach is to minimise the gap between policemen and citizens to enable policemen to become an integrated part of the the community they serve.


This would help them to earn the acceptance and trust of the community, leading to spontaneous cooperation in crime prevention and security in the local area. This would enable more effective policing.
This would be the best way to create an environment in which there is public acceptance for empowerment of the police department. As the department is empowered, the process of passing on the powers to the frontline policemen could further be reinforced. And the spiral could continue, in steps, eventually achieving the desired state of policing, wherein an empowered community demands and decides the kind of policing it deserves.
More power to the public
Without any doubt, working with empowered and communicative communities is likely to become the bedrock of everyday policing in India. Empowering the community can pay rich dividends to the Police Department. This happens because people are more involved, energetic and responsible when they control their own environment than when some authority outside the community does. While the department needs to cater to the needs of the communities they serve, the community in itself can be the best ally for the police. The department needs to appreciate the benefits of this relationship, as the communities score over service bureaucracies as the members are committed and understand their problems. They focus on capacities than on deficiencies, offering of care rather than just service with flexibility and creativity in a cost-effective manner.
Therefore, within the local environment, mutual trust, relationships and interactions between the police and empowered local communities must be strengthened. Community empowerment involves handing to communities substantial control over the decisions, resources and the tasks of the police. However, many studies indicate that the three components of justice system, the police, courts, and corrections, are reluctant to involve citizens in their operations and many employees view such participation as an attempt to minimise their professional expertise.
Community- empowerment strategy in policing would essentially be a three-step process —Identification of citizen needs, empowerment measures from within the means of police department, followed by community empowerment through legislation and institutionalisation.
Identification of community needs
To begin with, the police should understand what the citizens and the community wants. There are several ways by which this can be done. Citizen surveys can cover an entire community or it could be a targeted citizen survey, random survey or exit survey of the people who have just used the police services. Surveys can be conducted through mail, email, exit survey, etc. Telephone lines and Help Desks help the public not only to get required information, but can also act as a source of feedback. Citizen Suggestion Boxes help collect written feedback from citizens, which can be an effective tool to ensure quality assurance to the citizen. Feedback from front-line policemen who are in direct contact with public can provide useful information on what frustrates public and what changes they desire. Police in Singapore gather insight into citizen needs with the help of meetings and dialogue sessions; focus group discussions and surveys; feedback forms, emails, faxes and letters; telephone hotlines; and media.
Having identified the needs and tailored the policing activities to meet these needs, the issue of implementation with sustainability is very important. The common complaint that people make is that the police officers come to listen to the grievances and after attending to the issues raised for few days the matter is forgotten.
Job Cards can help
To translate public concerns into sustained action police can benefit immensely by simply making 'Job Cards' for field police officers. Job Cards should be specific to each and every deployment location and beat and should contain painstaking compilation of public concerns of the their area for attention by police officers on duty.
The next step in community empowerment would be measures such as Collaborative planning, Community-police partnership, Community-based compliance and community-governance bodies.
While Collaborative planning, Community-police partnership and Community-based compliance can be initiated by the police department itself, Community-governance bodies would follow through legislation as the trend towards community empowerment is strengthened by positive action from police.
Useful tool
Collaborative planning is a useful tool of community empowerment. Some of the ways of doing this is with the help of police advisory committees or the neighbourhood-watch groups. Both these methods can lead to excellent participation from the people and police can get ground information and useful suggestions for improved service and efficiency. In UK, Consultative committees offer a formal way for the community to raise concerns about the policing in their area and to offer their views on what the police priorities should be. These committees are made up of local councillors, police authority members, representatives of the police and people from voluntary, statutory and community groups. In most cases, Members of Parliament are automatically offered membership. In some areas, the police have also arranged for consultative group members to be present at major police operations, such as drugs raids, so that they can see at first hand how the police carry out the wishes of the community.
In US, Chicago Police holds a so-called beat meeting once a month in every neighbourhood, where local residents themselves report and prioritise problems. People feel that the good thing about taking part in a monthly neighbourhood meeting is that it builds up trust. Moreover, they get a more realistic idea of what the police and other agencies can do. There is no doubt that effective policing can occur only in partnership with this community. Law enforcement needs to address both crime and the causes of crime through cooperation with partner organisations by preventing and deterring offending behaviour, and to catch, convict, rehabilitate and resettle offenders. The joint ventures by police in partnership with the community that share common goals and operations can lead to both the community involvement, resource augmentation, expertise sharing and improved results. In USA, under the School-Based Partnership Programme (SBP), funding has been specifically to develop problem-solving partnerships between local police, schools, and community-based organisations.
Making citizens responsible
Police can also mobilise citizens by making them partly responsible for the approach of the problem. It is mainly about promoting a certain extent of awareness that the authorities cannot, will not and should not be responsible for each individual problem each citizen encounters. The police should not make population dependent upon them. They should rather stimulate the potential of the individuals and neighbourhoods to solve their own problems. An opposite attitude would confirm the idea that co-operation with the police is unnecessary and that this concern for security and quality of life is only a mission of police services and authorities. To that end, the police must support population, act as a mediator and put their professionalism at population's disposal to control conflicts and solve problems.
Community-based compliance is an emerging trend which has been tried successfully by shifting of control over compliance functions to communities in activities such as neighbourhood groups for traffic compliance. This can lead to increased transparency, empathy, augmentation of manpower, and can reduce bitterness between police and the community that the compliance activities inherently breed.
The writer is ADG Punjab and author of Policing: Reinvention Strategies in a Marketing Framework