BJP showing sign of frustration: CM
Shimla, August 8
Chief Minister Virbhadra Singh today said the behaviour of the Opposition members was a sign of frustration of the BJP leadership who is facing the heat of Vigilance inquiries and the Congress would not succumb to its pressure tactics.
Question Hour
CM: Norms for arms licences to be eased for temple members
Shimla, August 8
Chief Minister Virbhadra Singh today said the government would simplify the norms for granting arms licences to chowkidars and temple kardars (members of the temple management committees) so as to ensure security and safety at the ancient temples housing precious idols and antiques.
Get back stolen George Cross: HP to Centre
Shimla, August 8
The Himachal Government has urged the Ministry of External Affairs to make efforts to get back George Cross from London which was awarded to Naik Kirpa Ram.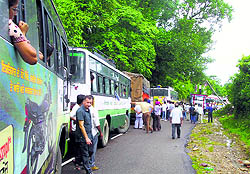 Rain creates havoc in Dehra
Kangra, August 8
Kangra valley witnessed heavy showers today. Trees and electricity poles were uprooted in Dehra subdivision. Dhaliara khad was also flooded leaving vehicles stranded on sides. Traffic jams were also witnessed on the Dharamsala-Hoshiarpur road due to over flooded Dhaliara khud and uprooted electric poles near the Beas bridge at Dehra.
An uprooted electric pole disrupts traffic on the Dharamsala-Hoshiarpur National Highway near Dehra in Kangra. Tribune photos

Heavy showers damage National Highway-72
Nahan, August 8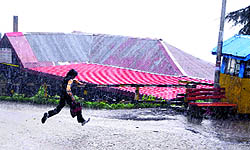 The National Highway-72 in the Sirmaur district has been damaged due to heavy rains last night because of which the district administration has incurred a loss of Rs 3.49 crore. The road has been opened for traffic now after clearing the debris, but heavy rain has made the road vulnerable to landslides at several places.

A man runs for shelter during heavy rain in Shimla on Friday. Photo: Amit Kanwar

ABVP stir on against RUSA
Shimla, August 8
The police used mild force to control activists of the Akhil Bharatiya Vidyarthi Parishad (ABVP) who were protesting outside the Vidhan Sabha against the Rashtriya Uchhtar Shiksha Abhiyaan (RUSA) here today.


ABVP activists try to cross barricades at Kennedy Chowk in Shimla on Friday. Photo Amit Kanwar

Milkfed jumps out of red
Mandi, August 8
Chairman of the HP Milk Federation Chet Ram Thakur said Milkfed had come out of red and earned profit for the first time.
Tax evasion
Rs 1.20 lakh VAT recovered from Jawali traders
Nurpur August 8
After assessing tax evasion, the officials of the Excise and Taxation Department, Jawali, recovered Rs 1.20 lakh as Value Added Tax (VAT) along with penalty from a number of traders in the Jawali circle on Friday.
Una to have disaster response team, says DC
Una, August 8
A disaster response team, comprising 50 Home Guards jawans, will soon be constituted in Una district, said DC Abhishek Jain.
Palampur residents protest release of effluent into stream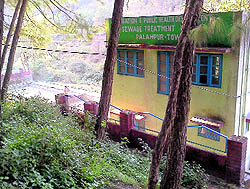 Palampur, August 8
Residents of the lower areas of Palampur town today lodged a protest against the release of affluent from sewage treatment plant to a local stream resulting in "large-scale pollution and contamination of water". The worst-affected localities were Income-Tax Complex, Karan Hospital, Ghuggar Tanda and Kesri Bag, they said.


The dysfunctional sewage treatment plant in Palampur. Photo by writer

Man demands CBI probe into son's death
Mandi, August 8
Bansi Lal, a resident of Satahan village under Kotli tehsil, has demanded a CBI probe in the alleged murder of his son Tilak Raj, who was found dead on July 29 at Sainj village in Kullu district.
Include road safety in school curriculum: Transport Minister
Shimla, August 8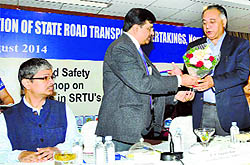 Transport Minister GS Bali said the government would propose a hill-friendly and safe transport system in the new transport policy. He said the concept of road safety should be a part of the school curriculum so that children understand the importance of road safety.


Transport Minister GS Bali being presented a bouquet during a seminar on road safety. A Tribune photograph

Super-speciality OPD starts at Tanda college
Kangra, August 8
Outpatient Department (OPD) services started at the Super Speciality Block of Dr Rajendra Prasad Government Medical College (DRPGMC) at Tanda today and received 75 patients on the first day.
Panchayat preraks seek honorarium
Chamba, August 8
The panchayat preraks of the Saakshar Bharat Mission Scheme of the Central Government has sought release of payment of their pending honorarium for the past more then a year.
Power board employees hold protest
Nurpur, August 8
Members of the local unit of the Himachal Pradesh State Electricity Board (HPSEB) Employees' Union held a protest in front of the office of the electrical division.
Billing machine non-functional
Sundernagar, August 8
The Himachal Pradesh State Electricity Board Ltd (HPSEB) had installed a bills depositing machine in Sundernagar about two years back. The machine is still not functional.
Rana takes on BJP leaders
Hamirpur, August 8
Vice-Chairman of the Disaster Management Board Rajender Rana has said BJP leaders demanding resignation of Chief Minister Virbhadra Singh should first peep through their own deeds and asked how many of them had resigned on moral grounds despite facing several cases of irregularities.
800 gm charas seized from Turkish national
Kullu, August 8
The police nabbed Baran Umut Mutlu, a Turkey national, with 800 gm charas at Cheel Mour near Chhadol Nullah village, 13 km from here, yesterday.
Two booked in forgery case
Nurpur, August 8
The controversy of the collection of funds for the issuance of photo identity cards and subscription fees by two office bearers of the state Sashastra Seema Bhal (SSB) Association took a new turn here yesterday.
Motorcyclist killed
Mandi, August 8
One person was killed when a truck hit the motorcycle he was riding. The accident took place near Visco Resort on NH 21 around 12.30 pm today.
Nalagarh youth shines in Pro-Kabaddi League
Solan,August 8
The people of Dhabota, a non-descript village of Nalagarh, are eagerly watching the Pro-Kabaddi League nowadays where local youth Ajay Thakur has not only made the village proud by being a high-selling player at Rs 12.2 lakh, but also being the team's frontline raider.