| | | |
| --- | --- | --- |
| | ARTICLE | |
Nepal: Promises to keep
Modi visit has improved the atmospherics in bilateral relations
S.D. Muni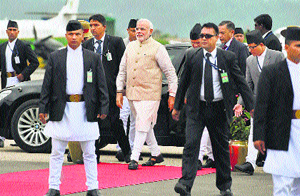 Modi did well in not mentioning China or India's security concerns in Nepal publicly in his addresses

Prime Minister Narendra Modi has had a highly successful visit to Nepal. The visit has radically changed the discourse in Nepal on India -- from being cantankerous to friendly and cooperative. This has improved the atmospherics in the bilateral relations between the two countries. He was the only foreign dignitary to address Nepal's Constitutional Assembly cum Parliament and the only Indian Prime Minister who performed a special prayer ("Basuki Puja" and "Rudra Abhishekam Puja") at Kathmandu's holy shrine of Pashupatinath Temple.
In his well-articulated addresses and wide ranging political and cultural engagements, he highlighted the civilizational bonds that exist between the Indian and Nepali people for centuries; he tickled Nepal's developmental aspirations and promised that India will stand by Nepal in harnessing its potential to reach the Himalayan heights of prosperity; he hailed Nepal's unique example of mainstreaming its Maoist insurgency into a peaceful democratic process, he urged Nepali lawmakers to frame a "federal, democratic and republican constitution" on time as not only India but the whole world is looking towards Nepal's efforts in this respect; and while underlining India's commitment to Nepal's sovereignty, he promised that India would never interfere in Nepal's affairs.
Most Indian leaders have always been doing so earlier but Modi's eloquent oratory and poetic presentation touched Nepali hearts and minds. Only mild murmurs could be felt from two sections; first, the Madhes groups, as he did not speak against their felt discrimination and instead asked them to work with the hill people for building a strong and united Nepal; and secondly the religious minorities who did not relish Modi's omission of the word "secular" in identifying the broad contours of Nepal's expected Constitution. Minorities might have found Modi's loud personal projection of Hindu identity a bit jarring. Recall Sushma Swaraj's crisp response to a Hindutva query in Nepal two weeks earlier in which she claimed her constitutional loyalty to a Secular Indian State.
Modi did well in not mentioning China or India's security concerns in Nepal publicly in his addresses and interactions even once. This is to avoid any possible irritation to China with which Modi wishes to build a strong economic relationship. But it also silenced those Nepali critics of India who like to see Nepal-India relations only in Chinese shadow. Security questions related to the India-Nepal border management were discussed at the delegation level during the visit. The joint statement issued on the visit reiterated that "India and Nepal will not allow their territory to be used against each other". "Competent authorities" were directed to ensure that 'open border' between the two countries is "not misused by unscrupulous elements posing security threats to either side".
The Chinese commentators have described Modi's Nepal visit as rhetorical, but that was a tongue-in-cheek expression. Modi, in fact, went much beyond only promises to address Nepal's deep-rooted trust deficit vis-a-vis India. He offered a $1billon worth of soft loan to Nepal for developing hydro-power potential and building infrastructure requirements. He raised scholarships for Nepali scholars to study in India and proposed to work with Nepal on HIT- Highways, Information ways and Transmission ways. He agreed to revise and update the "Treaty of Peace and Friendship of 1950" between India and Nepal for which Nepalis have been long agitating and he set time lines on the completion of many other pending agreements in the fields of 'power trade', extradition, trade and transit, border management and hydro-power projects. He also agreed to the Nepali proposal of laying a pipeline for transporting petroleum products from India to Nepal.
It will, however, take long in turning Modi's promises and Nepal's expectations from India into concrete reality. The obstacles will come from both the Indian and Nepali sides. In India, Modi has to move the bureaucracy, which has made a huge contribution in creating a 'trust deficit' with Nepal. Recall former Prime Minister I.K. Gujral's offer of "non-reciprocity" in India's neighbourhood policy which thrilled all the neighbours, including Nepal. But the excitement soon died as matters did not move on the ground. Indian diplomacy at times feels either nervous or arrogant in Nepal and indulges in senseless micro-management of Nepali affairs hurting Nepali sensitivities. Asking them to shed old habits will not be easy. A number of Indian ministries, departments and agencies are involved in carrying Modi's Nepal agenda forward. Pushing them into timely action and coordinating their processes will pose a huge challenge to Modi's leadership.
On the Nepali side, political parties suffer from an acute crisis of leadership and there is dearth even of intra-party consensus, leave apart inter-party consensus, on what kind of relationship they want with India. For long, Nepali politics has fed on anti-India sentiments and aggressive nationalism. Until this dynamics is transformed into developmental politics, in Nepal's relations with India, bilateral matters will not move smoothly. If the Nepali politicians are not committed to improving the economic status of their own people, how can India or any other country help? Many of the previous and present Nepali Prime Ministers have failed in carrying even their own respective parties along on India-related issues. As a result, a number of bilateral agreements like the Mahakali Treaty, the Pancheswar multi-purpose project, the Bilateral Investment Promotion and Protection Agreement (BIPPA), signing of the strip maps on the India-Nepal border etc remained stuck in official files alone. Even on the eve of Modi's Nepal visit, India was hopeful of signing the Power Trade Agreement between the two countries, but lack of a political consensus among the major Nepali political parties has delayed the move.
The real test of the Nepali political response to Modi's initiatives lies in how they address the question of developing Nepal's hydro-power resources and negotiate the review and upgrading of the 1950 treaty. The Nepalese side has eroded almost all the treaty provisions that they were uncomfortable with. The treaty as it stands today on the operational ground is in fact tilted against India. It remains to be seen if Nepali leaders would be willing either to sacrifice the preferred national treatment for Nepalis in India or accommodate India's security and developmental concerns in lieu of this privilege.
The writer is Professor Emeritus, JNU, and a former Ambassador