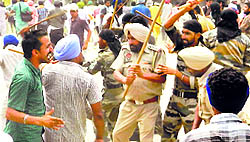 PRTC employees cane-charged
Bathinda, August 7
Members of the PRTC Worker Union Azad were cane-charged by the police in Talwandi Sabo minutes after their meeting with Deputy Chief Minister Sukhbir Badal failed to yield any result.


The police lathicharge protesting PRTC members in Talwandi Sabo on Thursday. A Tribune photograph

talwandi sabo
Fault lines in AAP make it tough for party candidate
Bathinda, August 7
Going has not been easy for Baljinder Kaur, AAP candidate for the Talwandi Sabo Vidhan Sabha constituency, ever since her nomination has been announced after the party cancelled ticket to singer Balkar Sidhu.
Capt expresses concern over law and order
Amritsar, August 7
Local Congress MP Capt Amarinder Singh today criticised the state government over the deteriorating law and order situation in the wake of the kidnapping of a five-year-old boy from the city. He asked the police to nab the accused. The Congress Deputy Leader in the Lok Sabha expressed sympathies with the boy's parents.
Arrested terrorists had plans to strike on I-Day
Jalandhar, August 7
The three terrorists nabbed from Jammu recently reportedly had plans to strike in Anandpur Sahib on August 15, the Independence Day. The exact location of their attack, though, is yet to be known.
Govt shifts stand thrice, left red-faced over CLU fee
Chandigarh, August 7
The credit war between the BJP and the Akalis over the change of land use (CLU) fee in the past few days has revealed that the office of the Deputy Chief Minister and the Finance Minister were in the dark over the issue.
Record generation at Ropar thermal plant unit
Ropar, August 7
Despite coal shortage, the unit number 3 at Guru Gobind Singh Super Thermal Plant today set a new record of generating power continuously for 81 days. Commissioned on March 31, 1988, this unit had earlier functioned non-stop for 80 days in 2007.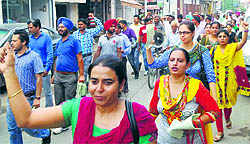 teachers up in arms:

Members of the SSA/RMSA Teachers Union take out a protest march in support of their demands in Patiala on Thursday. Tribune photo: Rajesh Sachar

Kidnapped Amritsar boy found
Amritsar, August 7
In a late-night development, the five-year-old boy, Harvanshbir Singh, who was kidnapped from Amritsar yesterday was today recovered from a locality on the Majitha Road area. The unidentified abductors left the boy on a rickshaw and fled away.
Jalandhar sees 4 police commissioners in a yr
Jalandhar, August 7
With four transfers in less than a year, the post of Jalandhar Commissioner of Police seems to have become a tough one for the Punjab Government to handle.
Action against colleges that flout pay norms
Chandigarh, August 7
The state government today ordered punitive action against the institutes that had still not implemented the recommendations of the 6th Pay Commission.
Police gesture fails to pacify Sangharsh Committee
Sangrur, August 7
Despite the police dropping the attempt to murder charge against 41 Dalits of Balad Kalan village, the Zamin Prapati Sangharsh Committee (ZPSC) has yet to soften its stand over the Balad Kalan panchayat land issue.
Farmer's suicide: Villagers protest, want nine persons booked
Sangrur, August 7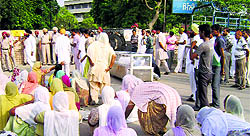 Residents of Buraj Gohran village (15 km from Dhuri) blocked the main road near the district administrative complex here today. They placed on the road the body of 57-year-old farmer Harnek Singh of the village. They demanded that the village sarpanch and eight other persons be booked and arrested.


Residents of Buraj Gohran village hold a protest by keeping a farmer's body (in glass box) on the road near the district administrative complex in Sangrur on Thursday. Tribune photo

Sirhind civic body has two executive officers
Fatehgarh Sahib, August 7
Presence of two Executive Officers (EO) created a strange situation in the office of the Municipal Council, Sirhind, today. Employees and residents who came to the office for various works looked confused as to whom they should approach for their works.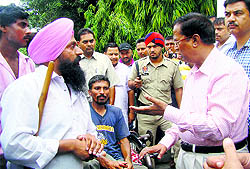 Disabled protest govt apathy
Phagwara, August 7
Members of the Blind and Disabled Persons Union, Punjab, led by its state president Lakhbir Singh Saini, lodged a protest at the "sangat darshan" programme of Chief Parliamentary Secretary Som Parkash at Town Hall today. They alleged the government had failed to redress their grievances for a long period.

Chief Parliamentary Secretary Som Parkash listens to the grievances of protesting members of the Blind and Disabled Persons Union in Phagwara on Thursday. Photo: Ashok Kaura

State to introduce poly houses for fish farming
Ropar, August 7
Fish farming is set to get a boost as the Fisheries Department has decided to set up poly houses in the state. A poly house is being set up at Ropar under a pilot project at a cost of Rs 52.4 lakh. If successful, 14 more such poly houses will be set up in different parts of the state.
Govt ayurvedic college awaits nod for admissions
Patiala, August 7
Government Ayurvedic College, Patiala, the only government ayurvedic institution in the state, has again failed to make it to the recently released list of ayurvedic colleges affiliated with the Department of Ayush, Government of India. Though the last date for applying for counselling for admission to ayurvedic colleges in the state is already over, there is no clarity about the status of the college.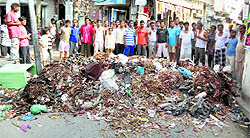 Residents protest poor sanitation
Abohar, August 7
Anguished over the poor sanitation services provided by the local Municipal Council, scores of residents in Regar Basti today collected garbage from the streets and dumped it on the main road. This led to traffic jams in the area.


People dump garbage on a road in Abohar on Thursday. Tribune Photo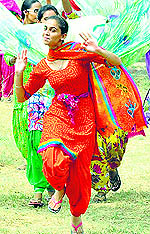 myriad of colours:

Girls rehearse for Independence Day function in Patiala on Thursday. Tribune photo: Rajesh Sachar

New rooms not built, teachers take classes in the open
Faridkot, August 7
Since 130 unsafe rooms in primary and upper primary government schools have been demolished in Faridkot district, teachers now have to take classes under the open sky.
Students enforce bandh in Srikaranpur
Abohar, August 7
Business, educational and other activities in border town Srikaranpur of Sriganganagar district remained suspended today as the Students' Action Committee called for a bandh. Hundreds of students marched through the main roads to ensure a complete bandh.
Ban fishing in Beas for safety of dolphins: WWF experts
Chandigarh, August 7
Experts fear for the safety of freshwater dolphins in the Beas, especially as their number has been rising in the river. Wildlife Department officials say three schools of dolphins have been identified by now and their number has increased to 25.
Amritsar man shot by robber in US


Amritsar, August 7
A local resident, Rajinder Kumar (47), was allegedly shot dead by unidentified persons in Washington DC during a robbery incident. Rajinder had been living there for three years. A pall of gloom descended on his house in the Khandwala area at Chheharta.

Rajinder Kumar
Murder of Ferozepur resident
High Court hands over probe to CBI
Chandigarh, August 7
In a major embarrassment for the Punjab Police, the Punjab and Haryana High Court today handed over the probe into a murder case to the Central Bureau of Investigation after holding that gross irregularities were committed in the matter and practically there was no investigation.
Almost all courts unable to tackle cases in time: HC
Chandigarh, August 7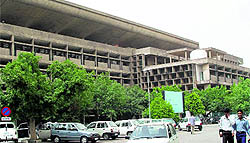 In a candid acknowledgment on the tardy justice delivery system across India, the Punjab and Haryana High Court has minced no words to say that almost every High Court in the country presents a "sorry spectacle" of inability to tackle cases within a reasonable time.




More than 2 lakh cases are pending before the Punjab & Haryana High Court


Ludhiana Improvement Trust scheme of 1982
Allot flats to SC applicants in 2 months: HC
Chandigarh, August 7
More than three decades after the Ludhiana Improvement Trust held a draw of lots for the allotment of flats under 5.53 Acres Development Scheme, the Punjab and Haryana High Court has set two-month deadline for the trust and other respondents to take possession of the cancelled illegal allotments before handing these over to left-out candidates successful in the reserved category.

Hearing on plea against SGPC auditor deferred


Amritsar, August 7
The Sikh Gurdwara Judicial Commission could not take up the hearing of a petition against the reinstatement of SGPC's internal auditor SS Kohli today due to the petitioner's failure to furnish relevant documents in the case.




Former lover shoots woman in Abohar
Abohar, August 7
A married woman was shot dead by her "former lover" near her house in Gobind Nagari here today. People told the police that they reportedly heard a shot being fired at 10.30 am.


Samna
Revenue Dept official attacked, 2 booked
Abohar, August 7
A senior officer of the Revenue Department was reportedly attacked when he visited Daulatpura village on Abohar-Sriganganagar road today to settle a dispute over girdawari.