Punjab Bypoll 2014
No 'achhe din' yet for common man: Tewari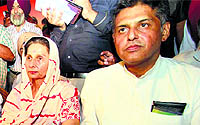 Patiala, August 13
Canvassing for Congress candidate for Patiala (Urban) bypoll, former Union minister Manish Tewari said, "The victory of the Congress in Patiala and Talwandi Sabo will set the tone for the 2017 Assembly elections, which the Congress is bound to win."

Congress leader Manish Tewari during an election rally in support of Congress candidate Preneet Kaur in Patiala on Wednesday. Tribune photo: Rajesh Sachar

Constituency watch: Patiala-Urban
It's a matter of prestige for Congress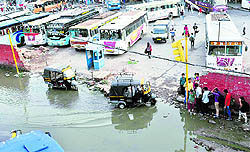 Patiala, August 13
Poor sanitation, broken roads, shoddy MC functioning, encroachments and waterlogging are the key issues on which the voters of this constituency will cast their vote on August 21. Failing to retain the Patiala Lok Sabha seat, Preneet Kaur, who was minister in the UPA government, is now contesting the Patiala-Urban Assembly seat.

A view of Patiala bus stand
Brar preparing reforms charter


Chandigarh, August 13
Jagmeet Singh Brar, senior Congress leader and former member of the Congress Working Committee, today said that he was preparing a 100-point charter of reforms that would be sent to all Congress leaders, including members of the AICC, presidents of state units, MPs and former MPs.
Jagmeet Brar
Campaign trail: Talwandi Sabo
Akali Dal, BJP working at cross-purposes: Bajwa
Talwandi Sabo, August 13
PPCC chief Partap Singh Bajwa today dubbed the SAD-BJP alliance as a marriage of convenience. He claimed the two parties were actually working at cross-purposes. He was addressing a gathering at a village in Talwandi Sabo.

Mohali police told to act against 'con man' who duped cops
Chandigarh, August 13
Decks have been cleared for the interrogation of alleged con man Devinder Gill. The latter allegedly duped several police officials and their relatives on the pretext of providing them farmhouses on the outskirts of Chandigarh.
Kin of teacher held in NDPS case cry foul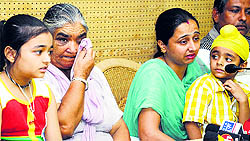 Chandigarh, August 13
A teacher from Malerkotla, Suman, along with her mother-in-law Dev Rani, also a teacher, today appealed to Chief Minister Parkash Singh Badal to save her husband from the Punjab Police, which had allegedly falsely implicated him in a case under the NDPS Act.



NDPS case accused Sandeep Madkan's family members address the media in Chandigarh on Wednesday. Tribune photo: Manoj Mahajan

Talwandi Sabo turns a fortress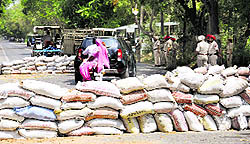 Talwandi Sabo, August 13
Talwandi Sabo has acquired the look of a fortress as heavy police security has been put in place in view of the forthcoming Assembly byelection and regular protests by staff of different departments who have shifted their base from Bathinda to Talwandi Sabo to get draw political and media attention.


A police naka to prevent entry of unlawful elements in Talwandi Sabo. Tribune photos: Pawan Sharma

Teachers awaiting job letters climb water tank
Talwandi Sabo, August 13
Candidates, who have cleared the Teacher Eligibility Test (TET), today climbed a water tank in Jeevansinghwala village and threatened to commit suicide if they were not given appointment letters immediately.
College not recognised, MBBS students want to be shifted
Faridkot, August 13
As many as 150 MBBS students of Chintpurni Medical College and Hospital, Pathankot, along with their parents reached Baba Farid University of Health Sciences (BFUHS) here today and demanded that they be shifted to some other institute in Punjab.
Reconsider move, Sehajdharis to Modi government
New Delhi, August 13
Sehajdhari Sikhs today urged the Narendra Modi government to reconsider the move to amend law to deny them the right to vote in the SGPC elections.
Private banks cold to Debt Swap Scheme for farmers
Chandigarh, August 13
High rural indebtedness in Punjab has led to several incidents of farmer suicides. Rural debt in Punjab is estimated to be around Rs 35,000 crore, but private banks operating in the state seem uninterested in swapping the debt taken from private money lenders.
SI suspended for torturing minor boy
Nakodar, August 13
In yet another incident of police high handedness, a 13-year-old boy was allegedly tortured during illegally detention at the Mehatpur police station for 22 hours.
Students demand passes for travelling in private buses
Sangrur, August 13
Students today demanded that the state government enact a law that would enable them to use concessionary passes on all buses. At present, the bus passes are only valid on government-owned buses such as the PRTC.
Goof-up: Two vehicles get same number
Muktsar, August 13
Two vehicles with the same registration number are said to be plying on city roads. Local resident Harmeet Singh said he had purchased a second-hand Royal Enfield Bullet motorcycle (PB-30-B-9000). However, he found out that a Punjab Roadways bus also had the same number.
State to honour 2 Fazilka farmers on I-Day
Fazilka, August 13
The state government will honour two farmers for their contribution to the field of agriculture at the state-level Independence Day function in Patiala. The office of the Chief Minister has invited horticulturist and agriculture reformer Surinder Kumar Ahuja and progressive farmer Sanjeev Nagpal to the event.
Liquor vends: HC wants status report by Nov 27
Chandigarh, August 13
The Punjab and Haryana High Court today called for a status report on compliance of directions on removal of liquor vends dotting the highways. As a petition seeking the initiation of contempt proceedings for alleged inaction came up for hearing, Justice Tejinder Singh Dhindsa made it clear that the status report was required to be filed by November 27.
Perks of employee facing charges can be withheld: Court
Chandigarh, August 13
Putting to rest the controversy over the issue of holding back the amount of leave encashment of a retiring employee facing departmental inquiry or criminal proceedings, a three-Judge Bench of the Punjab and Haryana High Court has ruled that the payment can indeed be withheld in Punjab.
HC upholds setting aside of PROs' selection
Chandigarh, August 13
More than a year after a Single Judge of the Punjab and Haryana High Court set aside the selection of information and public relations officers (IPROs), a Division Bench today upheld the orders.
Two minor girls rescued
Abohar, August 13
The police have rescued two minor girls in the region. Last night, a girl abducted by four persons was rescued by the police in Sriganganagar, 40 km from here in Rajasthan. While three miscreants escaped, Vijay Kumar of Basant Vihar was nabbed.