Punjab Votes 2014
Cong blames Akalis for Patiala's 'neglect'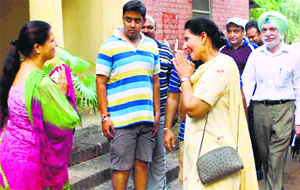 Patiala, August 11
Local issues continue to dominate electioneering in the city. Known as a mini capital with about 12 government departments having their headquarters here, the city has a large number of government employees. It is also known as a education hub. It has two public sector universities, a government medical college and a government ayurvedic college.

Congress candidate Preneet Kaur campaigns in Patiala on Monday. Tribune photo: Rajesh Sachar

Sisodia, Bhagwant Mann hold road show
Patiala, August 11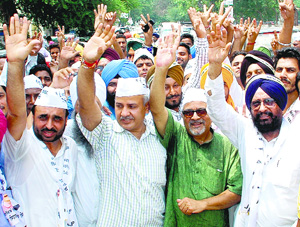 Senior AAP leaders Manish Sisodia and Sangrur MP Bhagwant Mann led a party road show in Patiala today. Lashing out at the Congress and the SAD-BJP combine, the AAP leaders said these parties had become deaf and dumb and could not hear the cries of the common man. "Protests by employees and unemployed youth have no effect on these parties. They understand the language of the EVMs only and the people should now talk to them in the same language.


AAP leaders Manish Sisodia, Bhagwant Mann and Dharamvira Gandhi during a road show in support of party candidate Harjit Singh Adaltiwala in Patiala on Monday. Tribune photo: Rajesh Sachar

AAP star campaigners to converge on Talwandi Sabo
Bathinda, August 11
With only 10 days left to go for the poll, Aam Aadmi Party's star campaigners are all set to boost the campaign of its young candidate Baljinder Kaur in the Talwandi Sabo Assembly constituency.
Parties shun show-off tactics, prefer low-profile campaign
Patiala, August 11
Move around in the city and the first impression you gather is that the hectic political activity is missing in this poll-bound constituency. No ad related to the byelction slated for August 21 is visible in the city despite the fact that the prestige of all three major parties is at stake.
Poll heat: War of words intensifies
Patiala, August 11
With a few days left for the Assembly byelection scheduled for August 21, the war of words between candidates of all three major parties — SAD-BJP, Congress and AAP — has intensified.


Staff shortage hits right to service
Chandigarh, August 11
The Right to Service Act, a flagship programme of the SAD-BJP government, has not been delivering the desired results, mainly due to staff crunch. The plan also lacks uniformity in the number of services being provided at nearly 500 suvidha centres across the state. Though the government claims to be providing 149 services, the number does not even touch 50 at several centres.
Now, NCC nagars based on Gujarat model
Chandigarh, August 11
In its bid to strengthen the National Cadet Corps (NCC)-a tri-services organisation comprising the Army, the Navy and the Air Force-in a big way in the state, the Punjab Government plans to come out with a state-of-the-art NCC Nagar-cum-Academy at Jalandhar in an area of six acres.
Motorists cough up Rs 2,500 crore as toll tax
Bathinda, August 11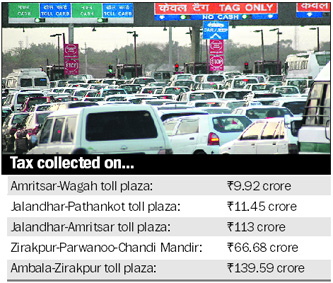 For the maintenance of roads, motorists in Punjab have had to cough up Rs 2,500 crore in the past seven years. They have paid Rs 1,495 crore as toll tax for using nine national highways and nine state highways in the state. Motorists have paid about Rs 1,000 crore during this period, reveals information obtained from the Ministry of Road Transport and Highways. Also known as turnpikes, setting up toll barriers is becoming the government's favourite way to raise money for roads. The Khanna-Jalandhar national highway, popularly known as the Ladhowal toll plaza, collected Rs 699 crore till June 30, 2014, reveals a Road Transport Ministry report.
Akali sarpanch accuses own party leader of stalling funds
Muktsar, August 11
Launching a fresh tirade against his own party, Surjit Singh, SAD sarpanch of Dhulkot village, has alleged that due to the intervention of a senior SAD leader of Gidderbaha, the cheques of grants sanctioned for his village by Chief Minister Parkash Singh Badal during his Sangat Darshan programmes about six months ago were not handed over to the village panchayat as yet.
Jalandhar effluent treatment plant working sans PPCB nod
Jalandhar, August 11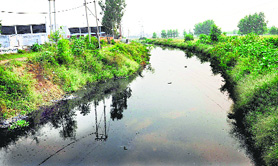 Violating the laid norms, the Punjab Effluent Treatment Society has been operating a common effluent treatment plant at the Leather Complex here without having requisite permission from the pollution authorities. Inquiries made by The Tribune found out that the sanction by the Punjab Pollution Control Board (PPCB) to operate the plant, having 5 million litres of discharge per day, had expired on July 26 last year.


The Kala Sanghian drain near the Leather Complex. Tribune Photo

Revenue officers, lawyers at loggerheads in Abohar
Abohar, August 11
The Punjab Revenue Officers' Association (PROA) and the Abohar Bar Association are on loggerheads over the FIR lodged by Naib Tehsildar Neeraj Sharma against a lawyer couple at Khuyiansarwer police station in Abohar-sub division on August 7. The duo were booked under Sections 307, 353, 332, 186 and 34 of the IPC.
Agro plant takes up pear processing
Hoshiarpur, August 11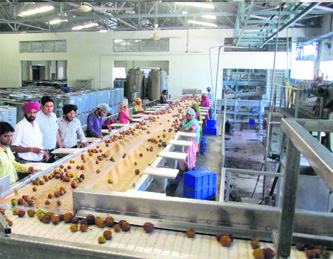 The Punjab Agro Juices Limited plant in Hoshiarpur is in the process of crushing pear to make pear juice and pear paste. KS Pannu, Chairman, Punjab Agro Juices Limited, who inspected the plant on August 9, said the unit was processing 500 MT of pear. He said the state grew pear on about 10,000 acres of land and farmers had to sell "C&D grade" (small-sized) pear at very low prices. Therefore, the unit had started a market intervention by processing 500 MT of small-sized pear from farmers.


Pears being crushed at a Punjab Agro Juices Limited unit in Hoshiarpur. Tribune photo

Farmers protest new law to protect property
Sangrur, August 11
Hundreds of men and women participated in a protest rally against the enactment of the Prevention of Damage to Public and Private Property Act by the Punjab Government. The rally was organised under the banner of "Kala Kanoon Virodhi Sanjha Morcha (Punjab)" outside district administrative complex here today.
Ebola threat: Govt to scan travellers
Amritsar, August 11
The Health Department has received instructions to quarantine people with recent travel history to West African countries landing in the city to check the entry of persons infected with ebola virus.
Tension in Pak delays Amritsar bus by two days
Amritsar, August 11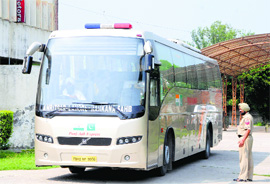 The Pakistan Government's move to restrict movement in Punjab province to stop Pakistan Awami Tehreek supporters from heading to Lahore for a protest on Sunday led to a delay of couple of days in the Amritsar-Lahore-Nankana Sahib bus service. The bus, which was supposed to reach here on Saturday, arrived in the city this afternoon.


The bus was to reach Amritsar on Saturday, but it arrived in the city on Monday afternoon. Tribune photograph

Namdhari row: Protesters threaten to step up stir
Ludhiana, August 11
The dharna by the Namdhari Panthak Ekta Action Committee at the mini secretariat here entered the 11th day today. The committee leaders announced that if the administration failed to negotiate with the incumbent group at Bhaini Sahib, they would intensify their struggle.
Govt to do away with multiple mutation fee
Chandigarh, August 11
The Punjab government has decided not to levy multiple mutation fee on one loan amount in case different properties are offered for mortgage to get a loan. This comes as major relief to industry and traders. They will now be required to pay just one mutation fee on the total loan amount.
Tota Singh pulls up dist officials
Moga, August 11
Agriculture and NRI Affairs Minister Tota Singh carried out a surprise check at the Moga Market Committee and district Mandi Board office here this morning and found 42 employees absent.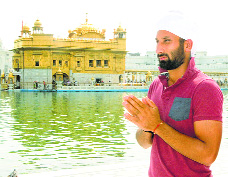 Faith beckons: Indian hockey team captain Sardar Singh pays obeisance at the Golden Temple in Amritsar on Monday. Tribune photo: Vishal kumar

Badal approves Jang-e-Azadi memorial design
Chandigarh, August 11
Chief Minister Parkash Singh Badal will lay the foundation stone of 'Jang-e-Azadi Memorial' at Kartarpur in Jalandhar on October 12. Slated to come up on 25-acre plot, the memorial would be dedicated to Punjabi freedom fighters and all those from the state who were associated with different movements of the country's freedom struggle. More than 50,000 persons are expected to participate in the stone-laying ceremony.
Freedom fighters to boycott I-Day function
Sangrur, August 11
With the government failing to meet their demands for the past 15 years, freedom fighters have decided not to attend the Independence Day function at the Police Lines here. They want the government to build Desh Bhagat Yadgari Hall and name a chowk after Netaji Subhas Chandra Bose. The district president of the Punjab State Freedom Fighters' Organisation, Harinderpal Singh Khalsa, said today that owing to the "indifferent" attitude of the administration towards their demands, the organisation's core committee had decided to celebrate Independence Day at Pheruman Chowk here. No freedom fighter would attend the official function. Family members of the freedom fighters would join the celebrations. TNS
DSGMC for Bharat Ratna for Sikh heroes
New Delhi: The DSGMC today demanded that Bharat Ratna be conferred on Shaheed Bhagat Singh and Master Tara Singh. The demand was raised at a meeting of the DSGMC executive committee where a resolution was passed in this regard. Manjit Singh GK, DSGMC chief, moved the resolution which was seconded by general secretary Manjinder Singh Sirsa. Subsequently, it was passed unanimously. Shaheed Bhagat Singh was hanged to death at the age of 23. Master Tara Singh was the first general secretary of the SGPC. He later became its president. He also remained president of the Akali Dal. TNS
MLA wants award for Udham Singh
Chandigarh: Rana Gurmeet Singh Sodhi, Congress legislator from Guruharsahai, has appealed to the Centre to consider Shaheed Udham Singh for the Bharat Ratna. In a statement, he said he backed the Centre for conferring the award on Netaji Subhas Chandra Bose, former Prime Minister Atal Bihari Vajpayee and Bahujan Samaj Party founder Kanshi Ram. He regretted that the government did not have a uniform policy for conferring awards on national heroes. "Unfortunately, it is made out as if we are doing a favour to them whereas we should be showing respect to them for their supreme sacrifices," he said. Sodhi demanded that the Union Government should bestow Bharat Ratna on prominent freedom fighters such as Shaheed Udham Singh who had avenged the massacre of Indians at Jallianwala Bagh. TNS

IPS officers transferred
Chandigarh, August 11
The government today ordered transfers and postings of four IPS officers. DGP (Prisons) SK Sharma has been posted as the DGP (Human Resource Development and Community Policing). CSR Reddy, under transfer as the ADGP (Training), has been posted as the ADGP (Welfare). RP Meena, who was under transfer as the ADGP (Provisioning) will continue as the ADGP (Prisons). Gurinder Singh Dhillon will be the DIG, Ludhiana range. — TNS


Begowal land row
HC orders stay on construction
Chandigarh, August 11
The Punjab and Haryana High Court today ordered interim stay on construction on a petition alleging that MLA Bibi Jagir Kaur had encroached upon about 20 acres of Begowal Nagar Panchayat land.
High Court issues notice to 327 clerks
Chandigarh, August 11
The Punjab and Haryana High Court today issued notice to 327 clerks recently recruited in the general category by the Punjab Subordinate Services Selection Board. The notice is to be served through a notice in newspapers.
Commission helps NRI get relief
Chandigarh, August 11
On the intervention of the Punjab State Commission for NRIs, Partap Singh Maan, based in Germany, was provided relief with the HDFC Bank and HDFC Standard Life Insurance agreeing to refund him an 'insurance premium' of Rs 90 lakh.

SHO suspended for 'thrashing' youths
Amritsar, August 11
The city police have suspended SHO, Civil Lines, Vavinder Mahajan, ASI Kulwant Singh and constable Dilbagh Singh for allegedly thrashing several youths, including the son of a senior police officer. Police Commissioner Jatinder Singh Aulakh said the policemen had been suspended on the basis of a report submitted by ACP-North Balkar Singh.