Direct SAD not to use drugs during bypoll: Bajwa to Takht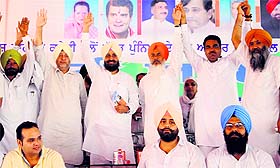 Baba Bakala (Amritsar), August 10
Punjab Congress president Partap Singh Bajwa today urged Akal Takht Jathedar Giani Gurbachan Singh to summon Chief Minister Parkash Singh Badal and Deputy CM Sukhbir Badal and tell them "not use drugs" in the Patiala and Talwandi Sabo Assembly byelections.

Punjab Pradesh Congress Committee president Partap Singh Bajwa and other Congress leaders at the party's rally in Baba Bakala on Sunday. tribune photo: Vishal Kumar
Independent Balkar Sidhu hurls dual vote charge at AAP nominee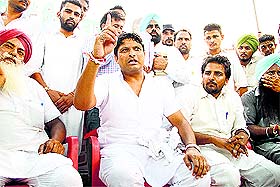 Talwandi Sabo, August 10
Balkar Sidhu, contesting as an Independent, today challenged the candidature of Baljinder Kaur of the Aam Aadmi Party (AAP), accusing her of having registered herself as voter at two places.






Balkar Sidhu addresses the media in Talwandi Sabo on Sunday. A Tribune photograph
Patiala BJP cadre wants Sidhu to campaign for Juneja
Patiala, August 10
The local BJP cadre has once again demanded that the cricketer-turned-politician Navjot Singh Sidhu be asked to campaign for the SAD-BJP candidate, Bhagwan Das Juneja, for the Patiala Urban byelection. Juneja is pitted against Congress candidate Preneet Kaur and AAP's Harjit Singh Adaltiwala. For the SAD-BJP alliance, it is no easy task to overcome the Congress challenge. The Congress has repeatedly won this Assembly seat since 1962.
Residents protest move to demolish houses
Ferozepur, August 10
Residents of Ferozepur Cantonment are up in arms against the move of the defence estate authorities to demolish several residential and commercial properties that have came up in the border town in the past few decades.
Will return to state politics, says Capt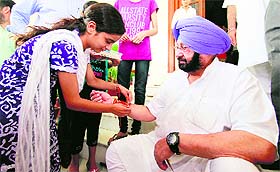 Patiala, August 10
Capt Amarinder Singh, Congress Deputy Leader in the Lok Sabha, today claimed that the growing differences between the SAD and the BJP would eventually result in their "alliance of convenience" coming to an end.




A girl ties a rakhi to Capt Amarinder Singh in Patiala on Sunday. Tribune photo
At debut rally, AAP hard-sells itself for '17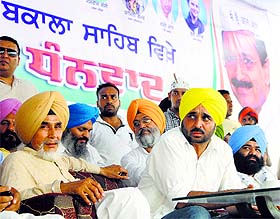 Baba Bakala (Amritsar), August 10
The Aam Aadmi Party (AAP) today made an impressive debut at the Rakhar Punya fair by holding a well-attended rally here in which its leaders claimed that the party would form the next government in Punjab after the 2017 Assembly elections. Sangrur MP Bhagwant Mann turned out to be the biggest crowd-puller for the party as the people were seen cheering him off and on during his entire speech, which was laced with his trademark humour.


AAP MP Bhagwant Mann and other party leaders at a rally in Baba Bakala on Sunday. tribune photo
ED going slow on probe into drug racket: Cong
Jalandhar, August 10
The Punjab Congress has accused the Enforcement Directorate (ED) of going slow on the investigation into the multi-crore synthetic drug racket.
AAP leaders seek CBI probe into Congress leader's assets
Patiala, August 10
The war of words between Congress leader and Sanaur MLA Laal Singh and Aam Aadmi Party candidate from Patiala Harjit Singh Adaltiwala has intensified with the latter seeking a CBI probe into the MLA's assets.
SAD to get help from Delhi unit
New Delhi, August 10
Delhi Sikh Gurdwara Management Committee chief Manjit Singh GK today directed SAD workers in Delhi to leave for Punjab to campaign for party candidates in the Assembly byelections. The announcement was made following directions by Deputy Chief Minister Sukhbir Badal, sources said.
CM forms panel to resolve ETT issue
Chandigarh, August 10
The state government today constituted a high-powered committee comprising the Rural Development and Panchayats and Education Ministers, Chief Secretary, Principal Secretary to the CM, Financial Commissioner (Rural Development and Panchayats) and Principal Secretary (School Education) to resolve the issue of the ETT (Elementary Teachers Training) teachers.
Cops harassed us, say mid-day meal cooks
Bathinda, August 10
Members of the Mid-Day Meal Cook Workers Union who were taken into custody from Talwandi Sabo yesterday have accused the police of harassing the arrested women.
Bulgarian team calls on Speaker
Chandigarh, August 10
A Bulgarian delegation led by its Ambassador to India Petko Doykov today called on Punjab Assembly Speaker Charanjit Singh Atwal at his office at the Vidhan Sabha here.
'I will celebrate Rakhi on my brother's return from Iraq'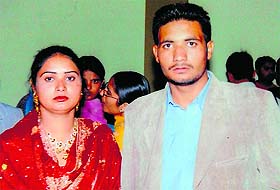 Chandigarh, August 10
This Rakhi, Gurpinder Kaur, a teacher in Dasuya, kept waiting for the phone to ring in the hope of getting news about her younger brother, Manjinder Singh, who is stuck in Iraq. She bought a silk thread for him a week ago. But there was no such phone call.


A file photo of Gurpinder Kaur with her brother Manjinder Singh; Tribune photographs
BDS admissions delayed despite govt orders
Faridkot, August 10
Baba Farid University of Health Sciences (BFUHS) here and the Department of Medical Education and Research seem to be headed in opposite directions as they prepare to conduct a special entrance test to fill more than 800 BDS seats in 10 dental colleges in the state.
us shootout
Get victim's body from US: Capt to Centre
Amritsar, August 10
Congress Deputy Leader in Lok Sabha Capt Amarinder Singh today wrote to External Affairs Minister Sushma Swaraj, seeking her attention for the transportation of the body of Rajinder Kumar Sharma, an Amritsar resident who was shot dead in the US on Wednesday.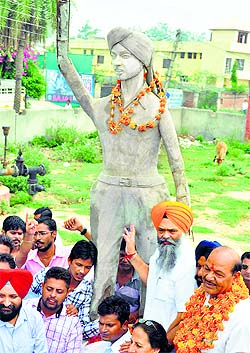 in poll mode:

Anandpur Sahib MP Prem Singh Chandumajra and SAD candidate Bhagwan Dass Juneja campaign in Patiala on Sunday. Tribune photo: Rajesh Sachar
Govt staff to protest on Aug 15
Patiala, August 10
Employees working in 1,186 health and 582 veterinary dispensaries will hold a state-level protest rally on Independence Day under the banner of Rural Health Pharmacists Action Committee. They demand that the services of rural pharmacists and Class IV employees be regularised.
Will campaign against govt in Talwandi Sabo: PRTC workers
Bathinda, August 10
Members of the PRTC Worker Union Azad, who have been on a strike for more than a week, are set to intensify their agitation. They said they would campaign against the government in Talwandi Sabo by highlighting its "failure to fulfill its poll promises". Earlier this week, protesting PRTC employees were cane-charged soon after their meeting with Deputy Chief Minister Sukhbir Badal failed to yield results. The police had booked around 200 protesters and arrested around 50.
Girl molested, varsity students protest poor security
Amritsar, August 10
Activists of Punjab Student Union (PSU) today protested against the Guru Nanak Dev University (GNDU) administration after an intruder sexually assaulted a girl hosteller late last evening. The agitating students condemned the incident and raised slogans against the GNDU authorities. They also burned the effigy of university administration and complained about the inadequate lighting arrangements, poor security arrangements and the overgrown weeds on the premises.
Bias against SC students
Team from PU visits Hoshiarpur college
Jalandhar, August 10
A four-member team of officials from Panjab University (PU), Chandigarh, on Saturday visited Government College of Education, Hoshiarpur, to probe allegations of bias against Scheduled Caste (SC) students.
MC strike results in garbage heaps dotting Hoshiarpur
Hoshiarpur, August 10
The ongoing strike of the municipal employees has set the alarm bells ringing in the city as the heaps of garbage may cause an outbreak of diseases.
Centre to improve rail facilities in Fazilka: Ghubaya
Fazilka, august 10
Member of Parliament Sher Singh Ghubaya has extended his support to the Sanjha Morcha, which has been spearheading the indefinite fast outside Fazilka Railway Station. The protesters allege there are inadequate rail facilities in Fazilka. Ghubaya met the members of local Rickshaw Union, who have been protesting for over a month.
Abohar MC staff given undue benefits: RTI
Abohar, August 10
Even as the sanitation staff of the Municipal Council in Abohar have been protesting to seek regular payment of wages, information obtained under the Right To Information (RTI) Act indicates that money laundering has been a regular practice in the Municipal Council, Abohar, which was once rated as the best in the revenue division.
Delay in stadium project named after martyr irks sportspersons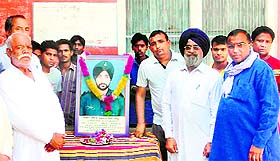 Abohar, August 10
Hockey coach Gurdial Singh and other social activists today flayed the Rajasthan Government for keeping the Navpal stadium project in a limbo for 12 years.





Tributes being paid to martyr Capt Navpal Singh Sidhu in Sriganganagar; Tribune photos
Health info helpline '104' a hit
Muktsar, August 10
The round-the-clock toll-free helpline number '104' for non-emergency health information, which was launched by the state government on June 24, is a hit. As many as 8,806 calls were received on the helpline number and 5,168 calls were made under the service within a fortnight.
Couple booked for culpable homicide
Mandi Gobindgarh, August 10 A man was killed during a scuffle in Mandi Gobindgarh today. The deceased, Rattan Singh, was trying to intervene during the scuffle between his son Jarnail Singh and a woman, Parminder Kaur Pinky, both of whom are drug addicts, over medicine.