Sikh institutes in takeover row in Sriganganagar
Abohar, August 9
Even as the state government had upheld their election held on April 10, members of the new managing committee were today not allowed to take over the charge at SGN Khalsa's school and its three colleges in Sriganganagar, 40 km from here.
Need to plug drug flow, says SC Judge
Ludhiana, August 9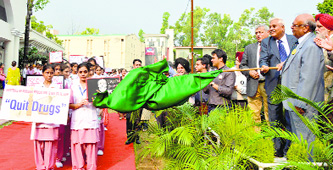 Justice V Gopala Gowda, a Supreme Court Judge, here today said rather than arresting drug addicts and peddlers, the Punjab Government should focus on plugging the drug flow into the state.

Supreme Court Judge V Gopala Gowda along with High Court Judges flags off a rally against drug menace in Ludhiana on Saturday. Photo: Inderjeet Verma

SGPC rejects HSGMC's 'empty golak' charge
Amritsar, August 9
The Shiromani Gurdwara Parbandhak Committee (SGPC) today dismissed the allegations levelled against it by the Haryana Sikh Gurdwara Management Committee (HSGMC) regarding "empty golak" of the gurdwara at Guhla-Cheeka in Haryana.
Can't restrict additional marks benefit to one session: HC
Chandigarh, August 9
The Punjab and Haryana High Court has held as arbitrary the Punjab School Education Board's action of restricting the benefit of 25 additional marks to only 2013-14 session for players bagging the first three positions in the national school games. Justice K. Kannan has also imposed costs of Rs 10,000 on the state.
Pests attack cotton crop in Malwa belt
Moga, August 9
Pests such as whitefly and jassids have reportedly attacked the cotton crop in Moga, Faridkot, Ferozepur, Muktsar, Fazilka and other districts of the Malwa belt. The Agriculture Department has recommended the cotton growers to take preventive measures to combat the pest attack and regularly monitor the fields. The department has also recommended certain pesticides to farmers.
Land grab charge
Laal Singh, Adaltiwala in war of words again
Patiala, August 9
Sanaur MLA and senior Congress leader Laal Singh today reiterated his allegation of illegal land possession against Aam Aadmi Party (AAP) candidate from Patiala Harjit Singh Adaltiwala.
All set for Rakhar Punya rallies today
Amritsar, August 9
The stage is set for political conferences on the occasion of Rakhar Punya at Baba Bakala, near here, tomorrow. Apart from the SAD and the Congress, the Aam Aadmi Party (AAP) too will hold a rally, though it may turn out to be a low-key affair in view of the bypolls in the Patiala and Talwandi Sabo constituencies.
Three members of family killed in accident
Fatehgarh Sahib, August 9
Three members of a family from Himmatgarh Channa village in Amloh sub-division died in a road accident near Salani village on the Amloh-Mandi Gobindgarh road here today.


Diesel subsidy negligible: Cong
Chandigarh, August 9
Punjab Pradesh Congress committee spokesperson Nimisha Mehta said the recent diesel subsidy was a cruel joke on the farmers of the state. She said the diesel subsidy of Rs 420 per acre announced by the Centre for rain deficit states was grossly insufficient. Nimisha asked why the state government had failed to take up the issue of insufficient subsidy with the Centre this time. "In 2009, when the UPA Government had announced a drought subsidy of Rs 800 crore, Badal had said Punjab was getting stepmotherly treatment. Out of that amount, Rs 600 crore was siphoned off by the state government in the name of power subsidy. Only Rs 200 crore was distributed among farmers," she said. — TNS

Sangrur dancer files complaint against husband
Sangrur, August 9
Differently abled dancer Subhreet Kaur Ghumman has submitted a complaint against her husband Yash Makkar and in-laws to Mandeep Singh Sidhu, Senior Superintendent of Police, Sangrur. She has levelled allegations of dowry and harassment against them. Sidhu said the complaint would be handed over to an officer for an investigation. — TNS