Process to amend Gurdwara Act begins
New Delhi, August 12
The Narendra Modi-led NDA government has set in motion the process to amend the Sikh Gurdwara Act to deny voting rights to "Sehajdharis" (non-baptised Sikhs) in the SGPC elections. Punjab Chief Minister and SAD patron Parkash Singh Badal had recently met the Prime Minister and Home Minister Rajnath Singh on the issue.
More incentives for bulk power consumers
Chandigarh, August 12
The Punjab State Electricity Regulatory Commission, which is to announce the new tariff order immediately after the byelections in the state, will have to address the issue of surplus power.
Faridkot BJP leader's son accused of graft
Faridkot, August 12
Gyatri Parkash Sharma, BJP district president in Faridkot, is in the thick of a controversy after a widow accused his son of taking Rs 45,000 from her to get her employed as an Anganwadi worker. Komal Sharma complained to Faridkot Senior Superintendent of Police (SSP) that she paid the 'facilitation fee' so she could work for the Department of Women and Child Development.
Punjab Byelection 2014
Capt promises task force for women's security
Patiala, August 12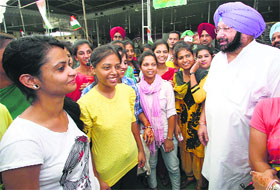 Former Chief Minister Capt Amarinder Singh today had a two-hour interaction with college and university students as part of his strategy to canvass for his wife and Congress candidate from Patiala (Urban) Preneet Kaur. He also attended election meetings in the Sheran Wala Gate and Ragho Majra area.
Amritsar MP Capt Amarinder Singh interacts with students during an election meeting in support of Congress candidate Preneet Kaur in Patiala on Tuesday. Tribune photo: Rajesh Sachar

Constituency watch: Talwandi Sabo
Clean drinking water main issue here
Bathinda, August 12
Clean drinking water and adequate water supply to the fields located at the tail-end of canals are the two main issues that will determine the outcome of the Talwandi Sabo byelection on August 21.

Bhattal takes on SAD on HSGMC
Talwandi Sabo, August 12
Campaigning for party candidate Harmindar Singh Jassi, Congress leader Rajinder Kaur Bhattal criticised the SAD on the HSGMC issue. She pointing out that there were several gurdwaras run by Sikh sects like the Nihangs. Hence, the SAD and the SGPC had no right to object to the Haryana Sikh Gurdwara Management Committee (HSGMC) to manage gurdwaras in Haryana.


Rajinder Kaur Bhattal at Maur Mandi on Tuesday. Tribune photo: Pawan Sharma

Balkar's mother storms AAP press meet
Talwandi Sabo, August 12

Expelled AAP member and singer Balkar Sidhu's mother Charanjit Kaur today stormed the press conference of party candidate Baljinder Kaur, claiming that the AAP leadership cancelled ticket to her son on baseless charges. The timely intervention of the police saved the situation from turning ugly as Balkar's mother and her supporters started exchanging heated arguments with AAP volunteers.
Mother of Independent candidate Balkar Sidhu argues with AAP workers in Talwandi Sabo on Tuesday. Tribune photo: Pawan Sharma

Arms exhibition to mark I-Day function at Attari
Amritsar, August 12
An exhibition of the BSF weaponry is among various events planned by the security force as part of the three-day Independence Day celebrations beginning tomorrow at the Attari-Wagah border.
Farmers to be exempted from mortgage fee for bank loans
Chandigarh, August 12
The state has finally got the presidential assent to amend the Punjab Agricultural Credit Operations and Miscellaneous Provisions (Banks) Act, which will allow farmers to mortgage their land with banks without paying the mortgage fee.
Eyeing subsidy, govt wants special status for kandi areas
Chandigarh, August 12
With Bathinda MP Harsimrat Kaur Badal at the helm of the affairs at the Union Ministry of Food Processing, the Punjab Government is strongly pushing for special categorisation of the kandi and border areas as "difficult areas" on the pattern of Himachal Pradesh and Jammu and Kashmir so that the farmers and entrepreneurs can avail grant-in-aid of up to 75 per cent.
Withdraw order or face stir: RMOs
Jalandhar, August 12
In a face-off with Parkash Singh Badal-led government, rural medical officers (RMOs) across the state have threatened to launch an agitation if the Department of Rural Development and Panchayats does not withdraw its order empowering Block Development and Panchayat Officers (BDPOs) to check if the RMOs attend duty or not.
harassment case
Act against erring cops, SSP told
Chandigarh, August 12
Taking cognisance of alleged sexual harassment of a Dalit girl by police officials in Tarn Taran district, the Punjab State Commission for Scheduled Castes has directed the district SSP to take action against the accused.
Chandigarh, August 12 Despite the worry over the water level in the Pong Dam owing to scanty rains in the catchment areas, the Bhakra Beas Management Board (BBMB) today did not enforce any cut on the water outflow to Punjab, Haryana and Rajasthan but it asked the states to draw water "cautiously".
Residents protest police inaction, lathicharged
Abohar, August 12
Angry over police inaction in an accident case, hundreds of people from various villages staged a dharna on the national highway today. The police lathicharged the protesters to lift the dharna as it had led to a traffic jam. Four protesters were also taken into custody.
Despite ban, schools allow sale of junk food
Muktsar, August 12
Several government schools continue to allow the sale of junk food on their premises even though the Director General of School Education (DGSE) banned its sale on August 1.
Arrested teacher's wife threatens to move HC
Malerkotla, August 12 School teacher Sandeep Markan's wife Sumandeep has threatened to move the Punjab and Haryana High Court, if she did not get justice. She alleged the local police had falsely implicated her husband in an NDPS case. She said she would seek a CBI probe into the matter.
UGC chairman to address universities on Aug 14
Chandigarh, August 12 University Grants Commission (UGC) Chairman Prof Ved Prakash would address all the universities of the country from Panjab University (PU), on the topic of impetus to research: Strategic planning and work-plan on August 14.
Fazilka hospital gets CT scan machine
Fazilka, August 12
A CT scan machine has been set up at Fazilka Civil Hospital. It is the second district Civil Hospital in the state to have this facility. With the initiative of local MLA and Health Minister Surjit Kumar Jyani, the machine has been set up at a cost of Rs 3.5 crore.
15 hurt as van rams into truck in Bathinda
Bathinda,August 12
As many as 15 persons got injured as a Matador van carrying over 25 persons collided with a truck near Kotfatta village today.
PR official chargesheeted
Chandigarh, August 12
The Public Relations Department has chargesheeted Additional Director Senu Duggal for releasing advertisements to three papers with a negligible circulation. Duggal received a copy of the chargesheet this evening, sources said. Charges have also been framed against another official, Renu Bala.
Successor authority cannot review appointments: HC
Chandigarh, August 12
The Punjab and Haryana High Court has ruled that once the competent authority has made an appointment on compassionate grounds, the successor authority cannot review it. The ruling came nearly six years after a policewoman was shown the door.
Plus 2 schooling from state must for admission in MBBS, says HC
Chandigarh, August 12
The Punjab and Haryana High Court has held that the requirement of 10+2 schooling from Punjab apart from residential status is legal for admission to MBBS. Justice K Kannan has upheld Baba Farid University's stand on the issue.
2 minor girls gang-raped in Moga
Moga, August 12
An 11-year-old differently-abled Dalit girl was allegedly kidnapped from her house and gang-raped by two youths at Jhandewala village in the district on the intervening night of August 11 and August 12, the police said today. The victim's father alleged two unidentified youths abducted his daughter from their house last night, when the family was asleep.