Independence day


Singing an independent tune
Chandigarh's musicians have found a way to voice their opinion against issues like social injustice, corruption, poverty, crime against women through their songs
Amarjot Kaur

Be it the Woodstock Peace and Music Festival of 1969 that advocated against the war, or a free concert in protest of the two-party system at Democratic National Convention by Rage Against the Machine in 2000, music has had an interesting relationship with nation and politics. Perhaps, that also reasons the recently conducted music tour in Chandigarh by Aam Admi Party during the elections this year.

While music can define a nation with an anthem, its integrity lies not only in glorification, but also in its ability to question. In conversation with the city-based independent (indi) music artistes on Independence Day, we are acquainted with the music of the youth of Independent India. While these city-based bands express their relevance with the right to freedom of speech and expression, the nationalist in them aches for a change and hope for a better India, while quoting Rabindranath Tagore, "The mind is without fear and the head is held high…"

amarjot@tribunemail.com

Live and let live

Band: Saahil and Ipshita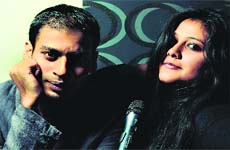 Song: A song by Saahil and Ipshita, Jeene De, is a plea to live and let live. It explores the basic right to freedom that further implies that people must be able to live in the country without any oppression from the government and the society as a whole.
Inspiration behind the song: "It was quite a common sight to watch a couple sitting in the park being harassed by a cop and there are so many such incidents. This song is a plea to live and let live," says Saahil Kapoor.
Best patriotic band: Rabbi Shergill
Best patriotic song: Jugni and Jinhe Naaz Hai Hind Par by Rabbi Shergill.
Wish for change: "In India, music has not been associated with politics as much as it should have been. However, now with AAP doing a music tour in the city during elections, there is slight upward movement in the graph and I only wish it continues," says Saahil. "There's always a line when it comes to music and politics and I wish we can push it a little further probably like in the West," he shares.
Spirit of nationalism: "I love India and I will not want to change it. I care not for the price of onions, if only I have the freedom to eat them on any day I want," he says.
The cause and effect
Band: Just Ittefaaq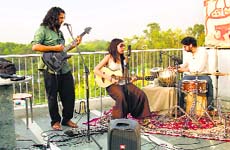 Song: Written by Polly Saghera, who is the mother of Jasleen, lead vocalist of the band, the songs, Paisa Paisa and Mera Supna, elaborate on the social issues that have heavily infected the social setup of our nation. While Paisa Paisa talks about the greed for money that has corrupted the soul of the nation, Mera Supna is a hope for a better world for women, where they are free and respected. Both the songs are a part of Just Ittefaaq's album, Polly's Diary.
Inspiration behind the song: "I wrote Paisa Paisa with a view that greed for money has poisoned our minds and destroyed our conscience, thereby affecting families and the nation," says Polly Saghera. "However, Mera Supna is a cry of hope for a better place for women where they can live freely," she says.
Best patriotic band: Sushmit Sen Chronicles and Indian Ocean.
Best patriotic song: Six String Salute by Sushmit Sen.
Wish for change: "We say that an artiste has a licence to speak his mind and then when we see what happened to Salman Rushdie and MF Hussain and how the government is keeping a constant tab on the leftist comments on Facebook and Twitter, is quite upsetting.
Spirit of nationalism: "Nationalism in general should mean freedom and secularism, but in India minorities don't have a say, the system is too rigid. I am a nationalist in hope," shares Jasleen.
A chord called revolution
Band: The Local Train
Song: Written by the lead singer, Raman Negi, their song, Ganjay, is a satire on the corrupt politicians of the nation. Their other song Yeh Zindagi Hai laments the vacuity of materialistic pleasures, which have played a significant role in dismantling the moral core of our nation's society.
Inspiration behind the songs: "That the idea of having an ideal government is surreal and far-fetched, one cannot dismiss the system of its flaws, the primary of which are the leaders and politicians," says Ramit, the bassist of the band.
Best patriotic band: Rage Against The Machine, Sex Pistols and U2.
Best patriotic song: God Save The Queen by Sex Pistols.
Wish for change: "The only thing that we should be able to change on an individual level is to be able to accept the freedom of speech and expression as a fundamental right, which implies that everyone should be able to voice their opinions fearlessly," says Ramit.
Spirit of nationalism: "I am not a patriot, but I am a nationalist and I respect my nation and its people!" he says.
Be 'cause' it matters
Band: Swastik, the band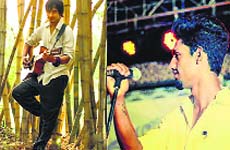 Song: Their song, Andhere Shehar, which talks about the social evils of our nation, including poverty and crime, is creating waves on MTV and MTV Indies.
Inspiration behind the song: "This song talks about our society as a whole, which is being eaten up by poverty and crime. In our nation where a majority of people live below the poverty line, are deprived of their basic needs and their circumstances push them into the dark world of crime. This was the main motivation behind writing this song," says Rohit.
Best patriotic band: Indian Ocean
Best patriotic song: Bande and Maya by Indian Ocean.
Wish for change: "For our country, I wish that it rises above poverty and crime. And as a musician, I wish people go beyond the commercial Bollywood songs and listen to original songs by Indi artists," he shares.
Spirit of nationalism: "India has so many classical gharanas, but it's a pity that the majority listens only to the commercial music!" he says.