Search op ends in Sopore, militants flee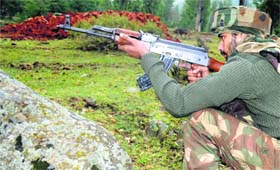 Srinagar, August 23
The Army and Special Operations Group (SOG) of the Jammu and Kashmir Police called off the search operation in the Sopore forest area of north Kashmir today after a group of militants reportedly gave a slip to the security forces following a brief exchange of fire last evening.

An Army soldier takes position near an encounter site in Baramulla district on Saturday. Tribune Photo: Amin War

Pak tunnel extends 50m inside LoC
Jammu, August 23
With the border hotting up, Pakistan tried to replicate another trans-border tunnel, this time in the Pallanwala sector of Jammu district.
Rana seeks resumption of Indo-Pak talks
Jammu, August 23
Provincial president of the National Conference (NC) Devender Singh Rana today expressed anguish over continued shelling from across the border and loss of life and property in the forward areas of the Jammu region.
Governor inaugurates book fair at Kashmir Haat
Srinagar, August 23
Governor NN Vohra inaugurated the nine-day long book fair at the Kashmir Haat here today. The fair has been jointly organised by the National Book Trust (NBT); National Council for Promotion of Urdu Language (NCPUL); Jammu and Kashmir Academy of Art, Culture and Languages; and Federation of Publishers and Booksellers Associations in India.
Bhim Singh calls on Guv
Srinagar, August 23
The National Panthers Party patron Prof Bhim Singh called on Governor NN Vohra at Raj Bhawan here today.



Governor NN Vohra with National Panthers Party patron Bhim Singh at Raj Bhawan in Srinagar on Saturday. A Tribune photograph

Vohra apprised of Khansahib issues
Srinagar, August, 23
Khansahib legislator Hakim Mohammad Yaseen called on Governor NN Vohra at the Raj Bhawan here today.
Stone of Saffron Park laid in Pulwama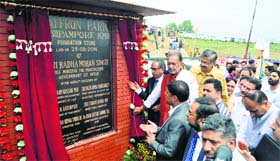 Srinagar, August 23
Union Agriculture Minister Radha Mohan Singh today laid the foundation stone of the Saffron Park Project at Pampore in south Kashmir's Pulwama district.



Union Minister of Agriculture Radha Mohan Singh lays the foundation stone of the Saffron Park Project in Pulwama district on Saturday. Tribune Photo: Amin War

JK Cong gets jolt, secy resigns
Jammu, August 23
The Congress in Jammu and Kashmir received a big jolt when its secretary, Karan Bhagat, resigned from the party today.
Pak tells Mirwaiz: Separatists will be part of future peace talks
Srinagar, August 23
Pakistan has assured participation of Kashmiri separatist leaders in every dialogue process aimed at resolving the Kashmir issue in the future.
J&K needs nationalist CM acceptable to all three regions, says Lal Singh
Jammu, August 23
Former Congress leader Choudhary Lal Singh, who is joining the BJP on Monday, said Jammu and Kashmir needed a nationalist Chief Minister who should be acceptable to all three regions of the state to steer it away from corruption and nepotism which has become a major concern for the people.
PoK national handed over to Pakistan army
Srinagar, August 23
A Pakistan-occupied Kashmir (PoK) resident, Mangta Khan, 72, who had crossed over to this side of the Line of Control was handed over to Pakistan at Uri in Baramulla today.
Peoples Republican Party launched
Srinagar, August 23
Ahead of the Assembly elections in the state, the Peoples Republican Party (PRP) was launched here today.
Panthers Party releases first list of candidates
Srinagar, August 23
Ahead of the forthcoming Assembly elections, the National Panthers Party today announced its first list of ten candidates for Kashmir province.
Kiren Rijiju arrives in Leh
Srinagar, August 23
Union Minister of State for Home Kiren Rijiju today arrived on a two-day visit in Leh to review the security scenario along the borders and ongoing development works under various Centre-sponsored schemes in the region.