Bishnoi flays BJP for making 'hollow promises'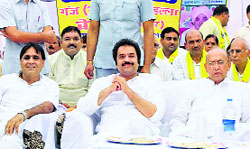 Beri (Jhajjar), September 3
Haryana Janhit Congress (HJC) supremo Kuldeep Bishnoi has said that the BJP had failed people by not fulfilling its election promises of bringing back black money and checking inflation within 100 days of forming the government at the Centre.

HJC chief Kuldeep Bishnoi at Beri in Jhajjar district on Wednesday. Tribune Photo

Keen to contest against Abhay: Beniwal
Sirsa, September 3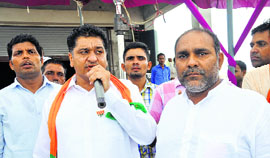 Ellenabad MLA Abhay Singh Chautala's former associate Pawan Beniwal today said he was keen to contest against his former friend on a BJP ticket. In a show of strength, Beniwal today organised an impressive roadshow from Chopta village to Ellenabad, where hundreds of people participated in the event and vouched their support for him.

BJP leader Pawan Beniwal addresses people during his roadshow at Chopta village in Sirsa on Wednesday. Tribune photo

BJP holds meetings to pre-empt rebellion
Jind, September 3
To keep their flock together and pre-empt rebellion once the tickets have been distributed, the BJP today held meetings of ticket aspirants for Jind and Sonepat districts at Gohana. Rajiv Bindal, MLA from Nahan and member of the election management committee for Haryana, along with other senior leaders presided over meetings.
BCs' neglect to cost Cong, BJP dear: BSP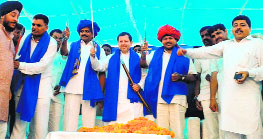 Ambala, September 3
Former Karnal MP and BSP's CM candidate Arvind Sharma today claimed Dalits and backward have till date faced complete neglect in the state and this was going to cost both Congress and BJP dear in the upcoming Assembly elections.

BSP's chief ministerial candidate Arvind Sharma with party leaders in Ambala on Wednesday. Tribune photo

Rift shows in Fatehabad HJC
Fatehabad, September 3
Even as HJC supremo Kuldeep Bishnoi's cousin and former parliamentary secretary Dura Ram opened his election office at Fatehabad today, fissures have come to the fore in the party. Sushil Indora, state vice president of the party, who contested the recent parliamentary election from Sirsa, alleged today that he was being ignored by the party. "Dura Ram did not invite me or even showed the courtesy to intimate me. I am rather surprised how he has opened his election office when the party is yet to announce tickets," Indora said while speaking to The Tribune. He said if Bishnoi had finalised Dura Ram's ticket, he should have conveyed it to me so that I could also work for the party, but I have been ignored by the party. — TNS
BKU (U) extends support to Hooda
Chandigarh September 3
The Haryana unit of the Bhartiya Kisan Unity (Union) has announced unconditional support to Chief Minister Bhupinder Singh Hooda in the Assembly elections. In a letter to the CM, national president of the outfit, Rishipal Ambavat, assured Hooda that the farmers would rally under their banner and support him and this decision decision has been taken keeping in view the various pro-farmer decisions taken by the state government. TNS
Leaders' effigy burnt in Rohtak
Rohtak, September 3
Members of the BJP Mahila Morcha took out a funeral procession of the HJC, JCP and HLP leaders and burnt their effigies here today. State BJP Mahila Morcha president Pratibha Suman said HJC chief Kuldeep Bishnoi's brother Chander Mohan, JCP chief Venod Sharma's son Manu Sharma, and HLP chief Gopal Kanda were involved in the deaths of Anuradha, Jessica Lal and Geetika Sharma, respectively. She exhorted women voters to reject the unholy alliance among the HJC, JCP and HLP as the top leaders of these parties were directly or indirectly involved in bringing disgrace to women. — TNS
Sirsa College in a shambles
Girls block NH over govt apathy
Sirsa, September 3
Hundreds of students from the girls' wing of Government National Post-Graduate College today blocked National Highway no.10 on the Laal Batti chowk against indifferent attitude of the authorities towards the construction of their new building. The project was announced by Chief Minister Bhupinder Singh Hooda during his visit to Sirsa more than a year ago.
Minor girl 'missing' from hospital, police contradict claim
Sirsa, September 3
Two days after a girl was found unconscious on a road here and admitted to the General Hospital, she has been reportedly missing. The police, however, have a different thing to say. While it maintained that the hospital authorities have referred the 19-year-old girl to the PGIMS, Rohtak, as she could not regain consciousness, hospital sources said the girl was missing.
Man stabbed to death, son hurt
Ambala, September 3
An elderly person from Ghel village close to Ambala city was stabbed to death, while his son was seriously injured, when they were attacked by seven people from the same village late last night. While Ram Chandar, 62, died, his son, Sant Kumar, sustained serious injuries and was referred to the PGI, Chandigarh. The police have booked seven persons.
HC orders action against illegal miners in Karnal
Chandigarh, September 3
Taking cognizance of a petition alleging land grabbing and illegal mining in the Yamuna river banks in Karnal district, the Punjab and Haryana High Court has directed Haryana and its functionaries to look into the matter before acting against illegal miners.
FD's nod must for all new schemes, orders govt
Chandigarh, September 3
The Finance Department (FD) of the Haryana Government has cracked the whip on plan expenditure to be undertaken by various departments during the 2014-15 financial year. "All new schemes, which are proposed to be of continuing nature or which may involve recurring expenditure or require creation of additional posts should be got approved from the FD before issuing administration approval," a circular issued by the Additional Chief Secretary (Finance) stated on Tuesday.
Roadways buses remain off the road for six hours
Kaithal, September 3
The Haryana Roadways buses of the Kaithal depot remained off roads for over six hours following a tussle between private bus operators and Haryana Roadways staff over plying of a private bus on a specific route.
Two teachers killed in Jind road mishap
Jind, September 3
Two women teachers of a local private school died when the SUV they were travelling in collided head-on with a truck near Gosai Khera village on the Jind-Rohtak road today.
3 IPS officers shuffled
Chandigarh, September 3
The Haryana Government has issued the posting and transfer orders of three IPS officers. Partap Singh, IGP, CTI, Home Guards, Panchkula, has been posted as IGP, RTC, Bhondsi. Shrikant Jadhav, IGP, Telecom, goes as IGP, CTI, Home Guards, Panchkula, in place of Partap Singh. Sat Parkash Ranga, IGP, CID, has been given dditional charge as IGP, Telecom, in place of Shrikant Jadhav. — TNS
Rs 3.55 lakh looted
Sonepat, September 3
Three motorcycle-borne armed gangsters looted around Rs 3.55 lakh from two petrol pump employees on Wednesday near Khewra village on the Sonepat-Meerut road. The gangsters fired at the motorcycle-borne staff, after which one of the employees was injured. The gangsters left behind one of their bags containing cash worth Rs 9.07 lakh. — OC