M A I N N E W S
Valley situation grim, Srinagar swamped
Toll crosses 190 * Water level stays high * Massive rescue operations underway by armed forces * 25,000 evacuated
Tribune News Service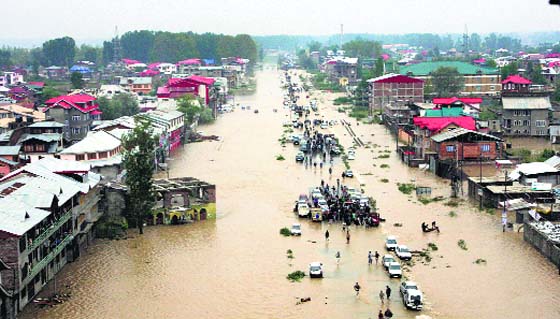 An aerial view of a flooded street in Srinagar on Monday afternoon as people wait on the central verge for relief. Picture courtesy: Ministry of Defence
Jammu/Srinagar, September 8
The situation in flood-ravaged Jammu & Kashmir remains critical with more deaths being reported on Monday. As the toll crossed 190 in the worst flooding to hit the state in six decades, thousands of people still remain stranded in the Valley where massive rescue operations were underway.
Most parts of Srinagar city were still submerged with desperate residents seen huddled on rooftops and upper floors of their houses in several areas. Snapped communication links have compounded the problems for authorities.
The Army, Air Force, NDRF and state agencies have so far rescued nearly 25,000 people. The Centre has rushed more National Disaster Response Forces (NDRF) teams equipped with boats and other flood-relief equipment.
In New Delhi, Army Chief General DS Suhag said: "The Indian Army will not move back to the barracks till the last man is brought to safety."
"As many as 212 columns of the Army have rescued 22,000 persons in J-K so far," said Lt Gen DS Hooda, General-Officer-Commanding of the Army's Northern Command. "The situation in the Valley still remains critical. In the next 48 hours, our focus will remain on Srinagar," he said.
NDRF chief OP Singh said the flood situation in Srinagar and other parts of the Valley was "very acute".
"We have set up around 65 medical camps. Besides more than 100 boats have been pressed into service to evacuate civilians from Srinagar and South Kashmir," said Lt General Hooda.
"Till the last human soul is evacuated to safety, our relief operation (Megh Rahat) will continue. We are also making efforts to restore the Jammu-Srinagar and Srinagar- Leh highways at the earliest, he said. "While the Srinagar-Leh highway will be restored within 24 hours, the Jammu- Srinagar link may take four to five days to open," he said. Regarding damage to the fence on LoC, Lt Gen Hooda said the Army was keeping vigil and the repair work has started in the area on a war-footing. "We are likely to complete the work within 15 to 20 days," he added.
As many as 35 persons were missing in Panjar area of Pancheri tehsil in Udhampur district. Rescuers recovered four more bodies on Monday. A villager died in a house collapse in Manjakote area of Rajouri. Dozens of boats were deployed in Srinagar by rescue agencies as naval commandos also joined relief and rescue operations today. About 2,000 persons were rescued from critical areas in Srinagar, including Rajbagh, Jawahar Nagar, Shivpura and Tent Pura, in the past 24 hours, said a defence spokesman.
The commandos rescued around 200 persons at Haigaon on the Srinagar-Sopore highway. More naval diving teams were on standby in New Delhi, Mumbai and Vishakhapatnam, said officials.
IAF choppers and transport aircraft undertook several sorties as relief work was extended for the first time to South Kashmir. The IAF has deployed 45 aircraft and helicopters into action, said a defence spokesman said.
"So far 140 sorties have been undertaken by IAF choppers and aircraft. Around 150 tonnes of relief material has been air-dropped," said the spokesman.The Army so far has given away 4,000 blankets, 220 tents, 45,000 litres of water, 85 tonnes of medicines, 600 kg biscuits, besides packed food in the flood-affected areas.
The heavy floods triggered by torrential rains have snapped Valley's telecommunication links with the rest of the country even as BSNL launched an operation on a war-footing with the Army and IAF to restore mobile services through satellite network.
Officials said it may take up to 72 hours for the telecom links to be restored. The military machinery and government authorities have taken recourse to satellite phones. A large quantity of food items, petroleum products and medicines will be moved via Manali-Rohtang Pass-Leh-Srinagar route to replenish the stocks.
The Home Ministry is also airlifting thousands of bottles of drinking water and blankets to be distributed to those reeling under flood fury in Jammu and Kashmir.
Huddled on roofs, they await help
* Desperate residents seen huddled on rooftops and upper floors of their houses in Srinagar and its surrounding areas
* Rescuers recover four bodies in Panjar area of Udhampur district.on Monday. A villager dies in a house collapse in Manjakote area of Rajouri.
* The complete breakdown of mobile, internet and road network is posing a major challenge for authorities.