THE world over there is an anxiety about languages dying or, perhaps, language itself dying. There are several estimates for the number of dying languages, for no one really knows how many natural languages there exist in the world. But against Unesco's assumed figure of 6,000 natural languages, it is estimated that two-thirds will perish by the end of this century, and only a few hundred will function with all their domains intact. The spectre is terrifying for whoever speaks and is human. Our century will alas be remembered by the memory chip of the future as the 'Aphasia Century' during which natural languages were silenced.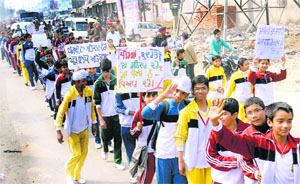 It takes more than tokenism to preserve a language. The Punjabi Jagriti Manch taking out a march in Jalandhar for the mother tongue on the occasion of International Mother Tongue Day.
In India, the language scenario is somewhat perplexing. While India tops the Unesco list of "languages in danger," with a good 197 languages having gone past the danger signal, there are about 850 living languages in sight. The People's Linguistic Survey of India (PLSI) has identified and described 780. The PLSI admits that it may have overlooked about 60 to 80 languages that are still in existence. The survival rate of Indian languages is certainly much higher than one for the indigenous languages in all other countries that have experienced colonial domination.
Alarming rate of decline
The rate of decline of languages in the country over the last 50 years too is alarming, for about a quarter of the language stock has been wiped out. If we do not appreciate the complexities involved in the situation, and do not go for a well calibrated micro-planning for each of the remaining languages, the loss can easily be twice as much or worse in the coming half century.
Language loss is experienced in India not just by the "minor" languages and "unclassified mother tongues", but also by "major" languages that have long literary traditions and a rich heritage of imaginative and philosophical writings. Even in the languages such as Bangla, Tamil, Marathi and Punjabi, the younger generations have little or no contact with the written heritage of these languages though they are still able to speak these languages. This indicates the condition of a "rapid linguistic shift" in which a fully literate person is able to read, write and speak a language other than her/his mother tongue, but is able to speak only and not be able to write the mother tongue. It may not be inappropriate to assume that people all over the world are paying a heavy cost for a globalised development in terms of their language heritage.
Pro-mother tongue sentiment
In order to counter the rapid language shift, several scheduled languages have responded by mobilising a popular pro-mother tongue sentiment. In some cases, political parties have raised clarion calls in defence of the state language/s, particularly if the state were created as a linguistic state. The reorganisation of Indian states after Independence was carried out along linguistic lines. The languages that had scripts were counted. The ones that had not acquired scripts, and therefore did not have printed literature, did not get their own states. Schools and colleges were established only for the official languages. The ones without scripts, even if they had a great stock of wisdom carried forward orally, were not fortunate enough to get educational institutions for them.Yet, having a linguistic state or educational institutions operating through the language is not enough to ensure the upkeep of a given language.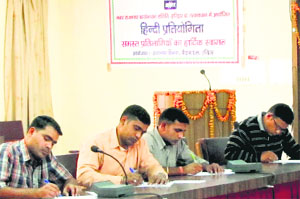 Diversity of languages is an asset and not a liability. Employees of PSUs, banking and the insurance sector giving a written exam in Hindi Language Competition as part of the National Langauge Coordination Convention in Haridwar. Tribune photo: Rameshwar Gaur
Globalised world
There appears to be another and more overwhelming factors at work, and that is the development discourse in a rapidly globalising world. One notices now in India, and in other Asian and African countries, an overpowering desire among parents to educate their children through the medium of English or French or Spanish in the hope that these languages will provide a certain visibility to the children when they grow up in the international market of productive labour. This desire has affected the schooling pattern in favour of an education through an international language not witnessed in any previous era. One notices in practically every Indian village that parents are keen on sending their children to unaffordable English medium schools, foresaking far less-expensive bhasha schools.
World language heritage
When a speech community comes to believe that education in some other language alone is the way ahead for it for its very survival, the given community decides to adopt to the new language situation. It would be pertinent therefore to consider if there is something inherent in the dominant development discourse in the contemporary world that requires diminishing of world's language heritage, that demands a kind of a phonocide. And, if that is the case, the future for the human languages is frightening. The communities that are already marginalised within their local or national context, the ones that are already in minority within their cultural contexts, the ones that have already been dispossessed of their ability to voice their concerns, are obviously placed at the frontline of the phonocide.
Naïve argument
I have heard quite well-meaning friends argue that if there were only one or a very few languages spoken by people in the world, communication would be far easier and international peace would be less threatened. This argument is not just naïve but is based on a complete lack of history. The human history is full of violent conflicts between communities or nations speaking the same language. Besides, the argument shows no sensitivity to the enormous loss of ecological knowledge that diverse languages hold within them. It would be no exaggeration to say that every word is a whole book in itself, so much does a word hold within itself if one were to unravel its history. Therefore, a complacent trashing of the world's language stock would amount to wasting all the valuable "knowledge by memory" inherited by over the millennia of human existence. But, how at all, can we avert and arrest the massive language erosion afoot in our time?
Preservation of languages
Conservation or preservation of languages needs to be seen as being significantly different from the preservation of monuments. Languages are, as every student of linguistics knows, social systems. They get impacted by all other contextual social developments. Language as a social system has an objective existence in the sense that dictionaries and grammars of languages can be prepared, and languages can be transcribed, orthographed, mimeographed, recorded on a tape by way of documents and objects; but, essentially language does not have an existence entirely free of the human consciousness. Therefore, a given language cannot be as completely dissociated from the community that uses it. Quite logically, therefore, preservation of a language entails the preservation of the community that puts that language in circulation.
Community's world view
Between the collective consciousness of a given community, and the language it uses to articulate the consciousness, is situated what is described as the "world view" of that community. Preservation of a language involves, therefore, respecting the world-view of the given speech-community. If such a community believes that the human destiny is to belong to the earth and not to offend the earth by claiming that it belongs to us, the language of that community cannot be preserved if we invite the community to share a political imagination that believes in vandalising the earth's resources in the name of development. In such a situation, the community will have only two options: it can either reject the Utopia that asserts the human right to exploit the natural resources and turn them into exclusively commercial commodities, or it can reject its own world view and step out of the language system that binds it with the world view.
Avoiding phonocide
I have often been asked the questions "How many languages has India lost?" and "How many languages does India really have?" To me, they look somewhat simplistic. Far more meaningful would be the question: "While colonialism managed to wipe out most indigenous languages elsewhere, why is it that so many of the Indian languages survived it?"
A more crucial question for us to ask and answer is, "In times when most leading technologies are language based, will not our numerous languages be a kind of a capital for us?" Indeed, if the multiple ways of looking at the relation between 'zero' and 'one', symbolising absence and presence, that our languages have developed were to be brought to the computation theory, the entire gamut of computer sciences can be radically recast. This will, however, require long years of focused research.
The importance of language diversity that can more easily be understood is in the area of ecological security, as every language contains within it ecological wisdom gathered over centuries. Despite the unfortunate historical factors that have stratified our languages, we need to view the diversity not as a liability but of very essence to India becoming a prosperous nation, a great and rare asset. Do we want to squander it?
It takes centuries for a community to create a language. All languages created by human communities are our collective cultural heritage. Therefore, it is our collective responsibility to ensure that they do not face the global 'phonocide' let loose in our time.
The author is Chairperson People's Linguistic Survey of India, Bhasha Research Centre, Baroda
Minding our languages
* Every language contains within it ecological wisdom gathered over centuries.
* We need to view the diversity not as a liability but of very essence to India becoming a prosperous nation, a great and rare asset.
* The People's Linguistic Survey of India has identified and described 780 languages. The PLSI admits that it may have overlooked about 60 to 80 languages that are still in existence.
* The survival rate of Indian languages is certainly much higher than one for the indigenous languages in all other countries that have experienced colonial domination.