Fifty Fifty
When a harassed girl kills herself, we have failed her
Kishwar Desai
We must create a secure environment so that even if girls are molested or threatened they must learn to fight back and survive.


This week when two girls from Rohtak killed themselves over being stalked and teased by boys, how many of us remembered the debate that had taken place in Parliament, when the issue of stalking was being discussed? This was during the formulation of the new law on sexual assault last year.
Much to the shock and horror of women around the world, there was a lot of resistance towards making stalking and voyeurism a punishable offence under the new law, particularly from male parliamentarians who were worried that they would not be able to even look at a woman appreciatively. One of them had gone to the extent of pointing out men cannot prevent themselves from admiring a good-looking woman. It was only natural. Other male parliamentarians seemed completely delighted listening to this kind of rubbish. Few understood that stalking and voyeurism were not normal behaviour. In fact, there was little or no attempt to explain what girls go through on the streets of India every day, when uncalled for attention is given to them.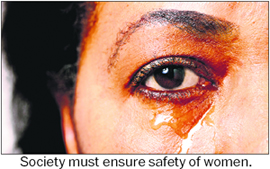 Perhaps those girls who have been harassed should have been called into Parliament. They should have been asked if they feel flattered or appreciated when they were followed or when lewd remarks were passed. The answer would have been a resounding no. But the men who represent us in Parliament often fail to understand. So should they be made to pass some kind of gender sensitisation test before we elect then?
The real problem is that men think they are not to blame for this kind of mindset. After all, men only follow their instinct. Their philosophy, as countless Hindi films have put it, is "Aap ke haseen rukh mein aaj naya noor hai, mera dil machal gaya tho mera kya kasoor hai?" That of course is couched in high-flown poetry. But perhaps films should also pass a gender test because in many the message is that it takes taunting and teasing to make women notice men. And then, it would only be a matter of time before the girl, through this constant harassment, would fall in love with her tormentor. After all, true love made the men obsessive. If she did not recognise him as the one who was meant for her, it was really her fault.
Scary. This, as we now know, is the stuff of nightmares. And yet our Indian cinema has presented this to us as acceptable romance in film after film and we never protested. And so no wonder there are enough demented men (including parliamentarians) who have this foolish notion that women simply don't know what is good for them. By hounding them, the message will finally get through.
In real life, this has a traumatic effect on women and girls who struggle to fend off unwanted attention. Things are made worse by society and conservative family members who think that the girl must have "done something" to attract the stalker. Was it her attitude or her clothes? She might be questioned at home, and worse, she might even have her liberty circumscribed.
In the present case of the two young girls, we know that one of their parents did try to hunt for the stalkers. But obviously the girls were not reassured, given the extreme step they took. Certainly, no one thought of going to the police despite the fact that we are supposed to have a "tough" new law.
The two schoolgirls also made it amply clear in their suicide notes that they did not feel they had any other choice than to take their own lives. It was a desperate measure to stop other girls from being harassed in a similar fashion. How trapped and helpless they must have felt! These two talented and bright youngsters had their whole lives ahead of them but felt they could not escape the attentions of some ghastly predators. One wonders whether they couldn't have relocated or taken shelter with some sympathetic friends or relatives in some other town?
But perhaps they found themselves isolated. They did not think of going to the police, and perhaps they were worried about the fallout. After all, they probably felt that any girl who goes public or complains also brings shame to herself and to her loved ones.
These are dilemmas that the modern Indian girl is forced to face, and they can be dangerous for her. The important thing is that we might have to force young Indian men, parliamentarians, the police and those involved in popular culture such as cinema to undergo some level of gender sensitisation, and even pass some tests on understanding the new rape law urgently. The list of people whose mindset need to change is very long. Meanwhile, we must create a secure environment so that even if girls are molested or threatened they must learn to fight back and survive.