Police lodge complaint against Inspector General Cheema
He allegedly took away a proclaimed offender from police station
Akash Ghai
Tribune News Service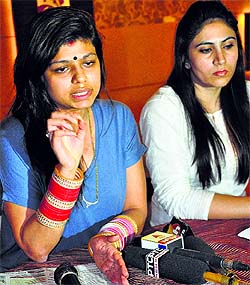 Krispy Khaira (left) and Maninder Kaur, wives of Davinder Gill and Sumedh Gulati, at a press conference in Mohali on Saturday. Tribune photo: Parvesh Chauhan
Mohali, August 30
The police today lodged a DDR (daily diary report) against Inspector General (IT) Gautam Cheema for allegedly forcibly taking away a proclaimed offender, Sumedh Gulati, from the Phase I police station here on the night of August 26-27.
Senior Superintendent of Police (SSP) Inder Mohan Singh Bhatti confirmed the development. He said they had submitted a detailed report to the Inspector General, Patiala Zone, Paramjit Singh Gill.
Paramjit said he had forwarded the report to the higher officials.
Sources said it had been mentioned in the DDR that Cheema was allegedly drunk at the time of the incident.
Gulati is allegedly the co-accused of conman Davinder Singh Gill in a Rs 2 crore land fraud case registered in March. He was taken into custody by the police from a hospital where he had come to meet Krispy Khaira, Davinder's wife.
Krispy was admitted there following an alleged suicide attempt by her.
Sources said Cheema came to the police station around midnight and took away Gulati to the hospital where Krispy was admitted. After a chase and high drama, the police again arrested Gulati from the hospital premises.
Krispy today claimed that Cheema brought Gulati to her room in the hospital around 12.15 am on August 27 and allegedly slapped him repeatedly to pressurise her. "He was threatening me to take back my statement related to my suicide attempt as well as the molestation case," she said while talking to the media.
Krispy, who lodged two fresh complaints against Cheema last evening, demanded the police officer's suspension. She threatened to sit on fast-unto-death in front of the Mohali SSP's office from tomorrow in case her demand was not met.
"I have filed two complaints against Cheema for threatening me and kidnapping and assaulting Gulati in my room at the hospital," she said.
The SSP said statements had been recorded in the molestation complaint lodged by Krispy. "The report will be sent to the higher authorities within a day or two," he said.