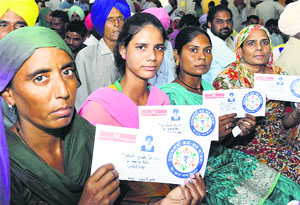 Badal's photo on Jan Dhan Yojna kits
Bathinda, August 28
A picture of Chief Minister Parkash Singh Badal adorned the 500 kits given to bank account holders under the Pradhan Mantri Jan Dhan Yojna, a Central Government scheme, today. The kits were given away by Union Minister for Food Processing and Bathinda MP Harsimrat Kaur Badal.

Account holders show kits that they received under the Pradhan Mantri Jan Dhan Yojna in Bathinda on Thursday. All kits carry a photo of CM Parkash Singh Badal. Tribune photo: Pawan sharma

Water dispute: Farmers block roads
Abohar, August 28
Though the Rajasthan Government asked the Bhakra Beas Management Board (BBMB) to release 12,500 cusecs of water, the Bharatiya Kisan Sabha did not drop its call for a "chakka jam" in Sriganganagar and Hanumangarh districts.

Police round up protesting farmers in Anoopgarh; and (right) farmers raise slogans outside Gharsana police station in Sriganganagar on Thursday. Tribune photos
Lovers poisoned to death
Amritsar, August 28
A 15-year-old girl was allegedly killed by her brother, cousins and an uncle, who also murdered her 19-year-old lover near Ranewalian village, 15 km from here. The police found the bodies lying near a canal that flows by the village. Prima facie, the two were poisoned to death and their bodies dumped at a secluded site near the canal.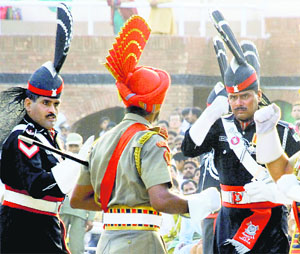 Amid border tension, Retreat at Wagah gets more aggressive
Attari (Amritsar), August 28
The escalating tension between India and Pakistan in view of repeated ceasefire violations along the border in Jammu and Kashmir is reflecting in the famous Retreat ceremony at Attari-Wagah border. The security personnel from both the sides are resorting to more hostile gestures.


Indian and Pakistani security personnel during the Retreat ceremony at Wagah. Tribune photo: vishal kumar

Vacant MBBS seats
No MCI nod yet for relaxing norms for SCs
Faridkot, August 28
Baba Farid University of Health Sciences (BFUHS) is finding it difficult to fill 240 vacant MBBS seats even as the last date of counselling is drawing near.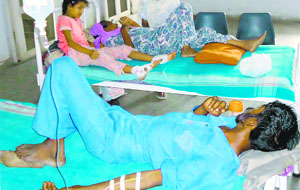 Diarrhoea scare grips Moga village
Rania (Moga), August 28
Panic gripped a Dalit locality at Rania village in Moga district on Thursday after a large number of people fell ill due to suspected diarrhoea outbreak and viral infection.


Patients suffering from diarrhoea under treatment at the Civil Hospital, Badhni Kalan, in Moga district.


CAs to audit panchayat grants, says Maluka
Mohali, August 28
Grants given to panchayats will be audited for which 55 chartered accountants (CAs) have been appointed so far, said Rural Development and Panchayats Minister SS Maluka today. He was here to inaugurate a Rs 12.94 lakh government middle school building at Durali village. He said two blocks would be placed under one CA.

SS Maluka

Six months on, state govt yet to act on quota for Jats
Chandigarh, August 28
Announced with much fanfare on the eve of Lok Sabha elections (March 4), the SAD's decision to include Sikh Jats in the Backward Class (BC) category seems to be shelved.
Govt doing little to educate SCs on quota policy: RTI
Chandigarh, August 28
The Punjab Social Welfare Department is not doing enough to spread awareness about the reservation policy for the Scheduled Castes and Backward Classes, an RTI activist has claimed.
Land row: Dalits end dharna
Sangrur, August 28
A settlement was reached between the district administration and Dalits of Balad Kalan and Matoi villages here today following which activists of the Zamin Prapati Sanghrash Committee ended their dharna in front of office of the deputy commissioner.
Bhikhi case: Daduwal in custody of Mansa police
Faridkot, August 28
A team of the Mansa police reached here today to take custody of Baljit Singh Daduwal, Sikh preacher and member of the Haryana Sikh Gurdwara Management Committee. Daduwal was lodged in the Faridkot Central Jail after he was arrested on August 22 for allegedly possessing banned firearms.

(Left) Baljit Singh Daduwal being brought to a court in Mansa on Thursday; and his followers protest outside the court. Tribune photos

Kalam to visit Ludhiana schools today
Ludhiana, August 28
Former President APJ Abdul Kalam would visit three schools in Ludhiana tomorrow. Sources said Kalam would land at Halwara airport, from where he would head to Adarsh School at Sherpur Kalan near Jagraon. The school is run by Bharti Foundation.
Eye on MC poll, govt may rationalise taxes
Chandigarh, August 28
With an eye on the elections to various municipal bodies in Punjab scheduled at the year-end, a joint coordination committee of the Shiromani Akali Dal and the BJP will make several people-friendly changes in the tax structure.
56 acres of encroached shamlat land freed
Fazilka, August 28
The local administration freed 56 acres of shamlat land from encroachers in Salemshah village on the outskirts of Fazilka town today. The market value of the land that had been under the illegal possession of 12 persons for over four decades is around Rs 14 crore.
Residents refuse to pay for water
Muktsar, August 28
Most residents have not been paying their water and sewerage bills. The Water Supply and Sanitation Department is yet to recover nearly Rs 2 crore from consumers. Though the government has announced free water supply to those living in up to five marla houses, the scheme is applicable only in towns where the water works is under the Local Bodies Department. — TNS
Reduce power cuts in Abohar: NGO
Abohar, August 28
An NGO today wrote to the Punjab State Power Corporation Ltd (PSPCL) top brass and complained about the long power cuts in Abohar. Satpal Khariwal, chairman, Consumer Movement, said there was no justification in continuing the long power cuts on Thursday. He said power supply in Kala Tibba and other villages was suspended yesterday afternoon and could not be restored till today afternoon. He said the state government's tall claims of generating surplus power had fallen flat. Khariwal said the discriminatory unscheduled power cuts were being imposed arbitrarily. — OC
MC workers' strike enters 25th day
Hoshiarpur, August 28
Despite yesterday's claims of the local Municipal Corporation officials that the striking employees had agreed to end their strike, the strike today entered the 25th day. No employee turned up for work.
PSPCL staff strike work
Patiala, August 28
Hundreds of employees of the Punjab State Power Corporation Limited (PSPCL) observed a strike under the banner of the Joint Forum and Technical Services Union today. Cash counters and public complaint services remained non-functional as employees refused to work.
MLA against maize purchase by Centre
Jalandhar, August 28
Senior Congress leader and Kapurthala MLA Rana Gurjeet Singh today asked Chief Minister Parkash Singh Badal not to pass on the responsibility of purchasing maize from state farmers to the Centre.



Recall security to Ashutosh: PIL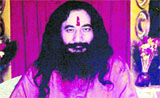 Chandigarh, August 28
Declared clinically dead seven months back, Nurmahal dera chief Ashutosh Maharaj still enjoys "Z" security. But things may change soon. Acting on a petition filed in public interest for withdrawal of the security cover, a Division Bench of the High Court this morning issued a notice of motion to the State of Punjab and other respondents for September 11.The notice was accepted by Additional Advocate-General Munisha Gandhi.
Delhi HC upholds Moga MLA's acquittal
New Delhi, August 28
The Delhi High Court today upheld the acquittal of Joginder Pal Jain, Akali Dal MLA from Moga, in a 1988 case related to smuggling of foreign currency and travellers' cheques (TCs) worth Rs 16 lakh.



Labourers protest sand mining ban, 5 booked
Fazilka, August 28
The police have booked five activists of various labour unions on charges of blocking the highway near the busy Sanjiv Cinama Chowk in Fazilka today afternoon. The activists under the banner of General Reta Mazdoor Union were protesting the ban on sand mining in the district. They alleged they had been rendered jobless due to the ban. Several commuters were inconvenienced during the blockade.
Three booked as rape video goes viral
Abohar, August 28
The Rawatsar police in Hanumangarh district today booked three persons as a rape victim's video clippings allegedly went viral. The victim alleged the accused uploaded the video on social media when she could not pay the Rs 10 lakh he had demanded.