Skirmishes at 3 booths in Patiala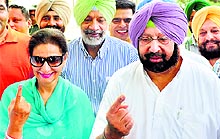 Patiala, August 21
The Patiala (Urban) constituency registered 60 per cent voting during the bypoll today amid minor incidents of violence at three polling booths. In Patiala city, a few Akali workers accused the Station House Officer (Kotwali) of manhandling some party workers at the behest of Congress leaders.
Capt Amarinder Singh and Congress candidate from Patiala Preneet Kaur show their inked finger. Tribune photos: Rajesh Sachar

remission for police 'cat' pinki
Father of killed youth meets Takht chief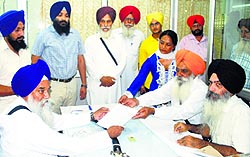 Amritsar, August 21
Amrik Singh, whose son Avtar Singh was allegedly murdered by police 'cat' Gurmeet Singh Pinki, today met Jathedar Gurbachan Singh, Akal Takht chief. He said the family was all set to move the Punjab and High Court against Pinki's remission.


Victim's father Amrik Singh hands over a memorandum to Akal Takht Jathedar in Amritsar on Thursday. Photo: RK Soni

Petition seeks abolition of relief to convicts
Chandigarh, August 21
Less than a week after the premature release of life convict Gurmeet Singh Pinki from the Nabha Open Jail raked up a controversy, an application was today filed before the High Court seeking abolition of extra concession given to lifers lodged there.
PSERC to offer incentives to offset power tariff hike
Chandigarh, August 21
The Punjab State Electricity Regulatory Commission (PSERC), which will announce its tariff order for the current fiscal year tomorrow, will reportedly offer incentives to power consumers to bring down their overall annual bill.
Moga shootout: Lab report delay hits investigation
Moga, August 21
The forensic laboratory has not yet submitted its examination report to the Punjab Police, delaying the investigation being conducted by a Special Investigation Team (SIT).
Rival Akali Dal workers set up separate kiosks
Talwandi Sabo, August 21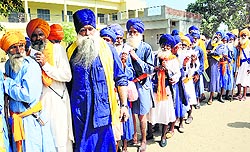 Factionalism within the ruling SAD came to the fore in several parts of Talwandi Sabo constituency where the party supporters had put up separate kiosks. When enquired about the reason for this, the SAD supporters in Jiwansinghwala village said the rift was over representation in the panchayat.



Nihangs queue up outside a polling booth to exercise their franchise in Talwandi Sabo on Thursday. Tribune photo: Pawan Sharma

Independent Balkar spent more than AAP candidate
Bathinda, August 21
Independent candidate Balkar Sidhu spent Rs 6.5 lakh on his election campaign in Talwandi Sabo. The amount is Rs 1.5 lakh higher than that spent by Aam Aadmi Party (AAP) nominee Baljinder Kaur.
Co-accused in shoe hurling case 'untraceable'
Dhanaula (Barnala), August 21
Five days after a 30-year-old disabled man, Jagtar Singh Tari, was taken into custody in connection with the shoe hurling incident, his whereabouts are unknown to his family.



Khanna police deny having Tari's custody
Work yet to begin in areas affected by waterlogging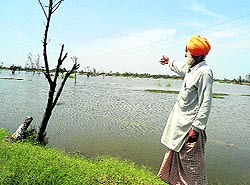 Muktsar, August 21
Even though monsoon rains had last year caused widespread losses in Muktsar district, especially in Khokhar and Haraj villages, the state government has not taken any step to tackle waterlogging in these villages. The villagers said that the state government had chalked out a special plan to spend Rs 4.19 crore on laying 28,000 metre pipeline to drain out water from the ponds of these two villages that are located in low-lying areas.


File photo of a waterlogged field.
Clerks' Recruitment
Selection norms were duly followed: SSSB
Chandigarh, August 21
With the recruitment of more than 1,100 clerks by the Subordinate Service Selection Board (SSSB), under the scanner, the board says the selection process was duly followed.
Soon, 3 copies of answer sheet for TET
Ropar, August 21
To bring transparency in the Punjab State Teacher Eligibility Test (PSTET), the Education Department has decided to introduce the concept of three copies of answer sheets. The test is scheduled to be held on August 24.
PTU gets approval to restart courses
Chandigarh, August 21
After almost two years, Punjab Technical University (PTU) has finally got permission from the University Grants Commission (UGC) to restart its distance education programme for students in Punjab.
paper tampering
School board told to act against guilty
Chandigarh, August 21
The Punjab and Haryana High Court today directed the Punjab School Education Board secretary to take action on the report of retired Judge OP Garg against those indicted for tampering with answer sheets of students who took the Class XII examination in March 2013.
Sangrur MP takes up Punjabi students' cause with UK official
Sangrur, August 21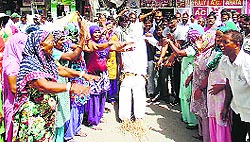 British Deputy High Commissioner David Lelliott met Aam Aadmi Party MP from Sangrur Bhagwant Mann today. They held discussion on problems being faced by Punjabi students in England, Punjabis living in England illegally and the drug-menace.




Sangrur MP Bhagwant Mann shares a point with British Deputy High Commissioner David Lelliott at a meeting in Sangrur on Thursday. Mann took up Punjabi students' cause with Lelliott. A Tribune photograph


Safai sewaks burn state govt's effigy
Abohar, August 21
Over 150 sanitation workers of the Municipal Council burnt an effigy of the state government outside Sadar Bazaar here today afternoon. The sanitary inspectors of the council were also present at the site.

4 hurt at Ropar thermal plant
Ropar, August 21
At least four workers were injured following a snag in a cylinder of hopper ash vessel at the Ropar thermal plant today.

Fire at shrine: Sikh bodies want culprits arrested
Abohar, August 21
Sikh organisations on Thursday condemned a fire incident at a religious complex. At a meeting held in Gurdwara Baba Deep Singh on Padampur Road in Sriganganagar, they said the incident had deeply hurt the sentiments of the community.

BKU to hold rally at Moga
Moga, August 21
The Bharatiya Kisan Union (Ekta), the Punjab Khet Mazdoor Union and many other trade unions have announced to hold a state-level protest rally at Moga on September 17 to press upon the Union and state governments to meet long-pending demands of farmers and farm labourers.



Canadian province refuses helmet exemption to Sikhs


Toronto, August 21
Sikhs would not be exempted from wearing helmets while riding motorcycles in Canada's east-central Ontario province, Premier Kathleen Wynne has said citing safety reasons.

US gurdwaras back drive
Washington, August 21
Over 100 representatives from gurdwaras across the US have pledged support for the National Sikh Campaign's (NSC) plan to engage top US political operatives and media firms for presenting the community positively.




Illegal detention: HC summons Amritsar cops
Chandigarh, August 21
The Punjab and Haryana High Court today directed Amritsar Senior Superintendent of Police, Senior Superintendent of Police (Detective) and other policemen to remain present before the Bench in an illegal detention case. The detainee was picked up in connection with a case hovering around the death of a UT Police inspector's son.

HC orders age test of younger Nooran sister
Chandigarh, August 21
The Punjab and Haryana High Court today directed ossification test of the younger Nooran sister, Jyoti. Facing the music for "marrying" against her family wishes just about three days ago, the singer and her "husband" were seeking protection of life and liberty from her parents and sisters. She was also seeking directions to the parents and her sister against interfering in their "married life".

Attack on naib tehsildar: Two get bail
Abohar, August 21
A local court has granted bail to Jagnandan Singh Brar and his wife Jasbir Kaur as the police after carrying out a fresh probe dropped Section 307 from the FIR registered against them. Both the accused are lawyers.





Man held for killing 3 of family
Abohar, August 21
The Hanumangarh police today claimed to have solved a case, wherein a woman and her two children had been reported missing. The police held Krishan Lal (24) of Assakhera village for allegedly murdering Mohran Devi, her son Subhash Chander (2), and daughter Garima (3).