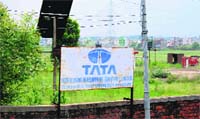 Clear stand, Delhi HC tells UT
Chandigarh, August 21
The Delhi High Court has now asked the UT Administration whether it was willing to initiate proceedings against the Punjab Government under Article 131 of the Constitution for restraining development in Nayagaon, Kansal, by filing a suit in the Supreme Court.
Co-owners' signatures not required, says HC
Chandigarh, August 21
In a judgment that will simplify the procedure for carrying out renovations and modification in houses by co-owners, the Punjab and Haryana High Court has ruled that building plans submitted by them cannot be disapproved only because other co-owners have not signed the same.
36-year-old safai karamchari asphyxiated in gutter
Chandigarh, August 21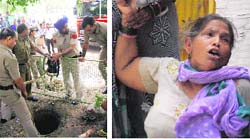 A 36-year-old safai karamchari employed with the UT's Public Health Department, Satbir Singh, died after inhaling toxic gases as he came to clean a blocked sewer line near the Lake Club today. Satbir Singh was sitting near the gutter after removing its cover when he inhaled the gas and fell into the 10-foot-deep gutter.
Firemen try to rescue the victim, Satbir, from a sewer line near the Lake Club in Chandigarh on Thursday; and (right) the victim's mother mourns his death. Tribune photographs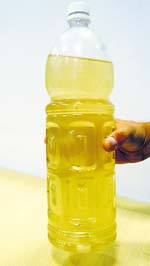 Not a drop to drink: Residents of Sector 29-D are getting muddy water supply. They have alleged that despite complaints made to the Public Health Department, nothing has been done. A Tribune photograph
Back-to-back burglaries in P'kula
Panchkula, August 21
Burglars targeted two houses in Sector 6 here, including that of a former ADGP of Punjab, in the wee hours today and decamped with valuables and LEDs worth lakhs of rupees.
Admn assures industrialists of resolving their issues
Mohali, August 21 A new industrial policy has been launched by the state government wherein huge relaxations have been given for setting up new industry and a single-window system has been started for implementing the same. This was stated by DC Tejinder Pal Singh Sidhu here today during a meeting of members of the Mohali Industries Association (MIA) and various government departments.
UT to raise pending issues with minister
Chandigarh, August 21
The Chandigarh Administration will be taking up pending issues with the Ministry of Home Affairs (MHA) during tomorrow's visit of Kiren Rijiju, Union Minister of State for Home Affairs, to the city. The minister is visiting the city tomorrow. Apart from interacting with UT officials, the minister will inaugurate an auditorium and a solar power plant at the Sector 42 Government College for Girls.
New technique evolved in high-risk bypass surgery
Chandigarh, August 21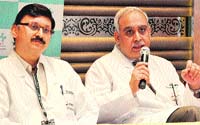 A new technique for high-risk bypass surgery in patient with high fat and calcium deposition in aorta has been evolved by city doctors. Under conventional by-pass surgeries, such patients remain at risk of brain stroke after the surgery, they said.
Dr Virendar Sarwal, director and head, CTVS, Max Super Speciality Hospital, Mohali, and Dr Deepak Puri at a press conference at a local hotel in Sector 43-B in Chandigarh on Thursday. Tribune photo: Parvesh Chauhan
Probe marked into death of Public Health Dept employee
Chandigarh, August 21
The UT Administration has marked probe into the death of 36-year-old Satbir Singh, employee of the UT Public Health Department, who died after inhaling poisonous gas emanating from a manhole in the Lake Sports Complex, Sector 5, today.
GMCH-32 provides aid to patient infested with maggots
Chandigarh, August 21
The unidentified, maggot-infested patient, who has been lying neglected at the GMCH-32 Emergency, finally caught attention of the staff, a day after Chandigarh Tribune highlighted the matter. Social workers and support staff provided him clothes and a drip was attached to his body to stabilise him and he could sit today. The wounds on the back of his head, however, seem to be still deep and improperly treated.
Now, community kitchen commences at GMSH-16
Chandigarh, August 21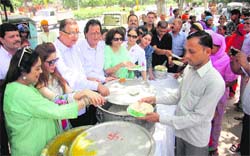 On the footsteps of the PGI, now Government Multi Specialty Hospital, Sector 16, will also hold community kitchen service for patients' attendants.




MP Kirron Kher (extreme left) distributes free food among attendants of patients outside the GMSH, Sector 16, Chandigarh, on Thursday. Tribune Photo: Pradeep Tewari
Fire breaks out at Sector 26 bank
Chandigarh, August 21
A fire broke out at Punjab National Bank in Sector 26, this afternoon. The Fire Department controlled the fire within15 minutes.
Youth summit tomorrow
Chandigarh, August 21
Chandigarh is all set to host India Today's 'Mind Rocks Youth Summit' on August 23.
Boy's death in mishap shatters family
Dera Bassi, August 21
Family members of Gourav, who died in an accident on his way to school yesterday, are still not able to come out of the trauma.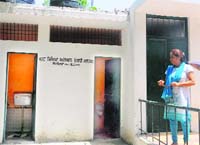 Mohali schools reek of official apathy
Mohali, August 21
According to the report of Ministry of Human Resource and Development, every school, total 669 schools, has facility of separate toilets for boys and girls in the Mohali district.



Toilets without water at a school in Janjehri village, Mohali. Tribune photo: Vicky Gharu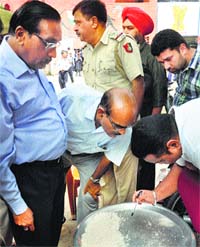 Insect found in mid-day meal
Chandigarh, August 21
Four months after reports of poor-quality rice being served under mid-day meal scheme in government schools of the UT came to fore, an insect was spotted in the cooked rice being served to students of Government Model Senior Secondary School, Sector 45, here, today. The food was meant to be served to 700 students of the school. After the insect was detected in the container by the school authorities, during the inspection of the meals before being served to the students, senior UT Education Department officials rushed to the spot to probe the matter. The food is being supplied by CITCO after being prepared at Shivalik View Hotel.
Health and Education Department officials inspect the food at Government School, Sector 45, Chandigarh on Thursday. A Tribune Photograph
Minister visits school for meritorious students
Mohali, August 21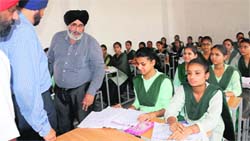 Students of the special residential school for meritorious students would be given special extra coaching so as to enable them crack competitive exams like IIT-JEE, AIPMT, Chartered Accountancy and Company Secretary besides Civil Services.
Punjab Education Minister Daljit Singh Cheema interacts with students of the residential school for meritorious students at Sector 70 in Mohali on Thursday. Tribune photo: Vicky Gharu
PU elections
Parties claim credit for raising student issues
Chandigarh, August 21


Keeping in view the forthcoming Panjab University Student Council Elections, fight to take credit for raising issues concerning students among two student unions was evident today.
SOI leaders address mediapersons; and (right) members of the NSUI hold a protest at Panjab University on Thursday. Tribune Photos: Pradeep Tewari & Manoj Mahajan
Former student leader alleges firing at his house
Chandigarh, August 21 High drama was witnessed in Kishangarh when a former Panjab University student activist, Harpreet Multani, called the police and alleged that two-three persons opened fire at his house.
PU to host book fair from August 25
Chandigarh, August 21
For the first time, Panjab University will host a five-day book fair from August 25 to August 29 at the ground in front of the library at the university.
Education Dept set to face staff shortage
Chandigarh, August 21
The UT Education Department, which is already reeling under staff crunch, is going to fall short of another 200 Junior Basic Teachers (JBTs) as they are learnt to have got selected for regular posts of JBT teacher in Haryana.
CCET staff continue hunger strike
Chandigarh, August 21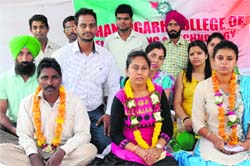 The Chandigarh College of Engineering and Technology (CCET) Employees Union continued its chain hunger strike. Gurpreet Singh, Ram Bahadur and Chandarpal sat on the hunger strike for 24 hours today. Coordination Committee of Government Workers and MC Employees Union co-convenor Raj Kumar came today and passed on the baton to the next shift of agitating employees. A delegation of the CCET Employees Union met UT Advisor KK Sharma.
Members of the Chandigarh College of Engineering and Technology Employees Union sit on a hunger strike on Thursday. Tribune photo: Manoj Mahajan
Dhanwantary students' protest enters Day 2
Chandigarh, August 21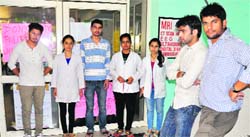 Students of Shri Dhanwantary Ayurvedic College and Hospital, Sector 46, continued their protest for the second day today. The students refused to vacate the OPD and administrative block. The protesting students had bolted the premises from inside yesterday.
Students stand in front of the OPD during their protest at Shri Dhanwantary Ayurvedic College and Hospital, Sector 46, in Chandigarh on Thursday. Tribune photo: Parvesh Chauhan
3,000 take part in job fest
Mohali, August 21
About 3,000 students from across the region participated in the 20th Aryans Job Fest.