Man held for siblings' murder
Tribune News Service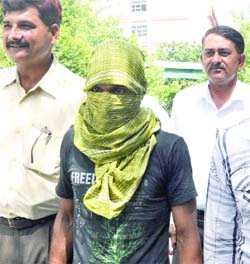 The Delhi Police Crime Branch team arrests Mazhar, alias Shekher, involved in the double murder case of Karawal Nagar in New Delhi on Thursday. Tribune photo: Manas Ranjan Bhui
New Delhi, August 21
A 23-year-old man has been apprehended by the Delhi Police for allegedly raping an 18-year-old girl, murdering her and her younger brother in east Delhi's Karawal Nagar last week, the police said today.
The man identified as Mazhar was recently released from jail, according to the police. On August 14, Mazhar and his alleged accomplice, Sunny, had allegedly entered the residence of the victims in Shahid Bhagat Singh Colony, Karawal Nagar, to commit a burglary and murdered them. Mazhar has allegedly confessed to raping the girl.
Following the incident, the police made a list of criminals, including sexual offenders, robbers and burglars.
"Our investigations revealed that a gang of burglars might be involved and the leader was identified as Mazhar, who was recently released from jail," said Joint Commissioner of Police (Crime) Ravindra Yadav.
The police were tipped off that Mazhar would come to meet an accomplice near Wazirabad Bridge bus stand in Delhi on Wednesday. The police laid a trap there and apprehended him. "The girl's mobile phone which he had robbed from her was recovered from him," Yadav added.
During interrogation, Mazhar told the police that he with Sunny allegedly killed the girl and her nine-year-old brother. They had allegedly planned to commit a burglary at a house in Shahid Bhagat Singh Colony late on August 13. They scaled the wall of the identified house, but found its door bolted from inside. They then jumped onto the terrace of the adjacent house and reached the first floor, which had two rooms. "They locked a room from outside and entered the other room, where they found the girl and the boy sleeping" Yadav said.
On hearing the commotion, the girl woke up and tried to raise the alarm. Fearing that they could be caught, the robbers allegedly slit her throat and hit her head with some house-breaking equipment. They also allegedly stabbed the boy to death.
"Mazhar then sexually assaulted the girl and took away her mobile phone and Rs 1,200 from her purse. Mazhar and Sunny fled by scaling the wall," said Yadav.
The police are looking for Sunny. Mazhar is allegedly involved in nine cases of theft and Arms Act registered at the Karawal Nagar police station. He is also a drug addict, according to Yadav.