Lacking coherent policy, govt showed unusual haste in clearing Pinki's case
Jupinderjit Singh
Tribune News Service
Chandigarh, August 19
Budhu, a life convict in Amritsar jail, has been rendered mentally unstable after spending more than 20 years in jail. He was not as lucky as "influential" murder convict Gurmeet Singh alias Pinki, a terrorist-turned police informer who later donned the khaki, who was released prematurely by the state government on June 24.
Budhu's is not the only case. There are a large number of convicts in various jails across the state who have been awaiting the processing of their case for premature release for years together.
In Amritsar jail alone, 30 such cases have been pending for the past more than a year. In Pinki's case, the government took a mere 13 days for issuing the order for his release after the ADGP-Jails recommended it on April 4. Pinki, though, was eventually released on June 24 after the completion of various formalities. Interestingly, a government spokesperson today claimed Pinki was released on July 24.
Also, the government has not made any progress since February on forming a uniform policy for time-bound processing of applications for premature release of prisoners. Seventy-one inmates of the Nabha open jail had even submitted a petition to a visiting judge last year. They had alleged undue delay and corruption in the processing of files, and had even named some who got preferential treatment. Interestingly, Pinki was one among the signatories to the petition.
Another petition, signed by 50 inmates of the Amritsar jail, also levelled similar allegations of favours given to the influential and those financially sound. The Nabha inmates complained though it took more than a year for the Home Department to process their files, those who were financially well off or politically connected were let off early. They cited the case of an inmate, Mahinder Singh, whose file was processed in about two months. The latest to be freed from the same jail is Pinki, who spent seven years and two months in the prison after his conviction.
The government policy on premature release mentions that an inmate of the Nabha jail would be eligible to walk free after spending seven years behind bars whereas the time limit was eight-and-a-half years for those lodged in other jails. Only those inmates who display good conduct in other jails are sent to the Nabha jail.
Advocate Navkiran Singh, who was appointed amicus curiae in the case pertaining to the petition by the jail inmates, alleged that the government was following pick and choose policy despite orders of the Punjab and Haryana High Court to frame a coherent policy. "The present policy says that those who have killed a policeman are not eligible for premature release. But the same policy does not bar the release of a policeman who killed someone even though he was duty-bound to protect the citizens," he said.
Jails Minister SS Thandal said the policy would be announced soon as it was awaiting approval by Chief Minister Parkash Singh Badal and the Council of Ministers. He said the department had initiated several remedial measures to speed up the process. "We have already specified time limit for government officials to clear files in favour or against an inmate," he said.
Thandal defended Pinki's release: "He also spent more than one-and-a-half year in jail as an undertrial. In all, he spent nine years, five months and two days behind bars. No special favour was bestowed on him."
Favoured few
In Gurmeet Singh alias Pinki's case, the state government took a mere 13 days for issuing the order of his release after the ADGP-Jails recommended it on April 4
The case of another inmate of the Nabha jail, Mahinder Singh, was reportedly processed in about two months
91 prisoners released this year
A government spokesperson claimed that this year, 164 cases, which were in accordance with the government policy, had been recommended for premature release from jail. Of them, 91 convicts have already been released, he said.
Will raise matter in Assembly: Bains
Ludhiana: Independent MLA Simarjeet Singh Bains has said he would raise the issue of convict Gurmeet Singh alias Pinki's premature release in the Vidhan Sabha. The MLA said it was strange that a murderer's sentence had been remitted while a slew of cases had been slapped on a man who only wanted to register a symbolic protest by hurling a shoe at the Chief Minister. Bains, who met Avtar Singh's family on Tuesday, said: "Just because Pinki was a police 'cat', his sentence has been remitted. This is unfortunate. It will only encourage other criminals."

My enemies behind controversy: Pinki
Jupinderjit Singh
Tribune News Service
Chandigarh, August 19
Gurmeet Singh alias Pinki, who is at the centre of a controversy over his premature release from the Nabha jail, has claimed that the issue was being unnecessarily raked up.
A convict in the murder case of 21-year-old Avtar Singh alias Gola of Ludhiana, Pinki attributed the controversy to the alleged enemies he made while fighting terrorists in Punjab.
He claimed he had caught dreaded terrorist Jagtar Singh Hawara twice and helped the state government "immensely" in the fight against terrorism. He said he had even been honoured with a gallantry award for arresting the accused in the Beant Singh assassination case, besides nabbing several other terrorists.
"I made several enemies during the dark days of terrorism. They framed me in the murder case of Avtar Singh. For them, the people associated with terrorism are holy cows while those like me who fought them are criminals," he said. Pinki claimed he had lost everything since he was named in the case. "I could not be by the side of my parents when they breathed their last. My relatives grabbed my property. My career was spoiled… I am the same man who caught Hawara single-handedly at the Jalandhar bus stand. Did anyone dare to catch him?" he said.
He said after spending several years in jail, he should be allowed to spend his remaining life peacefully. "The stories of my high-profile connections have been invented by human rights activists. They only want to link me to senior police officials and politicians… None stood by me," he added.


I made several enemies during the dark days of terrorism. They framed me in the murder case of Avtar Singh. For them, the people associated with terrorism are holy cows while those like me who fought them are criminals
—Gurmeet Singh 'Pinki', released convict

Kin of abducted youth meet Sushma yet again
Tribune News Service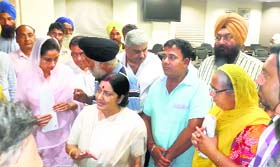 Kin of Punjabi youths abducted in Iraq meet Sushma Swaraj and Harsimrat Kaur Badal in New Delhi on Tuesday. Tribune photo
Amritsar, August 19
The families of the 40 Punjabi youths abducted by Isis militants in Iraq today met Union Minister for External Affairs Sushma Swaraj yet again, seeking the release and safe return of their near and dear ones from the strife-torn country.
Led by Union Minister for Food Processing and Bathinda MP Harsimrat Kaur Badal, these families met Swaraj for the third time since the youths were abducted in mid-June. Swaraj rejected the rumours regarding the Indian workers in Iraq and told their families not to pay any attention to them.
The External Affairs Minister assured the families that they were getting regular information about the Indian workers, and that they were safe.
As per a release issued here, she told them that they were kept at a textile factory in Mosul and were being provided proper food and water.
The Minister also urged the media to keep in mind the condition of their families while reporting the events from Iraq.
Swaraj said the government was making all possible efforts for their return. She said that the Iraq government too had issued instruction to private companies to facilitate the return of Indian youth who were willing to return home.
Harsimrat appealed to the government to extend financial aid to these families from the Prime Minister's Relief Fund.

Pinkcassia's petition against power theft dismissed
Saurabh Malik
Tribune News Service
Chandigarh, August 19
More than a decade after the Pinkcassia Tourist Complex in Ropar was proceeded against for power "theft", its long-drawn legal battle with the Punjab State Electricity Board has ended with the Punjab and Haryana High Court refusing to find fault with the findings.
"Since forensic evidence clearly suggests that it was a case of tampering with the meter, no fault can be found with the findings recorded by the courts that it was a case of theft," Justice Rakesh Kumar Garg asserted in his order on an appeal filed by the complex.
The complex had an electric connection at its premises with 117 KW of sanctioned load. But after checking was carried out in December 2002, a memo demanding Rs 3, 94,663 on account of electric energy theft was issued.
The appellant filed a case before the zonal legal dispute settlement committee of the respondent-department, but the case was dismissed as withdrawn. Thereafter, a complaint was moved by the appellant before the District Consumer Disputes Redressal Forum, Ropar. It too was withdrawn.
The complex then filed an appeal before the Dispute Settlement Authority of the respondent-department, which upheld the claim. Pursuant to this, the appellant deposited Rs 2, 63,110, while putting up its case again before the zonal legal dispute settlement committee. It again decided the matter against the appellant.
In the suit, it was stated that the impugned notice was illegal, null and void and against the principles of natural justice. When the electric meter was checked, all seals were reported to be in tact and no crack in the meter glass was detected.