Farmers block highway, seek canal water supply
Abohar, August 18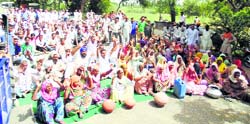 Hundreds of farmers today held a protest against the non-availability of canal water for irrigation and drinking purposes in Abohar. This despite the fact that the authorities had claimed that the water level at the Bhakra Dam in Himachal Pradesh had improved and was higher than that in the same period last year.

Villagers hold a dharna near Abohar on Monday. Tribune Photo

All pensioners in state to come under EBT
Chandigarh, August 18
The state is all set to roll out electronic benefit transfer (EBT) for disbursement of pensions under its various schemes in all districts. Since the system has helped the government detect fake beneficiaries in six districts where it was rolled out in the first phase, the state is keen on implementing EBT across all districts. Sources said EBT would help eliminate the problem of fake beneficiaries especially under the old-age pension scheme. The scheme has already been started in Ludhiana, Muktsar, Mansa, Bathinda, Patiala and Faridkot. "Under the system, each pensioner is required to give his biometrics to the bank. This condition helps weed out fake pensioners. When EBT was introduced in six districts, as much as 10 per cent and 6 per cent of the pensioners (presumably fake) did not turn up in Ludhiana and Mansa," officials said. — TNS
shoe-hurling incident at issru village
Provide video clip: Mann
Ludhiana, August 18
Bhagwant Mann, Aam Aadmi Party (AAP) MP, today questioned the veracity of the police claim that one of the accomplices of Dhanaula resident Bikram, who had hurled a shoe at the Chief Minister at a function in Issru village, had recorded the incident on his cellphone.
Bikram sent to 14-day judicial remand
Khanna August 18


Bikram, who had hurled a shoe at Chief Minister Parkash Singh Badal at a function in Issru village, was sent to judicial custody for 14 days. He was presented in the court on expiry of his one-day police remand amid tight security.



Bikram being taken to a court in Khanna on Monday. Tribune photo
Leaders make last-ditch efforts to woo voters
SAD-BJP, Cong ignored development: Adaltiwala
Not a penny spent on Patiala, claims Preneet
Will work selflessly for city residents: Juneja
Leave segments after campaign ends: EC to leaders
Chandigarh, August 18
The Election Commission of India (ECI) has issued a detailed set of instructions, putting restrictions on the presence of political functionaries in Patiala and Talwandi Sabo assembly constituencies after the campaign period is over.
Kejri an anarchist, SAD-BJP alliance directionless: Capt
Patiala, August 18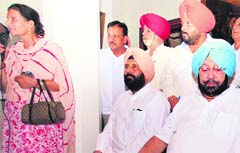 Congress Deputy Leader in the Lok Sabha Capt Amarinder Singh today lashed out at Aam Aadmi Party (AAP) leader Arvind Kejriwal, saying he acted like "a frustrated anarchist". He also said the SAD-BJP alliance did not have any vision.




Amritsar MP Capt Amarinder Singh and Congress candidate Preneet Kaur in Patiala on Monday. Tribune photo: Rajesh Sachar
SAD, BJP will fight 2017 poll together: Dy CM
Patiala, August 18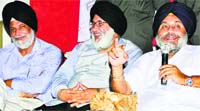 Claiming that all was well between the SAD and the BJP, Deputy CMr Sukhbir Singh Badal today said thta come what may, "we will together contest the 2017 Assembly poll and all other subsequent elections". Blaming the earlier Congress-led UPA government at the Centre for lack of development works in Punjab, he said that funds for development would no more be a problem under the new NDA government.
Deputy CM Sukhbir Badal in Patiala on Monday. Tribune photo
For drug-free state, vote for AAP: Kejriwal
Talwandi Sabo, August 18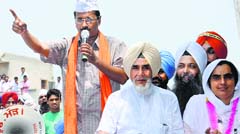 Aam Aadmi Party (AAP) leader and former Delhi Chief Minister Arvind Kejriwal today asked the voters in villages of Talwandi Sabo to take Rs 4,000 per vote from both the Congress and the Shiromani Akali Dal (SAD), and vote for AAP. Kejriwal was here to campaign for party candidate from Talwandi Sabo Baljinder Kaur.

Aam Aadmi Party convener Arvind Kejriwal canvasses for party candidate Baljinder Kaur (extreme right) at Jeevan Singhwala village in Talwandi Sabo on Monday. Tribune photo: Pawan Sharma

Bharti Foundation adopts Ludhiana dist
Ludhiana, August 18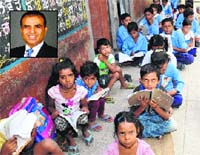 The Bharti Foundation has decided to adopt Ludhiana District, the home district of its founders, for a rural sanitation programme.The development arm of Bharti Enterprises, the foundation today announced its initiative 'Satya Bharti Abhiyan'. It said it would spend up to Rs 100 crore on constructing toilets while reaching out to every rural household lacking such facilities in the district, over the next three years.


Sunil Bharti Mittal, chairman, bharti foundation (inset)
Govt fails to admit 260 meritorious girls in residential schools
Muktsar, August 18
The state government's claims to give admission to all the students who attained over 80 per cent marks in the Class X exams in residential schools have fallen flat. As many as 260 girl students from across the state have not been given the benefit.
Red-tape: Grant not reaching cancer patients
Faridkot, August 18
Guru Gobind Singh Medical College and Hospital (GGSMCH), Faridkot, could not utilise the Rs 32-crore revolving fund made available to it from the Chief Minister's Cancer Relief Fund over the past three years. Only around Rs 4 crore out of the available fund was actually made available to the need by the hospital during that period, according to information procured under the RTI Act.
Bathinda villagers fume over 'fake' blue cards
Bathinda, August 18
Poor villagers in the constituency of PWD minister Janmeja Singh Sekhon are furious at allegedly being handed given fake blue cards.
Jobless youths in border villages get rickshaws
Ferozepur, August 18
In a first-of-its-kind initiative, more than 150 jobless youths in border villages have been given eco-friendly rickshaws. Besides, soft loans have been sanctioned to another 100 youths from "non-banking villages" in the district.
Beneficiaries to get money through banks
Chandigarh, August 18
The state is all set to roll out electronic benefit transfer (EBT) for disbursement of pensions under its various schemes in all districts. Since the system has helped the government detect fake beneficiaries in six districts where it was rolled out in the first phase, the state is keen on implementing EBT across all districts.
Protest against move to seal hotels around Golden Temple
Amritsar, August 18
Opposing the government move to seal hotels and guest houses in the vicinity of the Golden Temple, angry proprietors today took to the streets. Barring the inns,125 commercial units, under the banner of the Federation of Hotels and Restaurants, Amritsar, today shut their hotels after checking out their guests.
DSGMC chief denies misuse of gurdwara panel funds


New Delhi, August 18
Delhi Sikh Gurdwara Management Committee (DSGMC) president Manjit Singh (GK) today said he never used the gurdwara fund for any personal work. Speaking in connection with allegations levelled by former DSGMC president Paramjit Singh Sarna, he said, "As the president of the committee, I am serving the community.
Manjit Singh (GK), dsgmc president
Rs 1-crore SGPC aid for Saharanpur riot-hit
Amritsar, August 18
The SGPC today announced that the Sikhs who suffered losses during the recent riots at Saharanpur would be extended a financial aid of Rs 1 crore.
Home Secy told to look into row over Punjabi film
Chandigarh, August 18
Even after being cleared by the censor board, Chief Minister Parkash Singh Badal today said he would ask his Home Secretary to look into the controversy generated over the release of Punjabi movie 'Kaum de Heere'. "I will ask my Home Secretary to look into the matter," he said.
MLA's proposal to change Batala's name sparks controversy
Batala, August 18
The proposal to change the name of Batala city to Mata Sulakhni Nagar Batala has sparked off a controversy in the steel town. Batala MLA Ashwani Sekhri, who moved the proposal in the recent session of the Vidhan Sabha, has already got an assurance in this regard from Deputy Chief Minister Sukhbir Singh Badal.
Heliport project near CM's village in limbo
Muktsar, August 18
The reply to a Right To Information application has revealed that no action has been taken on the project to build a heliport in Mann village, near Chief Minister's native village Badal, in the last two years.


High Court turns down drug-seller's petition
Chandigarh, August 18
The Punjab and Haryana High Court has made a departure from the standard procedure of granting bail to accused in drug peddling cases on the expiry of 180 days required for presenting a challan.


Buses collide head-on, woman killed
Mohali, August 18
An elderly woman was killed and at least 16 persons were injured when two buses collided head-on over a bridge near "Nau-Gaja Peer dargah" at Kurali this morning.



Some of the injured under treatment at a hospital after an accident at Kurali on Monday; (and right) the two buses involved in the head-on collision. Tribune photos
Gang of extortionists busted; 3 arrested
Fazilka, August 18
The district police claimed to have busted a gang of four women and three men who extorted money from affluent people by blackmailing them.