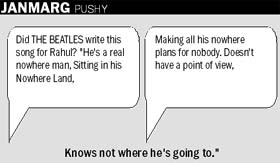 CTU hikes local bus fares
Chandigarh, August 28
Travelling by the local bus service of the Chandigarh Transport Undertaking (CTU) has become costlier by up to 40 per cent. The hike has been allowed after a gap of over 10 years. UT Adviser KK Sharma confirmed the revision of the bus fares on local bus routes.
Streetlight staff to be under WhatsApp lens
Chandigarh, August 28
Facing the ire of residents over non-functional streetlights in the city, the electrical wing of the Municipal Corporation (MC) has now created a WhatsApp group on which the field staff will have to upload pictures of illuminated lights everyday.
11-yr-old girl kills baby for revenge
Zirakpur, August 28
An 11-month-old baby girl was allegedly killed by her neighbour, an 11-year-old girl, at Preet Nagar in Zirakpur today. According to the police, the victimís father, Salam Khan, reported that his daughter was playing outside the house in the evening. After sometime, she went missing.
Civic body to discuss water tariff issue
Chandigarh, August 28
The issue of increasing water tariff in the city, which could not be discussed in the municipal corporation (MC) General House meeting held in July, would be tabled for discussion in the meeting scheduled for August 29.
Cops raise reward amount in Sec 22 robbery case
Chandigarh, August 28
Twenty four days after a youth on foot shot at a salesman and looted 18 gold chains worth Rs 6 lakh from KRJ Karan Jewellers in Sector 22, the UT police have raised the reward fee on the robber from Rs 50,000 as announced earlier to Rs 75,000.



Up in arms: Members of the ETT Teachers Union hold a protest at Phase VIII, Mohali, on Thursday. Tribune photo: Vicky Gharu
Annual conference on emergency radiology begins at PGI today
Chandigarh, August 28
The Department of Radiodiagnosis and Imaging, Postgraduate Institute of Medical Education and Research (PGIMER), Chandigarh, is organising the 1st annual conference of the Society for Emergency Radiology from August 29 to August 31.
Suicide by patient
No lessons learnt by PGI; balconies still uncovered
Chandigarh, August 28
The incident of suicide by a patient who jumped off the balcony of the New OPD, three days ago, has exposed the apathy of the PGIMER authorities in implementing its own proposals.
Patilís check-up
PGI docs see red as colleagues denied entry to OPD
Chandigarh, August 28
The PGI Faculty Association today condemned the denial of entry to two doctors to the OPD area during Governor Shivraj V Patilís check-up on Tuesday due to security concerns.


brawl over parking
Former DSP harassing my family: NRI
Chandigarh, August 28
Giving a new twist to the story, NRI Kuljeet Kaur, sister of former cricketer Yograj Singh, alleged that former DSP Ashanand was harassing her family during their stay in Panchkula.

Yograj Singh (left) with his sister Kuljit Kaur and her daughter Tanya at a press conference in Chandigarh on Thursday. Tribune photo: Manoj Mahajan

A couple together at home and at work
Chandigarh, August 28
Defying the common perception that good spouses may not be good colleagues, here is a doctor couple that fought all odds and stayed 40 years together at the Department of Radiotherapy, PGIMER.

SC Sharma, HoD, Department of Radiotherapy, and his wife Dr Firuza Patel at the PGI in Chandigarh. Tribune photo: S Chandan


Departure timings of four trains changed
Chandigarh, August 28
The departure timings of four trains of the Northern Railways have been changed. The new schedule will come into force from September 1, 2014. As per the new schedule, train number 12984 from Chandigarh to Ajmer will depart at 8:50 pm, instead of 9:10 pm.
Cong councillors unhappy over Mayorís style of working
Chandigarh, August 28
Rifts between Congress councillors during the pre-House meeting called by the Mayor was witnessed when a few councillors didnít turn up for the meeting after they were given the information about it at the 11th hour.



panjab university student council elections
Parties lure voters with discount coupons
Chandigarh, August 28
Moving a step ahead in wooing voters for the Panjab University Student Council Elections, various student parties are offering them discount coupons to avail several services. Ranging from eating joints, restaurants to gyms, the discount coupons have been well received by the students. Among these, the coupons offering 30% to 50% discount on beauty services ó in leading salons of the city ó are in huge demand.



Social media sites a platform for parties to highlight achievements
Chandigarh, August 28
Student parties in the race for the Panjab University Student Council Elections have taken to social media sites to popularise themselves and their alliances. This is even before when the parties are yet to make a formal announcement about their tie-ups with the other parties.
The PUSU-GGSU-HSA alliance page uploaded on a social media site. A Tribune photograph


Amid poll fanfare, PU wears ugly look
Chandigarh, August 28
Panjab University presented an ugly picture today following the announcement of the Panjab University Campus Student Council (PUCSC) elections as the authorities removed all posters from notice boards.
Posters scattered near the Arts Block-III; and (right) near the Vice-Chancellorís office at Panjab University. Tribune photos: Pradeep Tewari

Nine observers appointed for poll
Chandigarh, August 28
Panjab University today appointed nine observers for the Panjab University Campus Studentsí Council (PUCSC) elections. The observers will monitor the activities of all parties and prepare a report on the violations carried out by them during campaigning and take appropriate action.
Police personnel and the PU security staff keep vigil at the Student Centre in Panjab University. Tribune photo: Pradeep Tewari

Strict police vigil at colleges casts a shadow on campaigning
Chandigarh, August 28
In what can be termed as an outcome of increased police presence on the Panjab University campus or a strict approach adopted by the authorities ahead of the student council poll, electioneering remains a low-key affair this year.

Following the announcement of the election date, students share a point at DAV College, Sector 10, in Chandigarh on Thursday. Tribune photo: Manoj Mahajan
Business school to set up club for SMEs
Mohali, August 28
In a one-of-its-kind initiative to support small and medium enterprises (SMEs) in and around the region of Punjab, Haryana and Himachal Pradesh, the Indian School of Business (ISB) has announced the setting up of the Big Leap Club exclusively for owners of SMEs.
from schools
Sports tournament
Chandigarh: A two-day inter-house sports tournament was organised at CL Aggarwal DAV School. The students took part in various games, including carrom, chess, table soccer etc.