Augmented water supply withdrawn, Bathinda villagers cry foul
Bathinda, August 25
The Talwandi Sabo byelection will always be remembered by residents of Jeewan Singh Wala village for it ushered in both good and bad news for them, leaving behind a tale of ugly politics.



Jakhar flays BJP for not reducing tariff
Abohar, August 25
Congress Legislature Party (CLP) Leader Sunil Kumar Jakhar today slammed ruling alliance partner BJP for failing to reduce power tariff in the state. Jakhar accused the saffron party of betraying the electorate to whom it had promised the moon during the Vidhan Sabha and Lok Sabha elections.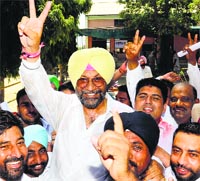 For SAD's Sidhu, it's fourth win in a row
Talwandi Sabo, August 25
Jeet Mohinder Sidhu, Shiromani Akali Dal (SAD) candidate, won the Talwandi Sabo byelection, defeating his nearest rival, Harminder Singh Jassi of the Congress, by a record margin of 46,642 votes. Sidhu polled 71,747 votes and Jassi 25,105.




SAD candidate Jeet Mohinder Sidhu celebrates his win in Talwandi Sabo on Monday. Tribune photo: Pawan sharma

Preneet wins but no victory celebrations
Patiala, August 25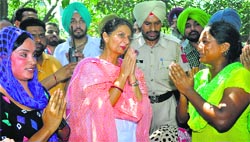 Congress candidate Preneet Kaur won the Patiala (Urban) seat, defeating her nearest rival Bhagwan Dass Juneja (SAD) with a comfortable margin of 23,282 votes. All other six candidates in the fray, including AAP's Harjit Adaltiwala, lost their security deposit.



Congress leader Preneet Kaur greets supporters after the election results in Patiala on Monday. Tribune photo: Rajesh Sachar


AAP blames money and muscle power for defeat
Patiala, August 25
The byelection results have come as a major setback for the fledgling political outfit AAP which could manage to get a mere 5,724 votes from the Patiala Urban Assembly constituency. The party had got 35,674 votes during the recently held Lok Sabha elections from this segment.
Baljinder Kaur after counting
Aam Aadmi candidates lose security
Bathinda, August 25
The Aam Aadmi Party (AAP) that had an impressive 24.4 per cent vote share in Punjab during the recent parliamentary elections, failed to make an impact in the Talwandi Sabo and Patiala-Urban Assembly byelections. The party candidate in Talwandi Sabo, Baljinder Kaur, polled only 13,899 votes. Her security deposit was forfeited. In the recent Lok Sabha elections, AAP candidate for the Bathinda Lok Sabha seat, Jasraj Singh Longia, had secured 15,554 votes in the Talwandi Sabo segment.
Poll outcome setback for Congress, says CM
Chandigarh, August 25
Chief Minister Parkash Singh Badal today described the byelection results "a vindication of the policies and performance of the SAD-BJP government."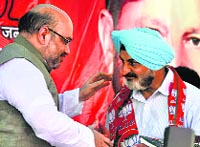 Ignored, ex-DGP Gill 'joins' BJP
Moga/Kathua, August 25
Former DGP Paramdip Singh Gill, who unsuccessfully contested the 2012 Assembly elections from Moga on SAD ticket, today joined the BJP in the presence of party's national president Amit Shah at Kathua in Jammu and Kashmir, but retracted soon after.


BJP president Amit Shah welcomes former DGP Paramdip Gill in the BJP at Kathua on Monday. Tribune photo

'Oust Bajwa' clamour to get louder
Chandigarh, August 25
Despite putting his weight behind Harminder Singh Jassi, Congress candidate from Talwandi Sabo, Punjab Pradesh Congress Committee president Partap Singh Bajwa has been unable to ensure a win for the party.


Water pollution: Tribunal reprimands Centre, state
Abohar, August 25
The National Green Tribunal today pulled up the Centre and some departments of the Punjab Government, while taking up a Public Interest Litigation (PIL) filed by farmers from Hanumangarh (Rajasthan). The state and central governments had failed to file their replies. The Tribunal directed them to submit replies within two weeks and fixed next hearing for September 15.
3 suffocated to death in Ludhiana factory fire
Ludhiana, August 25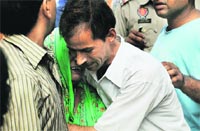 Three craftsmen were asphyxiated after a factory caught fire at Ganesh Nagar in Shiv Puri area here today. The victims could not escape from the factory as its owner had reportedly locked the main gate from outside.


The grieving relatives of a victim in Ludhiana on Monday. Tribune photo: Himanshu Mahajan
Plea against SGPC auditor's reinstatement withdrawn
Amritsar, August 25
SAD (Panch Pardhani) leader Baldev Singh Sirsa today withdrew his petition against the reinstatement of SGPC's internal auditor, SS Kohli, as he failed to produce relevant documents in the case. The petition had been filed before the Sikh Gurdwara Judicial Commission.
SMO questions shopkeeper
Hoshiarpur, August 25
The Health Department today spurred into action after biomedical waste was seized from a junk shop in Garhdiwala on Sunday.
Army holds pension adalat for former servicemen
Ferozepur, August 25

The Golden Arrow Division of the Indian Army today organised a mega pension adalat for ex-servicemen, retired Army personnel and "Veer Naris" (war widows). Hundreds of people from Moga, Muktsar and Ferozepur districts participated in the event held by the Army in order to reach out to veteran soldiers and their families.

A widow interacts with Army officers in Ferozepur on Monday. Tribune photo
2 months after cleanup, Muktsar drain clogs
Muktsar, August 25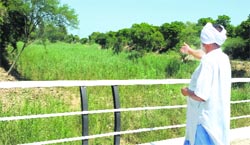 A number of drains in the district are clogged up even though the state government had spent a huge amount of money on cleaning these. For instance, the Irrigation Department spent nearly Rs 18 crore to clean Chand Bhan drain two months ago, but it is still clogged up. Several other drains linked to it are also blocked.

A farmer shows the wild growth in the Chand Bhan drain in Bhullar village. Tribune photo
NRI's death: Inmates want jail officials booked
Gurdaspur, August 25
A day after the custodial death of NRI Prabhjot Singh, around 40 jail inmates who were lodged in the same barrack as the NRI said contempt of court proceedings should be initiated against jail officials, including Jail Superintendent DK Sidhu, for ignoring orders of the District and Sessions Judge.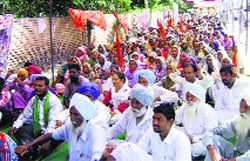 Dalits begin dharna at DC's office
Sangrur, August 25
Members of the Dalit community from Balad Kalan and other villages today started an indefinite dharna outside the district administrative complex (DC's office) here.




Dalits on indefinite dharna in front of the DC's office in Sangrur on Monday. Tribune photo
Sikh bodies defer stir as sewadar apologises
Abohar, August 25
Sikh organisations have decided to defer the dharna scheduled for August 29 at the district collectorate complex in Sriganganagar, Rajasthan. The religious bodies had organised a protest last week over the burning of a religious complex in Chak 11-G village near Chunawadh. A holy book had also gone missing in the incident. A case had been registered on the complaint of Arjun Singh, a devotee.
Police verifying case against SGPC member
Khamano August 25
The Fatehgarh Sahib police are verifying the cases registered against an SGPC member of Bassi Pathana and his opposite group.
Khaira flays Modi govt over sugar import duty hike
Chandigarh, August 25
Former Punjab Congress MLA Sukhpal Singh Khaira has flayed the Modi government for increasing import duty on sugar from 15 to 25 per cent. He termed it a "mischievous step to repay sugar mills and big corporate houses" for having "funded" the BJP election campaign for the Lok Sabha.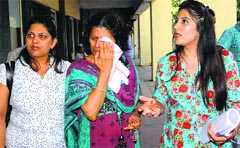 Coloniser's wife attempts suicide
Mohali, August 25
Krispy Khaira, who has levelled allegations of molestation against Punjab Police Inspector General (Information and Technology) Gautam Cheema and another person (Ajay Chaudhary), attempted to commit suicide by consuming sleeping pills at her Sector 70 residence this morning.
Krispy Khaira's mother and other family members talk to mediapersons after meeting SSP Inder Mohan Bhatti in Mohali on Monday. Tribune photo: Vicky Gharu

Another Punjabi youth shot in Manila
Jagraon, August 25
Yet another Punjabi youth was allegedly shot dead in Manila, capital of the Philippines. The victim has been identified as Harminder Singh Sidhu of Kaunke Kalan village near Jagraon. Harminder was the only son of his parents and the sole breadwinner of the family.
Harminder Singh Sidhu
Pumps used to dump sewage into Sutlej removed
Ropar, August 25
The Guru Gobind Singh Super Thermal Plant (GGSSTP) authorities today removed the electric pumps installed to drain sewage from residential quarters situated on the plant complex into the Sutlej. The problem was highlighted by The Tribune in these columns today.
Villagers allege illegal felling of trees
Fatehgarh Sahib, August 25
Residents of Mullanpur village in Bassi Pathana block have alleged that the panchayat members are causing loss to the panchayat properties.
Teachers demand exemption from TET
Fazilka, August 25
The Education Guarantee Scheme (EGS), Alternative Innovative Education (AIE) and Special Trainer teachers (STR) today demanded that they be exempted from having to take the Teacher Eligibility Test (TET). The TET is mandatory for those applying for a permanent job in primary and secondary sections of the Education Department. Several members of the EGS, the AIE and the STR Teachers Union gathered at local Pratap Bagh and protested against the state government.
Leaders express grief at death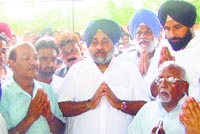 Patiala, August 25
Congress leaders Preneet Kaur and Capt Amarinder Singh, Chief Minister Parkash Singh Badal and Deputy CM Sukhbir Badal have expressed grief over the demise of SAD candidate Bhagwan Dass Juneja's son, Gurpal Juneja, late last night. He was 43. He is survived by his wife and a son.

Deputy CM Sukhbir Badal and Bikram Majithia at the cremation of party leader BD Juneja's son in Patiala on Monday. Tribune photo





How long can body be kept in freezer, asks HC
Chandigarh, August 25
The impasse over keeping Ashutosh Maharaj's body in a freezer by his followers on the pretext that the spiritual guru was in deep meditation may soon melt away, with the Punjab and Haryana High Court questioning the state on its silence over the issue.
Ashutosh Maharaj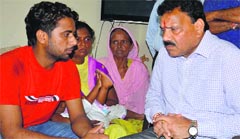 Loan not paid, Dalit locked in cage
Amritsar, August 25
A Dalit of Bhagiari village in Tarn Taran district, Sahib Singh, has complained to the National Scheduled Castes Commission that he was locked inside a cage by an influential landlord of the area yesterday.

Victim Sahib Singh with National SC Commission vice-chairman Raj Kumar Verka (R) in Amritsar on Monday. A Tribune photograph