British Dy PM visits Gurdwara Bangla Sahib
New Delhi, August 25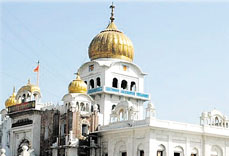 The British Deputy Prime Minister, Nicholas William Peter Clegg, visited Gurdwara Bangla Sahib and paid obeisance today. Delhi Sikh Gurdwara management Committee (DSGMC) president Manjit Singh GK, and international issues advisor Puneet Singh Chandok accompanied Clegg to the Gurdwara, offered him a Siropa and raised the issues concerning the Sikh community. GK appealed to Clegg to clear the UK government's stand on its assistance to the Indian government on the Operation Bluestar at Shri Darbar Sahib in Amritsar in 1984. G.K. said that the revelations made are shocking as a shrine was attacked in the operation and the Sikh community wants clarity on the issue. Clegg along with the Secretary of State Edward Jonathan Davey also visited the kitchen in the Gurdwara and took part in the preparation for Langar. TNS
People losing trust in BJP, says DPCC on bypoll results
New Delhi, August 25
Terming the by-elections results a reprisal, Delhi Congress today said that people are losing trust in BJP and coming back to Congress. "The results of bypolls indicate that people are losing trust in BJP and they are coming back to Congress," said DPCC spokesperson Mukesh Sharma. He said that the Aam Aadmi Party (AAP) has been rejected by people in Punjab and fearing the loss, it had decided not to field its candidates in Haryana.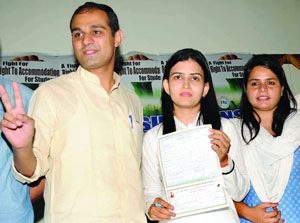 ABVP member Mona Chaudhury (C) shows her membership form after joining the NSUI in the presence of its national president Roji M John (L) and vice-president Amrita Dhawan (R) during a press meet in New Delhi on Monday. Tribune photo: Manas Ranjan Bhui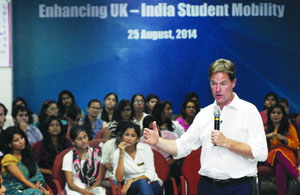 British Deputy Prime Minister Nicholas William Peter Clegg interacts with students during a function at Maitreyi College in New Delhi on Monday. Tribune Photo: Mukesh Aggarwal

It's raining discounts at Delhi Book Fair
New Delhi, August 25
Exhibitors at the ongoing 20th Delhi Book Fair are offering some wonderful gems at throwaway prices to ensure stock clearance and attract more footfalls. A brilliant coffee table book "India: Decorations, Interiors, Design" by Henry Wilson is up for sale for Rs 600 while its original price is Rs 2,500.
Registration of 45 bogus dealers cancelled
New Delhi, August 25
The Delhi Trade and Tax Department has taken stringent action against 45 bogus dealers and tax evaders in the city. Commissioner (Trade and Taxes) Sanjiv Khirwar said that 45 bogus and high risk dealers with fake declared turnover of Rs 868.10 crore in 2013-14 were identified and registration certificate of these dealers cancelled. Input Tax Credit (ITC) of Rs. 7.43 crore was also disallowed during this week. The Commissioner has directed the officials concerned to detect the chain of sale of such dealers and issued instruction to take strict action as per the provision of the DVAT Act 2004.
Drive begins against encroachment, illegal parking
New Delhi, August 25
Acting against encroachment and illegal parking, the Delhi government today launched special drive on Vikas Marg with the help of the Public Welfare Department (PWD), East Delhi Municipal Corporation and the Delhi Traffic Police.
5,244 bottles of illicit liquor seized
New Delhi, August 25
In its special drive launched against the people involved in the trade of illicit liquor, the Delhi government has recovered a huge stock of the brew. The Excise Commissioner, Neeraj Semwal, said the Excise Intelligence Bureau of Excise Department has seized 5,244 bottles of illicit liquor of different brands like Rasila Santra, Besto Whisky, Asli Santra, Impact Whisky, Imperial Blue Whisky, etc. from various parts of the Capital. He said that a number of teams were formed and raids conducted to seize the illicit liquor.
Man stabbed to death over minor issue
New Delhi, August 25
A 28-year-old man was killed by two men who allegedly stabbed him during an argument that started over a minor issue when they were walking in outer Delhi's Nangloi locality last night. The victim has been identified as Harish Pandey who was a labourer working in private companies in Nangloi.
CBI probe sought into CP renovation work
New Delhi, August 25
BJP Delhi president Satish Upadhyay today demanded a CBI inquiry into the renovation work at Connaught Place that begun during the Sheila Dikshit-led Congress government. It was to be completed before the Commonwealth Games-2010. He said the unplanned renovation work took nine years, but is still incomplete. The then planners did not feel the need of creating parking facilities for the local shopkeepers. Upadhyay said that it is matter of concern that neither the shopkeepers nor the visitors are satisfied even after the execution of such a big scheme. Encroachments are increasing, sanitation arrangement is not good and the power supply in the VIP market is erratic. The reason for erratic power supply is the weak infrastructure. TNS
People not getting full ration, alleges CPI
New Delhi, August 25
Communist Party of India (CPI) members today staged a dharna at the rationing office of the Food and Supply Officer (FSO) in Nagloi-Prem Nagar alleging corruption in the Delhi Public Distribution System (PDS). "The Delhi Rationing office is full of corruption and the ration department and ration mafia in Delhi are hand-in-glove to loot the rations of poor people. "People are not given their full rations. As many as 50,000 applications are pending with this FSO for new ration cards," Professor Dinesh Varshney, Assistant Secretary of CPI's Delhi unit, said at the protest. He alleged that BJP, in the name of reducing subsidy, is trying to sabotage the PDS. — PTI