OPED

tribute
She restored the dignity of the destitute
Navin B. Chawla
A biographer pays a tribute to Mother Teresa on her 104th birth anniversary. Called a 'living saint,' she embraced the dying, the crippled and the homeless. Her mission was to care for and love all those who were unwanted and perceived as a burden to the society and shunned by everyone.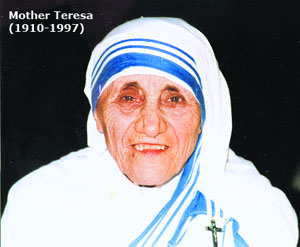 SOME of you may have come across a heartwarming talk on the Internet where an American medical specialist in tropical diseases, George Lombardy by name, addresses a New York gathering regarding his first encounter with Mother Teresa. Let me encapsulate it for those who have not come across it. Years ago, when he was young and unknown, (often looking at the phone and wishing it would ring!), he astonishingly received a call from an unknown caller in New York enquiring if he was indeed Dr Lombardy. Having confirmed this, he next got a call from two doctors in Calcutta (now Kolkata), who discussed their patient's illness without disclosing the patient's name. Next, the first voice rang again to ask whether he could fly out to Calcutta the very next day. Dr Lombardy said what, tomorrow? it's a Sunday and in any case his passport had expired. Don't worry, said the voice, just be ready at 7am!
At 7am that Sunday morning, a Sister of the Missionaries of Charity, Mother Teresa's organisation, arrived in a battered station wagon, drove him to the State Department, specially opened, where he got a new passport in 15 minutes. And then on to the Indian consulate where he got his visa just as quickly, before being driven to the airport. By now they were joined by five other Sisters; he soon learned why. That was because the Sisters could not get him a confirmed ticket, he was on standby. Reaching the airport, the Sisters sat him on a side as they began to work the queue, begging each passenger, systematically from the top of the queue, to surrender his or her seat for the doctor to be able to travel to Calcutta to save Mother Teresa's life.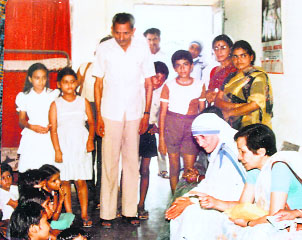 The Missionaries of Charity continues the good work initiated by Mother Teresa. An order that began with 13 Sisters had grown to 4,000 by 1997, when she passed on

The first passenger held out but the second succumbed! Meanwhile, the bewildered and bemused doctor said he would "report" them to Mother Teresa! The Sisters laughed delightedly, mission accomplished. Twenty-four hours later, the doctor reached in Calcutta to join the team, that was able to save her life. A few months ago, a couple of researchers in Canada produced a report entirely critical of Mother Teresa and her work, which found its way as doubtless intended into the media. Some of the issues they raised were about her overly dogmatic views on contraception, abortion and divorce, and also that she offered rudimentary medical care to the sick and dying in her hospices, instead of setting up a proper hospital in Kolkata. Here there was a cruel twist to the tale — that when she herself fell ill, she benefited from the best medical attention on offer.
Life's vocation
Before I answer these accusations, let me encapsulate her life and her work. She was only 18 when she was convinced that her life's vocation lay in her becoming a missionary in far-off India. Skopje, where she was born on August 26, 1910 was so far removed from Bengal that, barring a few Yugoslav Jesuits who fired her young imagination, no one in the small Catholic community would even have known where India lay. Yet the early seeds of her faith, determination and compassion, nurtured by her widowed mother, impelled her to leave her closely knit family, first for Ireland to join the Loreto Order of teaching nuns, (and also to learn some English), and then by boat to faraway Calcutta, which she would grow to love so much that it would become indistinguishable with her own name
Stepping out on the streets
She lived and worked as a Loreto nun for close to 20 years before her true calling, once again, propelled her to find a way to the street, not as a lay woman but continuing to be an ordained nun. The Vatican itself gave her permission, fantastically for the first time in Church history, to step outside her secure convent into a huge and bewildering city. In 1948, Calcutta's pavements were swarming with teeming millions uprooted by the Partition, who now joined the hapless sufferers of the Great Bengal Famine of 1941-1942. Here stepped a 38-year-old nun, now dressed not in the recognisable nun's habit, but a sari similar to what the municipal sweepresses wore. She had no companion, no helper and no moneys.
Confronted with disease, destitution and death all around her at a time (1948), when there was hardly any health care service to speak of, she did what was to become her hallmark. Finding a man dying in the street, she took him to a public hospital, which refused to admit him, precisely on the grounds that they would not waste a hospital bed on a life they said they could not save! Only when she sat before the hospital in dharna that they relented. The man died a few hours later. It was at this point that she began her search for a place where she could take those people whom hospitals refused, where she could nurse them — she had some medical training — and they could at least die being comforted and with some dignity.
She begged various authorities and finally an officer in Calcutta Municipality gave her a pilgrims hall adjacent to the Kalighat temple, where she requested the police and municipal authorities to bring her all and any of those dying whom the hospitals refuse. I never needed to ask Mother Teresa why she had not set up a hospital instead, because I knew that a hospital would tie down her Sisters to a single establishment. And then who would care for those who fell by the wayside? The infant abandoned on a street, the sick and elderly turned out of their homes, leprosy sufferers or AIDS patients that no one wanted to even go near — who would look after them? How many of us actually do anything about the desperately poor we see on the streets? We only have to took within us to know that those who are quick to criticise Mother Teresa and her mission, are unable or unwilling to do anything to help with their own hands.
Transcending religion
Although staunchly Catholic, she reached out to people of all denominations irrespective of their faith, or even the lack of it. She did not believe that conversion was her work. That was God's work, she said. So while she lifted the abandoned baby off a street full of prowling dogs for the sanctuary of her Shishu Bhawan, she would never convert her, because that child would probably be adopted into a nice Hindu household, and such a conversion would then have been a cardinal sin which she would never commit. That is why people of all faiths were so accepting of this diminutive Catholic nun.
Lighting up lives
Mother Teresa was born Agnes Gonxha Bojaxhiu in Skopje, Macedonia, on August 26, 1910. Her family was of Albanian descent.
At the age of 12, she felt the call of God and knew she had to be a missionary. At 18, she left her parental home in Skopje and joined the Sisters of Loreto. She was sent to India and on May 24, 1931, took vows as a nun.
In 1948, she received permission from her superiors to leave the convent to serve the poorest of the poor in the slums of Calcutta.
"The Missionaries of Charity" run orphanages, AIDS hospices and charity centres worldwide and care for refugees, the blind and the disabled. They serve the aged, alcoholics, the poor and homeless and also victims of floods, epidemics and famine.
Besides a number of awards and distinctions, Mother Teresa was awarded the Nobel Peace Prize in 1979 for her humanitarian work.
In my 23 years of close association with her, she never once whispered that perhaps her religion was superior to mine, or through it lay a shorter route to the Divine. Which is also why, when I asked Jyoti Basu, that redoubtable leader of West Bengal, what he, an atheist and communist, could possibly have in common with Mother Teresa for whom God was everything, he replied simply that, "We both share a love for the poor."When Mother Teresa fell sick
Let me now illustrate a personal account of one of Mother Teresa's actual hospitalisations. In 1994, Mother Teresa fell ill in Delhi when she had come to receive an award. She developed high fever and possibly gastroenteritis. Against her will ("I will be all right by tomorrow"), I rushed her to a large public hospital, where she was hospitalised for over a week. I stood vigil.
She was known to have a cardiac history, and it was up to the cardiology department or the gastro department to "take charge". The sad truth is that no one wanted to, frankly scared she might die on their hands. She sensed this too, pleading with me to take her back to her beloved Kolkata. But she could not possibly have been moved. In those days when there were no mobile phones, the switch board at the hospital was jammed with enquiries.
I took almost daily calls from Rashtrapati Bhawan and the PMO, but also from the White House, the Vatican, and chancelleries all over Europe. Ambassadors called frequently. Prime Minister Narasimha Rao offered treatment anywhere in the world. Finally, not quite recovered in my view, her Sisters took her back to Kolkata.
I have to say that the cardiac team was relieved to discharge her! There are are other cases of her hospital treatments that I am aware of. If only the Canadian research team had known the reality about her hospitalisations, perhaps they would not have been so uncharitable.
The healing touch
I can do no better in describing Mother Teresa's work and the continuing work of her Missionaries of Charity under Sister Prema, the present Superior General, than to quote the then Chairman of the Nobel Committee, John Sannes, from his speech at the ceremony honouring Mother Teresa at the award ceremony in Oslo in 1979. He said, "The hallmark of her work has been respect for the individual and the individual's worth and dignity. The loneliest and the most wretched, the dying destitute, the abandoned lepers, have all been received by her and her Sisters with warm compassion devoid of condescension, based on her reverence for Christ in man. In her eyes, the person who, in the accepted sense, is the recipient, is also the giver and the one who gives the most. Giving— something of oneself — is what confers real joy, and the person who is allowed to give is the one who receives the most precious gift ...This is the life of Mother Teresa and her Sisters — a life of strict poverty and long days and nights of toil, a life that affords little room for other joys but the most precious."
A Noble soul indeed
In a speech honouring Mother Teresa, John Sannes, then Chairman of the Nobel Committee, said: "The hallmark of her work has been respect for the individual and the individual's worth and dignity. the loneliest and the most wretched, the dying destitute, the abandoned lepers, have all been received by her and her Sisters with warm compassion devoid of condescension, based on her reverence for Christ in man. In her eyes, the person who, in the accepted sense, is the recipient, is also the giver, and the one who gives the most."
On October 19, 2003, Pope John Paul II beatified Mother Teresa who had died in 1997. The process leading up to the beatification has been the shortest in modern history. In early 1999 — less than two years after Mother Teresa's death— Pope John Paul waived the normal five-year waiting period and allowed the immediate opening of her canonisation cause.
The writer, the former Chief Election Commissioner of India, is the author of Mother Teresa: The Authorized