OPED —

Society
Have we lost the art of listening ?
Shiv Visvanathan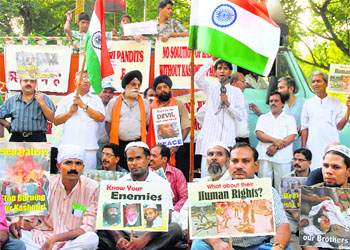 Activists stage a peaceful protest at Jantar Mantar against the continued violence in Kashmir. Humanitarian causes are being hijacked by ideologues. Tribune photo: Manas Ranjan Bhui
Watching TV can be a fascinating but disturbing exercise. As India glues itself to watch its favourite soap opera, one senses the country loves news. This news has a structure. The introduction is flat, usually delivered by junior broadcasters. News as fact interests no one. What creates controversy, gossip, a sense of patriotism and its accompanying hangover is news as interpretation.
The process is simple. At the centre is an anchor who asks questions and hunts for the answer he wants. Eight to 10 so-called experts converge around him. Most are party representatives sent to recite their points to redundancy. There are also a few retired bureaucrats hawkish in their policy, a few Army officers fighting old wars with relish, a bevy of hand-picked journalists and an odd academic or two for garnish. The battle is ruthless. Each of them outshouts the other, yet each grins knowing he will be back to fight the next day.
Lost act of communication


The importance of debate

It is the Greeks who usually get the credit for starting the practice of debate. The title "Father of debate," is usually given to the Greek teacher Protagoras of Abdera (c. 481-411 BC), who taught at Athens.


Two of his most famous statements that survive are, "Man is the measure of all things," and "There are two sides to every question." That it was necessary for men to seek knowledge and ask questions was at the heart of Protagoras' thought.


Epistemological work in the Indian tradition is exemplary. The fine distinctions between tark, vitark and kutark, (argument, counter argument and false argument) have been laid down in amazing detail. They provide clear instructions on dialogue and discourse as well as the classification of knowledge itself.
It is a battle of stamina and few bother to communicate or listen. The act of communication, the ritual sharing of differences is completely lost. Any shift in position is seen as suspect in this arena where jingoism, vigilantism, witch-hunting, fundamentalism are enacted as ruthless shadow plays. Each commentator is a bit player in this mayhem, while the anchor plays God and judge. This evening show is India's proudest moment and citizens rush to watch it. It is a modern substitute for the hanging where the citizens were duty bound to applaud the sovereign's decision. At least in earlier eras, the crowd could turn difficult and try to liberate the victim. Now all a spectator can do is switch it off or write a letter to the editor.
Debates are doomed
There is another variant of the TV. This is social media, which is less reverent and yet even here there is a structured sense of inevitability, a feeling that debates are doomed. The argumentative Indian, to use Amartya Sen's label, does not want to listen. He prefers to use his opponent as a dart board, shoot his points and settle back to acclaim. As a wag put it, "It is a drama, where a government needs a hearing aid and the expert a lesson in the art of listening".
Listening becomes important not just to break through the redundancy of speech but to explore its complexity. If conversations are an act of reciprocity, listening is that ritual where the self acknowledges the necessity of the other. One of the most poignant anecdotes I heard about listening was during the Delhi riots of 1984. One of the citizens helping with relief during the aftermath, a distinguished scientist Dinesh Mohan, recounted this story. He told the audience that he was stunned by the violence and almost ashamed of his helplessness. He said so to a survivor, an old woman sitting quietly. She consoled him gently by saying, "Teri duty sunana hai, meri duty rona hai". ("Your duty is to listen and mine is to cry"). This statement emphasises the ultimate poignancy of listening, its power of empathy, its tacit magic of healing, its ability to reinforce and redeem memory. In the BJP regime of today there is a political impasse of several kinds. A suppressed majority, mauled and taunted for years about its culture and identity now lashes back at a minority. In fact, the majority feels it has been victimised for years by an amalgam of Mughal rule, colonial power and modern electoral democracy.
It despises the secular elite which suppressed its feelings and now considers the liberal and secular with contempt. There is a second variant of the impasse where the Left and the Right are locked against each other, each ejecting ideological clichés from its political vending machines.
Politics of suspicion
Whether it is CPM or CPI, they look anachronistic reciting bits of Engels even when referring to the latest political budget. The Right also responds in kind, criticising the Congress for betraying the poor. The third variant is the debate between civil society and the State, where each practises the politics of suspicion. The Right feels patriotism is in perpetual threat and the Left that radicalism, like virginity, must remain untouchable.
Any shift in position, any attempt to respond positively is met with suspicion. Ideological purity seems to be valued even more in this era where ideological coffers are empty. This almost set piece opera of slap-stick debates is all we have in the public space masquerading as democracy.
Pluralistic possibilities of India
Any attempt to rethink sends danger signals to the political barometer. Let me recount a few personal examples. As a sociologist in Gujarat, I spent almost a decade studying the riots. I watched the slow sanitisation of Modi as he rose to power. I also covered Modi's election and witnessed the media machine that brought him to power. I was often impressed with his media performances which I analysed symbolically. Immediately, the custodians of ideology, would speculate if I had "sold out". They label anyone who opposed Modi but now agree with him as "neo-converts". I agree many have accepted Modi after the emptiness of the Congress.Yet none of them see the need for long tactical battles, for scholarly studies for the critiques in the long run. They impose fatwas on those they do not agree with, hardly ever examining why the Left lost or is so irrelevant. The pluralistic possibilities of India are lost between these battling groups. Strangely, many talk of justice. The Right hits out at the Left for advocating Palestine, dismissing them for not fighting for the rights of Kashmiri Pandits. The Left hits back by talking of Muzzafarnagar or Gujarat of 2002.
Equation of nation with society
Yet none of them are bothered about debate and the importance of communicating with your opponent. Words like patriotism, secularism, development —all become Procrustean. Think of a simple suggestion. One of the most obvious presences after Modi's rise to power is the RSS. But the RSS is treated as a hoarding rather than a living entity which needs to be enticed and challenged. The politics of "untouchability" allows the RSS to get away with a nationalism which is unquestioned. No one challenges its equation of nation with society when nationalism needs a desperate exorcism.
Similarly, the Left needs to realise that its political economy of technology, has no real theory of culture. Illiteracy adds to illiteracy as Indian democracy faces its greatest impasse. Worse, the intellectual map becomes dotted with silences and the unsayable.
The dissenting individual, the lone academic scholar, the insights of other languages are ignored as the band marches Left or Right. In fact, the Left and the Right become strange bedfellows against the claim to other insights or other imaginations. Polarisation becomes a lazy way of constructing either the politics of knowledge or democracy. One has to realise democracy can only survive on the compost heap of conversations. There is a desperate need to escape the current atmosphere of hate, suspicion and cliché. Both sides have to have a concept of the common good because without it a public debate is impossible.
There is a need to shed our fear of vulnerability. One needs to look the fool, play the trickster, look silly, admit to shifts in position, argue from different angles and retain the vision of democracy as playfulness. Of course, one needs the stomach to survive and relish debate. It has casualties and it is never bloodless but it need not suffer the violence of vigilantism, the tyranny of majoritarian threat, the mechanisms of state which sees dissent as sedition. Such a position is an art form where the self becomes both lens and kaleidoscope, reflecting on both self and other. India has few practitioners of such an art. One thinks of Ashis Nandy's secular reading of corruption as a form of competence. The novelist UR Ananthamurthy, showing how literature could rework ideological socialism.
One remembers Ramu Gandhi insisting that philosophers should represent the philosophies of the last man, and the anthropologist JPS Uberoi re-reading science to show a dream of other possibilities. India needs such contrary imaginations. This essay is an invitation to honour them and quarrel with such ideas. Democracy needs to be liberated regularly from its certainties. One has to return play, surprise and difference to the centre of our world before clichés reduce us to tyrannical dullness.
— Shiv Visvanathan is a social science nomad