Close contest likely for Patiala (Urban) seat
Patiala, August 20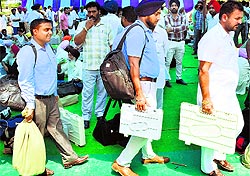 Around 1.51 lakh voters will decide the fate of the candidates in fray for the Patiala Assembly seat tomorrow. It is expected to be a close contest among Preneet Kaur of the Congress, Bhagwan Dass Juneja of the SAD-BJP combine and Harjit Singh Adaltiwala of the Aam Admi Party.


AAP hands over two video clips to RO


Candidates' appeal

Officials on way to polling booths in Patiala. Tribune photo

Most complaints invalid, says returning officer
Talwandi Sabo, August 20
The Election Commission's office here was flooded with complaints against the ruling SAD-BJP alliance ahead of the byelection in Talwandi Sabo tomorrow. But the returning officer dismissed most of these as "invalid."
Badal pays tributes to Sant Longowal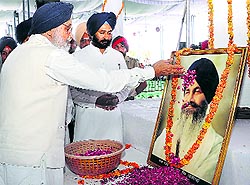 Sangrur, August 20
Chief Minister Parkash Singh Badal today said that Dhanaula resident Bikram had hurled a shoe at him during a function at Issru village near Khanna at the instance of the Aam Aadmi Party (AAP). He said it was all engineered by AAP activists. "The shoe-thrower and his accomplices have told the police that they are AAP workers," he said.


Chief Minister Parkash Singh Badal pays floral tributes to Sant Harchand Singh Longowal on Wednesday. A Tribune photograph

Diesel subsidy won't do, govt tells Centre
Chandigarh, August 20
Stressing that the subsidy announced on diesel is not adequate, the state government has urged the Centre to announce a special package in view of the drought-like situation in the state.
CM seeks report on activities of Sherwood Officers' Society
Chandigarh, August 20
Taking serious note of senior state officials indulging in real estate activities, Chief Minister Parkash Singh Badal has sought a detailed report on the activities of the Sherwood Officers' Society, Amritsar.
Cong leaders back Jagmeet
Muktsar, August 20
Seven days after the suspension of former Congress Working Committee (CWC) member Jagmeet Singh Brar from the party for his alleged "irresponsible and highly undesirable utterances", two former Congress MLAs and a former district Congress president came out in his support today.
Few private players show interest in Adarsh Schools
Faridkot, August 20
A year after the managements of 11 Adarsh Schools withdrew their support to these institutions, the Punjab Education Development Board (PEDB) is facing difficulty in finding new partners to operate these schools under the public-private partnership (PPP)mode.
Alleging fake case, kin of accused block road
Amritsar, August 20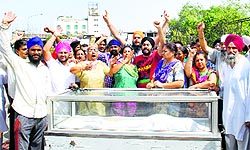 Family members of Gurparkash Singh alias Sunny, who was arrested by the Tarn Taran police earlier on the charge of carrying drugs, block traffic at Bhandari Bridge here after his six-year-old daughter Namanjot Kaur died late last night.



Family members of Gurparkash Singh, who was arrested by the Tarn Taran police, place the body of his minor daughter on the Bhandari Bridge in Amritsar on Wednesday. Photo: RK Soni

Ready to edit scenes, says film producer
Hoshiarpur, August 20
The cast of Punjabi film 'Kaum de Heere' that has stirred up a controversy has said they will organise a special pre-release screening of the film for those opposing it. Actor-turned-singer Raj Kakra said they would organise the screening if the government asked them to do so.



Ban Punjabi film: Chawla tells Centre
Delhi-Lahore bus escort vehicle collides with car
Amritsar, August 20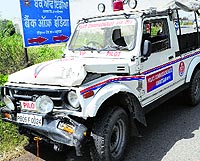 The Punjab Police pilot Gypsy escorting 'Sada-E-Sarhad' Delhi-Lahore bus met with an accident here today. The Gypsy rammed into a car on the Amritsar-Attari bypass. Sub-Inspector Surinder Pal, who was leading the escort team, sustained minor injuries on his arm. While the Gypsy got damaged in the accident, the Delhi-Lahore bus continued its journey to Delhi.



The damaged Gypsy in Amritsar on Wednesday. Photo: Vishal Kumar


Government to set up 2,500 more suvidha kendras
Chandigarh, August 20
To expand the reach of its flagship Right to Services (RTS) Act, the Punjab Government will now be setting up suvidha kendras in rural areas across the state. More such kendras will also be opened in urban areas. The state has proposed to open 2,500 such centres.

16 yrs on, investors to be refunded Rs 10 cr


Ropar, August 20
After 16 years of legal battle, nearly 22,000 investors from Chandigarh, Punjab, Haryana and Himachal Pradesh will get their money from eight Chandigarh-based companies. These firms had failed to refund their money in the 90s.




Online form not must for admission: HC
Chandigarh, August 20
The Punjab and Haryana High Court has made it clear that a candidate cannot be logged off the admission process just because she could not fill the form online due to poor connectivity.

Axing trees: Capt moves High Court
Chandigarh, August 20
About three months after he won the Amritsar parliamentary seat, Capt Amarinder Singh today moved the Punjab and Haryana High to save "hundreds of trees" from being axed.




Paddy worth Rs 1.5 cr missing
Muktsar, August 20
Nearly 21,000 bags of paddy have allegedly gone missing from a rice mill in Malout sub-division of the district, causing a loss of nearly Rs 1.5 crore to state-owned procurement agencies.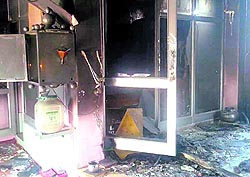 Religious complex gutted in fire
Abohar, August 20
A fire engulfed a religious complex at a remote village in Rajasthan's border district Sriganganagar this morning. The complex, which is located in a field, houses a gurdwara and "mazaars" of a peer. A holy book was found missing.



A room of the gurdwara that was gutted in fire in Sriganganagar on Wednesday. A Tribune photograph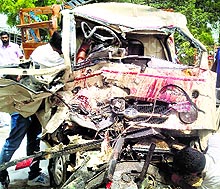 Two killed in road mishap near Fazilka
Fazilka, August 20
Two youths were killed when the canter they were travelling collided head on with a private bus on the Abohar road on the outskirts of Fazilka town this afternoon.



Armymen die in accident

The mangled remains of a canter which collided with a bus near Fazilka on Wednesday.

Four held for blackmail
Abohar, August 20
The police in Suratgarh (Sriganganagar) claimed to have arrested four persons, including a constable's husband, accused of blackmailing Vinod Kumar of Badopal.