Venom worth Rs 10 cr, two snakes seized
Chandigarh, August 20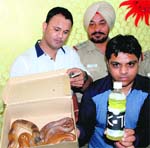 A team of the People for Animals (PFA), in association with the Chandigarh police, has recovered two sand boa snakes and 600 ml of snake venom from a private bus in Hallo Majra. The recovered snakes and venom were being smuggled out of India, the police said.




Police officials show two sand boa snakes and venom seized from a bus in Hallo Majra. Tribune photo: Nitin Mittal
49 schools in Píkula dist without toilets
Panchkula, August 20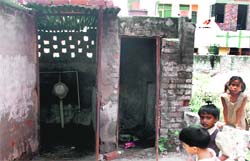 One in every 10 schools in Panchkula district does not have toilets. And the existing ones are in bad shape as there is inadequate staff to maintain the toilets. The ground reality is in contradiction to the report of the Ministry of Human Resource Development (MHRD) on government schools without toilets.


Toilets at Government Primary School, Sector 19, Panchkula, are a shambles. Tribune photo: Nitin Mittal

Dhanwantary studentsí protest hits patients hard
Chandigarh, August 20

Hundreds of patients who visited Shri Dhanwantary Ayurvedic Hospital and College, Sector 46, today faced inconvenience as students bolted the doors of the OPD from inside this morning.


Students hold a protest outside the administrative block of Shri Dhanwantary Ayurvedic College at Sector 46 in Chandigarh on Wednesday. Tribune photo: Parvesh Chauhan
He battled skull deformity to become a doctor
Chandigarh, August 19


While taking him to a doctor at the age of three, family members of 24-year-old Vivek Bansal, who had symptoms such as drowsy eyes, irritable nature and a slightly abnormal face, had never imagined that their little awareness would pay them so well in life ahead.
Then and now: Vijay Bansal at age 3 and 24
Cyclist crushed to death under CTU bus near Rose Garden
Chandigarh, August 20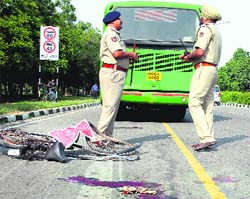 A 22-year-old cyclist died while the pillion rider was critically injured when a speeding bus of the CTU hit them near Rose Garden on the road dividing Sectors 16 and 17 here this afternoon. The victim, Subhash Yadav, died on the spot while his cousin Rohit Yadav (24) is battling for life at the PGI. Both of them had come to the city two days ago from Pratapgarh in UP in search of a job.



Policemen inspect the accident spot near Rose Garden in Chandigarh on Wednesday. Tribune photo: S Chandan

Hit by car, student dies
Dera Bassi, August 20
A 12-year-old student was killed after being hit by an Alto car near AAR Jain Model Senior Secondary School here today. The deceased has been identified as Gourav, a resident of Dadpura Mohalla, Ward No. 13, Dera Bassi.
The victim, Gourav. A file photo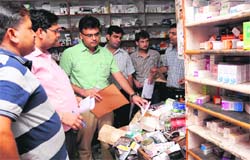 Five chemist shops raided
Chandigarh, August 20
Acting on a tip off that chemists in the city were not issuing bills, the UT Excise and Taxation Department today conducted surprise raids at five chemist shops in different parts of the city.

UT Excise and Taxation officials conduct a surprise check at a chemist shop at the GMSH, Sector 16, in Chandigarh on Wednesday. Tribune Photo: Manoj Mahajan
Psychiatrists in a fix over prescribing drug
Chandigarh, August 20
The Narcotics Control Bureauís recent crackdown on supply of a schedule K drug by a city-based-psychiatrist, has left other doctors in a fix.
UT getting excess supply of kerosene, says survey
Chandigarh, August 20
A four-month survey carried by the UT Department of Food and Supplies to check the exact consumption of subsidised kerosene in the city found an excess supply of 108 kilo litre by the Union Petroleum Ministry.
City industrialists seek reduction in collector rates
Chandigarh, August 20
Industrialists and traders of the city today met officials of the Estate Office in connection with collector rates. They demanded the collector rates be reduced.
New CHB Chairman takes charge
Chandigarh, August 20
Bhupinder Singh Bhalla, a UT cadre officer, today took over as the new Chairman of Chandigarh Housing Board (CHB). He was earlier posted as the Administrator of Daman and Diu and Dadra and Nagar Haveli.
Cops claim leads in Mohali robbery
Mohali, August 20
The Mohali police claim to have got some leads on the robbery case in Phase VI, here, yesterday.
Anti-defacement drive in city
Chandigarh, August 20
The Chandigarh Municipal Corporation today conducted an anti-defacement checking drive in various sectors, including Sectors 8, 9, 10, 11, 12, 14 and 15.
Licence of two firms suspended
Chandigarh, August 20
The Secretary, Market Committee, has suspended the licence of two firms owned by Dinesh Mahajan, chairman of the Market Committee, Chandigarh, in the Sector 26 fruit and vegetable market.
RBI, industrialists organise coin mela
Chandigarh, August 20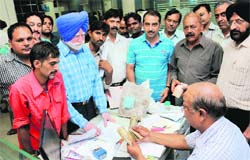 The Chandigarh Beopar Mandal (CBM), in association with the Reserve Bank of India (RBI), today organised a coin-cum-currency exchange mela at the State Bank of India (SBI) main branch, Sector 17.




Traders collect coins at a coin mela in Sector 17, Chandigarh, on Wednesday. Tribune photo: Manoj Mahajan
Passengers halt express train
Chandigarh, August 20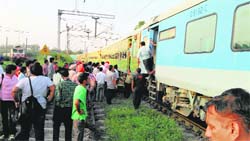 Around 20 passengers who boarded the AC coach of the Chandigarh-Amritsar Intercity Express this evening made the train halt near the Chandigarh railway station yard as its air-conditioning system was not working.


Passengers alight from the AC coach of the Chandigarh-Amritsar Intercity Express near the Chandigarh railway station on Wednesday. A Tribune photograph
Residents object to cutting of trees at Dadu Majra dispensary
Chandigarh, August 20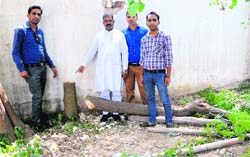 Chaos prevailed at the civil dispensary in Dadu Majra after a contractor, while repairing a wall, cut down two trees on the premises at around 1 pm.



Residents show an axed tree; and (below) the spot where the production of paver blocks is being carried out on the premises of the civil dispensary in Dadu Majra on Wednesday. Tribune Photo: S Chandan
For 3 days, maggot-infested man lies neglected at GMCH
Chandigarh, August 20
In yet another incident of official apathy towards abandoned ailing persons, a maggot-infested man kept lying neglected at the emergency unit of Government Medical College and Hospital, Sector 32.
Zirakpur JACC president ends fast
Zirakpur, August 20
Vijay Dutta, the president of Joint Action Coordination Committee (JACC), Zirakpur, ended his fast-unto-death after four days here today.
Itís triple joy and blessings for this NRI couple
Mohali, August 20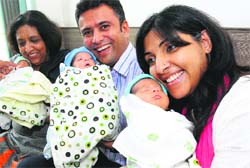 Fortis Hospital today announced the birth of triplets, the first ever at the multispeciality hospital. The mother, Pooja Lalseta, and her three sons, Ansh, Aryan and Rishaan, are doing well and in good health, said the hospital authorities.


Pooja Lalseta, her husband and mother hold the month-old triplet boys at a private hospital in Mohali on Wednesday. Tribune photo: Vicky Gharu
Awareness rally, contests mark Akshay Urja Diwas celebrations
Mohali, August 20
Various programmes, including an awareness rally, poster-making, collage-making, slogan-writing and advocacy on the maximum use of renewable energy, marked the ďARISE-2014Ē celebrations, which is observed as Akshay Urja Diwas (Renewable Energy Day), on the campus of Chandigarh University, Gharuan.
Mohali admn to weed out Congress grass
Mohali, August 20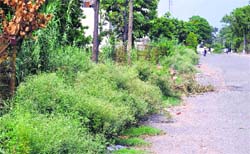 To get rid of Parthenium Hysterophorus, commonly called Congress grass, from residential areas and roadsides of Mohali district, a special campaign will be launched. After the removal of this wild grass, saplings will be planted under the Green Mission initiated by the Punjab government.


The wild growth at a residential area in Phase IX, Mohali. A File photo
PU elections
Parties raise issues concerning students
Chandigarh, August 20
Keeping in view the student council elections, all major parties are busy these days in submitting memorandums on various issues to the Panjab University authorities.



INSO activists hold a dharna; and right) PUSU and HPSA members protest in front of the Vice-Chancellor's office at Panjab University in Chandigarh on Wednesday. Tribune Photos: S Chandan and Manoj Mahajan
HPSU, NSUI announce their campus panels
Chandigarh, August 20
The Himachal Pradesh Studentsí Union (HPSU) today announced its campus panel for the upcoming student council elections.
Minor clash at Panjab varsity
Chandigarh August 20
A clash occurred between members of the National Studentsí Union of India (NSUI) and the Gandhi Group Student Union (GGSU) outside the Kasturba Gandhi Girlsí Hostel at Panjab University at 10:30 pm today.