HSGMC member Daduwal held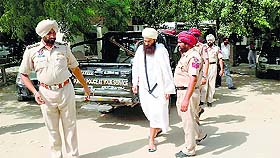 Bathinda, August 22
Baba Baljit Singh Daduwal, Sant Samaj leader and member of the ad hoc Haryana Sikh Gurdwara Management Committee (HSGMC), was arrested along with eight of his supporters from Gurdwara Jandalisar in Kotshamir village late last night.


Baba Baljit Singh Daduwal being taken to a Faridkot court on Friday. A Tribune photograph
Now, jolt to SGPC at Takht Sri Hazur Sahib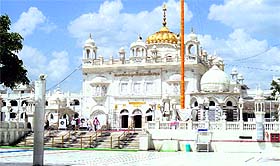 Amritsar, August 22
Close on the heels of the constitution of a separate gurdwara panel in Haryana, the Shiromani Gurdwara Parbandhak Committee (SGPC) suffered another setback, this time in Maharashtra.





File photo of Sri Hazur Sahib Gurdwara
Conductor thrashed, Roadways staff block Abohar bus stand
Abohar, August 22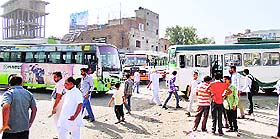 The Punjab Roadways staff today blocked the entry and exit points of the main bus stand here, causing inconvenience to commuters. They were protesting against the thrashing of a Roadways conductor by the staff of a private transport company.

Roadways buses parked at the entry point of the Abohar bus stand on Friday. A Tribune photograph
Namdharis end 22-day strike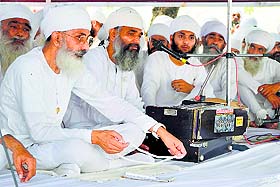 Ludhiana, August 22
In a sudden turn of events, the Namdhari faction owing allegiance to Thakur Dalip Singh, ended their protest today. They had been on a fast outside the mini secretariat for the past 22 days.






Thakur Dalip Singh (first left) in Ludhiana on Friday. Tribune Photo: Himanshu Mahajan
Crime against women
85-yr-old woman 'raped'
Batala, August 22
An 85-year-old woman was allegedly raped by a person at Shahpur Jajan village on Tuesday night.
Probe poll violence: Jassi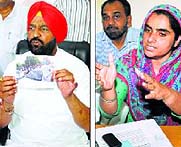 Bathinda, August 22
Congress candidate Harminder Singh Jassi today demanded that the Election Commission of India (ECI) should take serious note of the "gross misuse of government machinery by Akali leaders and supporters of the SAD candidate" during the polling yesterday.



Congress candidate Harmohinder Singh Jassi and (right) AAP candidate Baljinder Kaur at separate press conferences in Bathinda on Friday. Tribune photos: Pawan Sharma

Akali groups clash, five injured
Talwandi Sabo, August 22
Five persons were reportedly injured in a clash between two groups in Marjiana village this morning. One of the groups alleged that they were attacked with firearms.
Power Corp caught showing line losses as farm subsidy
Chandigarh, August 22
Punjab State Power Corporation Limited (PSPCL) has been caught on the wrong foot. The Punjab State Electricity Regulatory Commission (PSERC) has caught the PSPCL showing its transmission and distribution losses as excess consumption in the subsidised agriculture sector.
Targets not met, PSPCL slapped Rs 107.27 cr fine
Chandigarh, August 22
The PSERC has slapped a fine of Rs 107.27 crore on the PSPCL for failing to achieve its targets. In its order, the PSERC said that the PSPCL failed to implement various directives, which impacted consumer services as well as performance of the utility.
'Kaum de Heere' producer to move tribunal against ban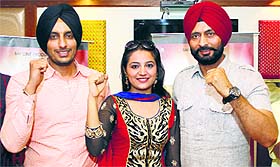 Jalandhar, August 22
Having been barred from release by the Union Government over law and order issues, the producer of the Punjabi film 'Kaum de Heere', Satish Katyal, today said he would move the Film Certification Appellate Tribunal against the order.




A file photo of the star cast of Punjabi film 'Kaum de Heere'
Jail inmates get training in bridal makeup
Chandigarh, August 22
The hands that once messed with the law will now deck up brides. In a unique initiative, the prison staff in Punjab is imparting training in bridal makeup to jail inmates.

Gidda queens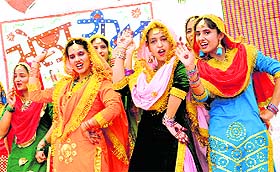 Girls perform in a gidda competition during the teej festival in Kala Tibba village, Abohar, on Friday. Amandeep and Komal have been adjudged as gidda queens in college and school categories, respectively. A Tribune Photograph

Not paid, pensioners shut down Patiala bus stand
Patiala, August 22
The Pepsu Road Transport Corporation (PRTC) has yet again failed to release pensions for the months of June and July. Following the delay, a large number of pensioners today gathered at the Patiala bus stand and closed the gates for over two hours.

Five killed in three road accidents
Abohar, August 22
Five persons were killed in three road accidents in Abohar and Hanumangarh since last evening. Arshdeep (6) was killed when a pick-up van hit him near Balluana village on the Abohar-Malout road yesterday. Driver Aakash Kumar has been booked for negligent driving.

shoe-hurling case
All three accused denied bail
Khanna, August 22
Judicial Magistrate (First Class) Harjinder Singh has refused the bail plea of all three accused in the shoe-hurling incident, Bikram, Mahinder Pal and Harvinder Singh, according to the DIG, Ludhiana Range, Gurinder Singh Dhillon.

Illegal detention case: Cops told to submit affidavits
Chandigarh, August 22
A day after the Punjab and Haryana High Court directed Senior Superintendent of Police (Detective) and other policemen to remain present before the Bench in an illegal detention case, the officers found themselves at the receiving end after they appeared before Justice TPS Mann this morning.

Encroachers get shamlat land ownership, forest official cries foul
Ropar, August 22


The award of ownership rights to those who encroached shamlat land six years ago at nearby Kalyanpur village has caused a new controversy. While the district administration has not made any headway in the probe that started in January 2009, District Forest Officer Naresh Mahajan last month alleged people were being granted rights to shamlat land against the law.

Balad Kalan land row
Court orders release of 40 persons
Sangrur, August 22
Following an application moved by the prosecution through Station House Officer (SHO), Bhawanigarh, the court of Additional Chief Judicial Magistrate BS Ramana today ordered the release of 40 persons, lodged in district jail here since June 28.

Hearing on SGPC auditor's reinstatement put off again
Amritsar, August 22
The Sikh Gurdwara Judicial Commission did not take up the hearing of a petition against the reinstatement of SGPC's internal auditor SS Kohli today as the petitioner failed to furnish relevant documents in the case.




One arrested for firing at students' rally
Abohar, August 22
The police yesterday arrested Ravinder Kumar Godara (27), alias Vicky, of Sikhan Wali Dhaani (Dabwali) for allegedly planning an attack at the students' rally in Sangria, 64 km from Abohar, in Hanumangarh district of Rajasthan, on August 19.

Minor boy sodomised
Abohar, August 22
Two residents of Killianwali village have been booked under Sections 377, 34 of the IPC for sexually assaulting a mentally challenged minor boy. The boy's father alleged that his son, aged about 14 years, was taken to outskirts of the city and sodomised by two persons yesterday.