Police plea declined, Daduwal sent to judicial lockup for 12 days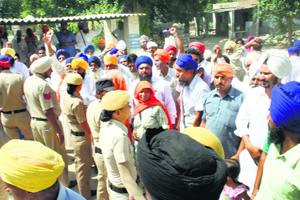 Faridkot, August 24
The duty magistrate today declined the police plea to extend Baba Baljit Singh Daduwal's remand and ordered that he be sent to a judicial lockup for 12 days. The controversial Sikh preacher is a member of the ad hoc Haryana Sikh Gurdwara Management Committee (HSGMC).


Baba Baljit Singh Daduwal's supporters outside the court of duty magistrate in Faridkot on Sunday. Tribune photo

Turmoil in Pak hits bilateral trade
Amritsar, August 24
The ongoing political turmoil in Pakistan coupled with strained Indo-Pak ties due to repeated ceasefire violations along the border has taken a toll on the bilateral trade between the two counties through the Attari-Wagah land route.
Ajnala martyrs' remains immersed in Ganga
Haridwar, August 24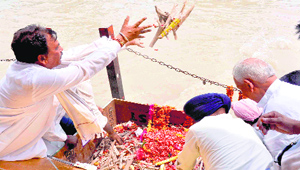 The mortal remains of martyrs of the 1857 uprising, which were recovered from a historic well in Ajnala, were immersed in the Ganga here today. Surendra Kochar, a historian, said a total of 282 Indian sepoys who had revolted against the British rule in 1857 were shot in Ajnala. Their bodies were dumped in a well, which was later covered with mud.

The remains of sepoys of 1857 uprising that were dug out from a well in Ajnala, Amritsar, being immersed in the Ganga at Haridwar on Sunday. Tribune photo: Rameshwar Gaur

AAP workers thrashed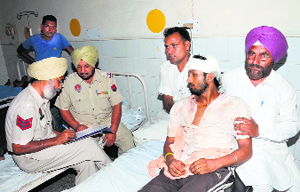 Talwandi Sabo, August 24
Four Aam Aadmi Party (AAP) workers were allegedly beaten up by SAD workers at Gyana village late last night. Jaspal Singh and Beant Singh had head injuries and Gurpreet Singh and Jaswinder Singh suffered injuries on their legs. They were admitted to the Civil Hospital at Talwandi Sabo.



Policemen record the statement of an injured AAP worker at the Talwandi Sabo hospital on Sunday. Tribune photo: Pawan Sharma

We are here to stay, says Patiala MP
Patiala, August 24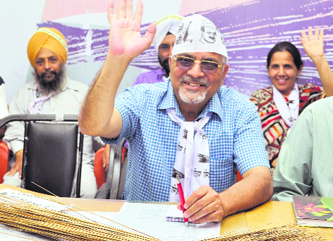 With less than 24 hours left for the counting of votes for the Patiala (Urban) byelection, Aam Aadmi Party leaders, Dharamvira Gandhi (Patiala MP) and party candidate HS Adaltiwala, have lashed out at the ruling SAD-BJP alliance and the Congress for allegedly threatening AAP volunteers ahead of the polling day following which the poll percentage in the city went below 60 per cent.


Both SAD and Congress candidates distributed freebies worth crores to woo voters. We have videos to substantiate our claim. Neither do we have that kind of money nor will we indulge in such malpractices. Even if we lose, we will continue to strengthen our party in Punjab. — Dharamvira Gandhi, Patiala MP and AAP leader

New prisons being built to tackle rush, HC told
Chandigarh, August 24
The Punjab Government has initiated the process of constructing new jails at Ferozepur, Fazilka and Zira for overcoming the problem of overcrowding. The Deputy Commissioner concerned has been asked to identify land for the purpose.
Sewage from Ropar thermal plant polluting Sutlej
Ropar, August 24

The Guru Gobind Singh Super Thermal Plant (GGSSTP) authorities seem not to care two hoots about the advice of environmentalists or the Punjab Pollution Control Board norms.


An electric pump used for draining sewage into the Sutlej at the Guru Gobind Singh Super Thermal Plant in Ropar; (and right) sewage being drained into a rainwater drain that finally falls into the Sutlej. Tribune photos

Soon, bakery products from jail
Chandigarh, August 24
Biscuits and namkeen made in jail by convicts will soon be marketed on a larger scale. The Jails Department has approved an expansion plan of a bakery at the Ludhiana Central Jail. Its production will go up from 1 quintal at present to 18 quintals per day.
Sikh bodies call for boycott of Patna Sahib Jathedar
Amritsar, August 24
Various Sikh organisations have called for religious and social boycott of Takht Sri Patna Sahib Jathedar Giani Iqbal Singh for his alleged association with the Rashtriya Swayamsewak Sangh (RSS).
Jakhar demands high-level probe into blue card scam
Abohar, August 24
Congress Legislative Party Leader Sunil Jakhar said here today that 33,000 applications for blue cards had been collected by organising camps in a town which has a population of 1.75 lakh, including minors. He said 15,000 cards had been prepared and beneficiaries were being forced to attend photo-sessions sponsored by SAD workers and to humiliate them socially, pictures were being released through the regional media. Still, hundreds of government seed farm colony residents took to streets to express anguish over denial of such cards which entitles them to avail subsidised food grain under the Food Security Act, he added.
Fazilka residents join hands to save 113-year-old building
Fazilka, August 24
Local residents have launched a drive to save a 113-year-old building, Raghuvar Bhawan, and seek heritage status for it. Led by social activist Lachhman Dost, the residents daily gather before the dilapidated building. They have also tied an iron chain around the building, flashing a message "Save it from total ruin". "It is the state government's duty to protect the building," said Dost.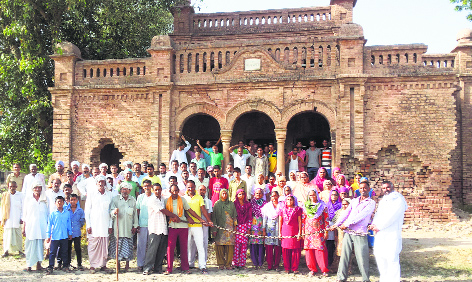 Residents gather before Raghuvar Bhawan in Fazilka. Photo: Praful Chander Nagpal

Owners shut brick-kilns, demand easier norms
Hoshiarpur, August 24
Brick-kiln owners have shut down their units for an indefinite period. They have asked the government to withdraw its decision to make environmental clearance certificate mandatory for brick-kilns.
'Veer Naris' honoured
Abohar, August 24
Army Wives Welfare Association (AWWA) zonal president Geeta Katoch distributed gifts to Veer Naris, cash to meritorious students and certificates of appreciation to women who excelled in AWWA activities at a function in west Rajasthan last evening. The recipients included Santosh Devi Jakhar, widow of Jat Regiment Sepoy Kalu Ram Jakhar of Kheri Charnan village who had sacrificed his life during the Kargil war. The function saw a host of other activities such as tree plantation, medical camp for women and children and a cleanliness drive. — OC
Talent show held at Abohar college
Abohar, August 24
Students of Gopi Chand Arya Mahila College in Abohar showcased their skills during two-day talent hunt competitions, which concluded today. Members of the organising committee said about 20 per cent of the college girls had participated in the event and such an overwhelming response had kindled hope of women empowerment in different streams. — OC

A student performs a solo dance in Abohar on Sunday. Tribune photo


Mata Gujri College told to refund fee
Fatehgarh Sahib, August 24
Failing to provide any evidence that the seat vacated by a student could not be filled, Mata Gujri College here has been directed by a Permanent Lok Adalat (PLA) to refund Rs 42,216 to a student who had shifted to some other educational institution.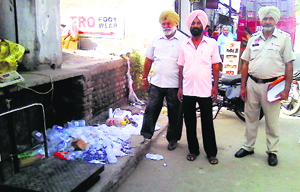 Biomedical waste seized from junk dealer's shop
Hoshiarpur, August 24
A team of the Garhdiwala police with the help of Health Department officials seized biomedical waste from a junk dealer's shop at Garhdiwala today. The development brings to the fore illegal and callous disposal of hazardous biomedical waste in the area.


Health and police officials stand near the illegaly disposed biomedical waste in Hoshiarpur on Sunday. Tribune photo

Murder case cracked in Phagwara; 2 held
Phagwara, August 24
The Phagwara police have claimed to have cracked the murder case of Rohit Sabharwal of Jalandhar in less than 24 hours. Amar Nath (alias Balla) of Amritsar and Vinay of Mandi Gobindgarh have been arrested in connection with the case, while raids were being conducted to arrest Samit Randev and Kaka Electrician (Both of Jalandhar). The fifth accused, Rohit (alias Raju) of Jalandhar, was also injured in the clash and was admitted to a Jalandhar hospital.
Illegal immigration
NAPA urges CM to help Punjabis detained in US
Chandigarh, August 24
The North American Punjabi Association (NAPA) has urged Chief Minister Parkash Singh Badal to take up the matter of youths detained in the US for illegal immigration and take action against the erring travel agents.
Kidnapped Sangrur boy found dead
Sangrur, August 24
The police today recovered the body of five-year-old Harwinder Singh of Sheron village (near Sunam), who was kidnapped on Friday, from the bridge of a canal at Sular Gharat village. The police have arrested Harwinder Singh and Gagandeep Singh of Nagri village.
Farmer guns down wife, commits suicide
Abohar, August 24
A farmer, who had migrated from Abohar to Sriganganagar some time back, allegedly gunned down his wife and then committed suicide at his home here on Sunday. Their son Amandeep and daughter-in-law saw their bodies lying in pools of blood only when the deceased couple's daughter Mamta, married in Sirsa, informed them that the couple was not responding to her phone calls.
1 dead, 2 injured in clash between two families
Fatehgarh Sahib, August 24
One person was killed and two others were injured in a clash among members of two families in Nabipur village. Ambu Ram (50) was killed while his wife Swarn Kaur and their nephew Raj Kumar were injured. They were admitted to the Civil Hospital for treatment.
SGPC member booked for clash
Khamano, August 24
An SGPC member, Avtar Singh Ria of Bassi Pathana, has been booked along with some of his family members following a group clash. Sources said the clash took place between two families at Ria village due to an old rivalry.
Three rounded up for alluring TET candidates
Ludhiana, August 24
Three persons have been rounded up at Sangrur for allegedly alluring TET (Teacher Eligibility Test) candidates to bribe them to clear the test. The move came following intervention by Education Minister Daljeet Singh Cheema.
Murder convicts escape from open jail
Abohar, August 24
Two convicts, who were awarded life sentence for murders, have escaped from the open jail in Sriganganagar, Rajasthan. Central Jail superintendent Nand Singh Shekhawat said Lal Chand Meghwal of Chak 3ND village was sentenced to life imprisonment in a murder case by a Hanumangarh court in October 2001. Kalu Khan alias Waris Ali of Kikkarwali village was awarded life term in another murder case in March 2005.
Lab technician attacked in Phagwara
Phagwara, August 24
About half a dozen unidentified armed assailants attacked a lab technician, Tushar Duggal of Hadiabad, with sharp-edged weapons near the local Power House last night. Duggal sustained serious injuries. He was returning home when the assailants attacked him and took away cash amounting Rs 4,000, an ATM card, driving licence and other valuable documents. Duggal was admitted to the local Civil Hospital. A case has been registered. OC
Drug peddler arrested
Phagwara, August 24
The police have arrested a drug peddler, Karamjit Singh of Gobind Pura, and recovered 5 kg of puppy husk from his possession. The arrest was made at a naka near the old octroi post at the Phagwara-Banga road, the police said. In another case, the police have arrested a motorcycle thief, Mandip Singh of the Matiarpura locality, and recovered a bike from his possession on Saturday night. — OC