Bhaini Sahib tense as Namdharis clash
Bhaini Sahib, August 26
Heavy security was deployed at Bhaini Sahib following a minor clash among two groups of Namdharis. The first group owed allegiance to Satguru Uday Singh while the other supported Thakur Dalip Singh. An old rivalry is said to be the reason behind the clash. Tension prevailed in the area following the incident.
Water dispute: Heavy force deployed as farmers protest
Abohar, August 26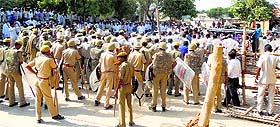 Hundreds of farmers held a day-long protest in Gharsana segment of Sriganganagar district on the Rajasthan border, demanding the release of more water in the Indira Gandhi Canal. Another protest was held at Rawatsar in Hanumangarh district.

Police personnel deployed outside the SDM's office in Sriganganagar on Tuesday. Tribune Photo

Local BJP leaders blame state govt for Juneja's defeat
Patiala, August 26
The defeat of SAD-BJP candidate Bhagwan Dass Juneja by a margin of 23,282 votes speaks volumes about the BJP performance that has a formidable presence in Patiala.
Beginning of the end for Akalis, says Capt
Chandigarh, August 26
The Congress Deputy Leader in the Lok Sabha, Capt Amarinder Singh, today lashed out at Chief Minister Parkash Singh Badal and Deputy CM Sukhbir Badal for having unleashed a 'reign of terror' in Talwandi Sabo to win the byelection by hook or by crook."
Resentment grows within Aam Aadmi Party
Patiala, August 26
Shocked at the poor performance of the Aam Aadmi Party in the state byelections, at least 100 AAP volunteers led by the party's Patiala district unit chief, Kundan Gogia, today tried to hand over a memorandum to Dr Dharamvira Gandhi, Patiala legislator, to demand his resignation.
Three thermal projects may not take off
Jalandhar, August 26
Notwithstanding the tall claims of the SAD-BJP government that Punjab is on its way to becoming power surplus, the three upcoming thermal plants are in a limbo. Highly placed sources in the state government said that the coal-based 1,320-MW Gobindpura plant, the 2,640-MW Gidderbaha plant and the 1,320-MW Kot Shamir plant are unlikely to come up.


clu charges
Renewable energy projects exempted
Chandigarh August 26
To promote renewable energy power projects in the state, Punjab has exempted these projects from paying change of land use (CLU) and external development charges (EDC). Besides, solar power projects have also been exempted from obtaining any NOC from the Punjab Pollution Control Board.
Medical college sans approval, students demand migration
Faridkot, August 26
Over 100 MBBS students of Chintpurni Medical College along with their parents spent a night outside the Baba Farid University of Health Sciences (BFUHS) in protest against the Medical Council of India's refusal to grant recognition to their degrees.
Poll office gives clean chit to SAD leaders
Bathinda, August 26
The election office has given a clean chit to Akali ministers and leaders present in Talwandi Sabo on August 21. Rules state that "outsiders" must leave a constituency 24 hours before polling.
BSF increases security in Ajnala Sector
Gurdaspur, August 26
Keeping in view the incidents of shelling from the Pakistani side, the BSF and the Pathankot police have increased security in and around areas bordering the India-Pakistan border.
Blanket factory gutted near Kohara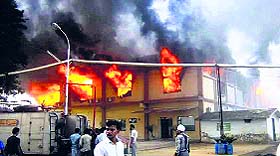 Machhiwara, August 26
A devastating fire broke out in a blanket factory on the Kohara-Machhiwara road near Kohara. About 10 fire engines requisitioned from Ludhiana and Sawhnewal were pressed into service to control the fire, but the flames could not be doused till the filing of this report.



A blanket factory on fire near Kohara on Tuesday. A Tribune photograph
note-for-vote scam
DGP asked to act against SGPC member's guard
Muktsar, August 26
In the note-for-vote scam at Kauni village, the Chief Electoral Officer has written to the Director General of Police to take action against the security guard of SGPC member Navtej Singh Kauni for taking part in electioneering in violation of the Government Employees (Conduct) Rules.
Khaira dares PM to rein in Badals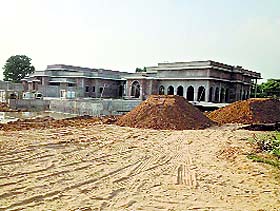 Chandigarh, August 26
Congress leader Sukhpal Singh Khaira today dared Prime Minister Narendra Modi to reign in the Badals as he (PM) had often taken a high moral ground, promising to cleanse the political system. He claimed that not content with the two luxurious five-star hotels at Gurgaon, the Badals had now started building another five-star resort, under the banner of Metro Eco Greens, near New Chandigarh.



The upcoming five-star resort at Pallanpur near New Chandigarh.
MC employees block highway
Moga, August 26
Hundreds of employees of municipal corporations and councils who came from across the state raised slogans against the SAD-BJP government and blocked the national highway on the main square in city today.
Tehsildar found absent from duty
Fatehgarh Sahib, August 26
In a surprise check at the Sub Divisional Magistrate's office, Deputy Commissioner Arun Sekhri found Teshildar Hari Lal Nafari absent from duty.
'Detainee' denies he was picked up by cops
Chandigarh, August 26
Less than a month after the Punjab Police were accused of harassing a person in illegal detention, the alleged detainee has expressed his unwillingness to pursue the matter. He was allegedly picked by the police from a "sangat darshan" programme for being "near the security zone of the Chief Minister". The man has denied that he was picked up by the police.
No water supply, residents block road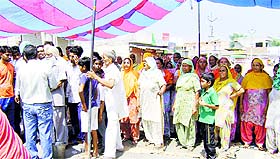 Sangrur, August 26
Alleging acute shortage of drinking water supply through municipal pipelines for the past couple of months, residents of Haripura Basti blocked the Sangrur-Patiala bypass road today.




Residents of Haripura Basti block the Sangrur-Patiala bypass at Sangrur on Tuesday. A Tribune photograph
Blue card scam: People block national highway
Abohar, August 26
The controversy over the release of blue cards to only 15,000 of the 33,000 applicants took an ugly turn today. Government seed farm residents blocked traffic on the Abohar-Malout stretch of the National Highway-10. The protesters said only 300 of the 1,100 applicants at the seed farm had got blue cards. They alleged the deserving families had been denied the benefit. Leader of the Opposition Sunil Jakhar had recently demanded a high-level probe into the "blue card scam."
Counselling delayed, MD aspirants protest
Hoshiarpur, August 26
Aspirants seeking admission to MD (Ayurveda) and MD (Homoeopathy) courses held a protest on Guru Ravidas Ayurved University campus, when counselling was delayed. These aspirants had come from all over Punjab and neighbouring states to attend a counselling session.
Cheating at TET: Probe begins
Fazilka, August 26
Sub-Divisional Magistrate (SDM), Fazilka, Karnail Singh has begun a probe into the allegations of teachers regarding the use of unfair means at the Teachers Eligibility Test (TET) examination held in Fazilka on Sunday.
Farmers protest irregular power supply
Morinda: Irked over irregular and inadequate power supply, farmers from villages adjoining Morinda staged a protest in front of the Powercom office on Tuesday. Bharatiya Kisan Union (Rajewal) district president Harjeet Singh Doomchheri led the protest. He said if the state government failed to address their grievances, a state-level dharna would be organised at Patiala on August 28. — TNS
Allege inhuman treatment
Youths detained in US in pitiable state
Chandigarh, August 26
With dreams of a better future in his eyes, Paramjit Singh of Mahabalipur near Sultanpur Lodhi in Kapurthala, was desperate to immigrate to the US. He did manage to reach there, but illegally through a travel agent who fleeced him. Not able to find the promised employment and deportation staring at his face, Paramjit allegedly committed suicide in December last year.
Daduwal's bail plea to be heard today
Mansa, August 26
Sikh radical leader and member of the ad hoc Haryana Sikh Gurdwara Management Committee (HSGMC) Baljit Singh Daduwal will be brought here on production warrant on Thursday. The police are conducting an inquiry into a case registered on January 2, 2011, following a clash between Dera Sacha Sauda followers and Sikhs in Bhikhi town of Mansa district.
Five booked for selling Abohar girl
Abohar, August 26
The Khuyiansarwer police have booked a woman labour contractor and four men for kidnapping and selling a 22-year-old Dalit girl to a differently-abled man in Chotian village of Rampura Phul segment in Bathinda district. The girl was allegedly a victim of sexual assault.