Ebola Virus Disease a dreaded infection
The ongoing epidemic of Ebola Virus has brought this virulent disease under the spotlight. The affected West-African countries are Guinea, Sierra Leone and Liberia, with Nigeria joining in. So far, according to WHO, 1, 427 patients have died due to this virus and 2,615 have been infected.
Jagdish Chander
TheRe is an ongoing epidemic of Ebola virus Disease (EVD) since December 2013 in three poverty-stricken, West-African countries namely, Guinea, Sierra Leone and Liberia. The fourth one, Nigeria, has recently been added to this list. Rightly cited as the deadliest and unprecedented outbreak ever, affecting 2,615 and killing 1,427 patients, with 64 per cent case fatality. Though this part of Africa is hyper endemic for another viral disease, Lassa hemorrhagic fever but never for the EVD, surprising the entire medical fraternity. It is the same brutal civil war-torn geographic diamond-rich belt as depicted in the award-winning movie Blood Diamond. But now it is making headlines for health reasons. The politico-economic situation had somewhat stabilised during the last decade or so but now this calamity will have long-term bearing.
Previous outbreaks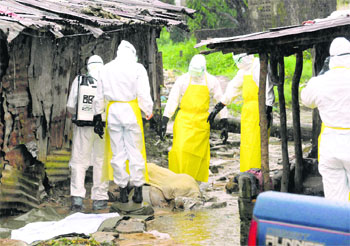 Health workers with protective clothing prepare to carry an abandoned dead body that presented symptoms of Ebola at Duwala market in Monrovia. To control the Ebola epidemic spreading through Western Africa, Liberia has quarantined remote villages at the epicentre of the virus. This evokes memory of medieval Europe's "plague villages". photo: Reuters
This is not the first time that Ebola virus disease has come into the limelight. The very first outbreak occurred in August, 1976 in Yambuku village, in northern Zaire, a Central-African country, now called the Democratic Republic of Congo, just south of Ebola river. It was labelled as Ebola virus after the name of this river. This epidemic affected 318 and killed 280 patients.The second one occurred almost parallel to the first one from June to November, 1976 in Nzara, southern Sudan, bordering Zaire, affecting 284 and killing 151 patients. The third epidemic flared up again in southern Sudan in 1979 in the same region as the previous one and it claimed 22 lives. The next significant epidemic in this series occurred in 1995 in Kikwit, the southern region of rainforests of Zaire, affecting 315 and killing 250 patients, with case fatality of 79 per cent.
Since 1976, there have been 24 self-limiting outbreaks of Ebola viruses, confined to the African subcontinent only but the ongoing one is the severest. The origin of this epidemic can be traced back to the two-year-old boy in Gueckedou village, southeastern Guinea. He died on December 6, 2013, a few days after he fell ill with fever, vomiting and diarrhoea. The disease spread to kill the child's mother, sister and grandmother, before infecting a health care worker. From this "patient zero" it has now spread across four countries of western Africa.
Transmission of the virus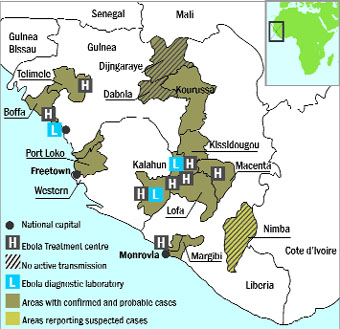 Ebola virus is a filamentous RNA virus. The Ebola virus appears long, slender, taking different shapes due to its tendencies to curl at one end assuming a "b"-shaped appearance. Although its breadth is uniformly about 80 nm but its length may vary greatly from 900 to 14,000 nm. The process of its multiplication within host cells resembles that of the rabies virus. It is an enveloped virus, hence it is unstable in lipid solvents like ether and soap solution. It is completely inactivated by heating at 60°C for an hour.
There are five species of this virus, namely, Zaire, Sudan, Bundibugyo, Tai Forest and Reston ebola virus. The first two have been named after the country of origin, the third one after the city of origin in western Uganda adjoining DR Congo, the fourth one after the name of Tai Forest National Park in Ivory Coast. The fifth, the only outside Africa, named after a town in Virginia (USA), where primates were infected in a quarantine unit and it was simultaneously found in monkeys of rainforests of the Philippines. Subsequently, it has also been found in several outbreaks among pigs in People's Republic of China and the Philippines.
The US Government and Centre of Diseases Control and Prevention (CDC) applied for the patent for Bundibugyo ebola virus, which they have got (vide No.CA2741523A1) on April, 2010 entitled, "Human Ebolavirus species and compositions and methods thereof".This will have long-term implications in the diagnostics and treatment, including the antiviral drugs and vaccines pertaining to the virus.What remains, as an unsolved puzzle, is how can a virus be termed as invention and patented until and unless it is a created or a modified one?
The Ebola virus is introduced into the human population through close contact with the blood, secretions, organs or bodily fluids of infected animals, chimpanzee, gorilla, cave-dwelling fruit bats and monkeys. The health-care workers have frequently been infected while treating patients with suspected or confirmed cases. The traditional funeral practices may also be a potential source of infection. The virus can be transmitted through semen of affected person upto seven weeks after recovery from the illness.
The Zaire ebola virus is more virulent since it has a case-fatality rate ranging between 50 and 90 per cent. It has never been reported outside the three African countries, namely, DR Congo, Republic of Congo and Gabon. The Reston ebola virus is infectious to humans but does not cause serious disease or death, which is only the species reported outside Africa. The natural reservoir of the Ebola virus is not exactly known but it is thought to be non-human primates like monkeys, gorillas and chimpanzees. Peridomestic rodents are also suspected to be the reservoirs of infection in Zaire and Sudan ebola viruses, whereas Asian crab-eating macaque is the reservoir of infection in Reston ebola virus.
It is one of the highly infectious and virulent viruses. Therefore, very strict precautions have to be taken to prevent its transmission. Its infection can be prevented with simple measures such as wearing gloves, protective masks and clothing in hospitals. This is a highly infectious microbe, which falls under Risk Group-4 or "Category A" pathogens to be handled with Biosafety Level-4 (BSL-4) precautions. At present there is no available cure or vaccine for it. This makes it the perfect weapon for biowarfare.
Clinical features
The Filoviruses, Ebola and Marburg, are among the most virulent human pathogens leading to case fatality rate betwen 50 and 90 per cent. The Ebola virus disease was previously known as Ebola hemorrhagic fever (EHF). The incubation period is from four to six days and rarely it may extend up to three weeks — making its range as 21 days. That is why a quarantine period of at least three weeks is mandatory in suspected cases.
The EVD is a severe acute viral illness, often characterised by the sudden onset of fever, intense weakness, muscle pain, headache, sore throat, vomiting, diarrhoea, rash, impaired kidney and liver functions and, in some cases, both internal and external bleeding. Many individuals have skin rashes like that of measles. In two to three days, there is vomiting followed by diarrhoea that often contains blood. Moreover, bleeding from eyes, ears, nose, mouth, rectum and injection site is a characteristic feature of this illness. The hemorrhage in internal body organs is due to disseminated intravascular coagulation. Such profuse blood loss leads to a state of shock, entailing death in up to 90 per cent of cases, usually within a week of the onset of the disease.
The other diseases which should be ruled out before diagnosing EVD include malaria, typhoid fever, shigellosis, cholera, leptospirosis, plague, rickettsioses, relapsing fever, meningitis, hepatitis and viral hemorrhagic fevers. Ebola virus infection can be diagnosed definitively in laboratory by several types of tests: antibody-capture enzyme-linked immunosorbent assay (ELISA), antigen detection tests, real time reverse transcriptase polymerase chain reaction (RT-PCR) assay, electron microscopy and virus isolation by tissue cultures. Samples from patients are an extreme biohazard risk; sample processing and testing should be conducted under maximum biological containment conditions. A suspected or probable case requires laboratory confirmation of IgM antibody, RT-PCR or viral isolation.
There is no specific treatment of EVD because no proven or licensed antiviral drug is effective. Moreover, no vaccine is available hence a symptomatic approach with good nursing care is resorted to, thereby preventing/treating shock, cerebral edema, kidney failure and secondary bacterial infections. In the current outbreak, hemorrhages are slightly less prominent as compared to the previous ones. Secondly, it is also suspected that it may now be transmitted through the airborne route due to mutations. This feature has never been reported before this outbreak.
The WHO as well as FDA have cleared two drugs for this disease, bypassing animal/human trials or ethical issues, keeping in view the gravity of the situation. One is ZMapp, which consists of humanised monoclonal antibodies, developed by the San-Diego-based Mapp Biopharmaceutical, in collaboration with LeafBio and Defyrus. It is produced in greenhouses in genetically modified tobacco plants (Nicotiana). This drug has been given to two American philanthropists, working in the "Ebola Zone," who are now recovering in the US. Giving of serum from a convalescing patient is a very common practice in Africa, with good results. In his famous novel of 1987, Outbreak (now also a movie) about an imaginary Motaba virus outbreak, Robin Cook, described a similar situation as the current Ebola virus threat and patients being treated by such antisera. The other drug is TKM-Ebola, produced by a Canadian firm, Tekmira Pharmaceuticals, wherein GM crops giant, Monsanto has invested $1.5 million. It acts through small interfering RNA (siRNA) i.e. messenger RNA in the form of lipid nanoparticle that is designed to silence certain critical Ebolavirus genes. Earlier, the trials were stopped due to some bizarre results but now for the time being these have been cleared in this objective situation.
The writer is Professor & Head, Deptt of Microbiology, Government Medical College Hospital, Chandigarh
Prevention of EVD

There is no need to create panic because all previous outbreaks of EVD were self-limiting in nature. The US Centre for Disease Control (CDC) has issued its highest-level alert (level 1) for a response to the EVD crisis in Western Africa.

The World Bank has offered $200m and WHO $100m as emergency assistance to the affected countries.

The National Centre for Disease Control (NCDC), New Delhi has released interim guidelines for tracing and management of contacts for EVD.

Any person who has had close contact with a patient under investigation and /or treatment for suspected, probable or confirmed case, should be closely monitored for appearance of symptoms.

If symptoms of EVD appear within the first 21 days following the contact, the individual should be considered a probable case and reported to the NCDC.