Cheema orders probe into cheating at TET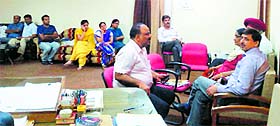 Fazilka, August 27
Education Minister Daljeet Singh Cheema has ordered an inquiry into the allegations of cheating at a Teacher Eligibility Test (TET) examination held in Fazilka on August 24.


Kamal Garg, DPI, conducts probe in Fazilka on Wednesday. Tribune photo
Won't join BJP, say Gill's supporters
Moga, August 27
The former state DGP, Paramdip Singh Gill, is facing trouble on his home turf. His supporters are angry over his decision to join the BJP and shift base to Jammu and Kashmir.
Doors closed for BJP leaders: CM
Patiala, August 27
Expressing concern at former state police chief PS Gill joining the BJP, Chief Minister Parkash Singh Badal today said that "our party will never allow any BJP leader to join the SAD." He said despite the SAD candidate's defeat in the Patiala byelection, his government was committed to the development of Patiala and that Sangat Darshan programmes would be held in Patiala regularly.
BJP wants taxes rationalised
Chandigarh, August 27
The Punjab BJP wants taxes rationalised in order to win back voters. But its senior partner (SAD) feels there is no scope to cut the taxes as the state's resource generation is not keeping pace with the state's burgeoning expenditure.
Development officers threaten strike over ADC postings
Chandigarh, August 27
Agitated over the alleged disregard shown to the written instructions by the Chief Minister regarding the posting of Additional Deputy Commissioners (Development) in various districts of the state, the Rural Development Officers Association today said it would resort to indefinite strike in case the CM's instructions were not implemented by the authorities concerned.
Thermal power plants in state starve for coal
Jalandhar, August 27
Only one unit of the Rajpura thermal plant is functional these days due to shortage of coal. The plant has two units of 700-MW capacity each. "Shutting down of one unit of the Rajpura thermal plant has affected power generation badly," PSPCL officials confirmed.
Sharp decline in water table
Chandigarh, August 27
Deficient rainfall in the state has led to a sharp decline in the water table. It may take years to make up for the loss by way of natural recharging, even if the monsoon is normal next year.
Payments not cleared, firms refuse to supply goods to jails
Bathinda, August 27
The Jails Department, which is starved of funds, owes crores to various firms that have now refused to supply goods till their dues are cleared. Things have come to such a pass that local suppliers have stopped supplying LPG and other essential items to the Central Jail, Nabha. The jail authorities owe Rs 63 lakh to suppliers with bills pending since 2011.
Woman dies in custody; police call it suicide
Amritsar, August 27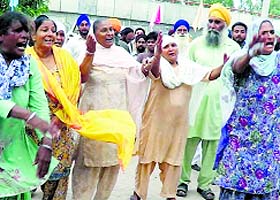 Sukhwinder Kaur (60), a widow and a resident of Nawanpind, died in mysterious circumstances while in the custody of the Jandiala police. The police claimed that she had committed suicide. But her family members alleged that she had died during rigorous police grilling. They staged a dharna outside the police station and demanded action against the "guilty" policemen. The deceased's daughter, Harbant Kaur, said her mother may have been beaten up and tortured.


The wailing family members of the woman who allegedly died in police custody in Jandiala on Wednesday. A Tribune Photograph
Balad Kalan land row: Dalits burn Dhindsa's effigy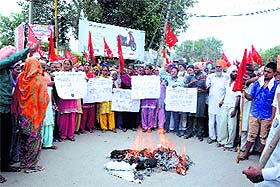 Sangrur, August 27
Members of the Dalit community who have been on a protest outside the DC's office here since August 25 today burnt an effigy of Rajya Sabha MP Sukhdev Singh Dhindsa and Chief Parliamentary Secretary Parkash Chand Garg.





Dalits from Balad Kalan and other villagesprotest in Sangrur on Wednesday. A Tribune photograph
molestation charge against igp
Realtor's kin meet Sukhbir, demand action against cop

Chandigarh, August 27
The Devinder Singh Gill alias Devinder Thapa case reached the highest echelons of power today with the family members of Krispy Khaira, Thapa's wife, along with others met Deputy Chief Minister Sukhbir Badal and demanded action against Inspector General of Police Gautam Cheema and his friend Ajay Chaudhary.

Deputy CM Sukhbir Badal listens to public grievances during his Sangat Darshan in Chandigarh on Wednesday. Tribune photo
Bhattal meets Hooda, seeks relief for riot-hit
Chandigarh, August 27
Senior Congress leader and former Chief Minister Rajinder Kaur Bhattal today led a delegation of Haryana Sikhs to meet Haryana Chief Minister Bhupinder Singh Hooda at his official residence here. She also handed him a charter of demands, said a statement issued here today.
Struggling Batala industry wants freight policy reintroduced
Batala, August 27
Batala's industrial units are in trouble as the Centre is not willing to reintroduce the Freight Equalisation Policy (FEP). The policy was introduced in 1948, but was withdrawn in 1992 following the liberalisation policy adopted by then Finance Minister Dr Manmohan Singh.
Sexual assault on toddler triggers protest
Abohar, August 27
Hundreds of people held a protest when an 18-month-old girl was sexually assaulted in 2KNJ Makkasar village in Hanumangarh last night. The accused, Gurmej Singh, has been arrested under the Protection of Children from Sexual Offences .
Cotton sold at prices higher than MSP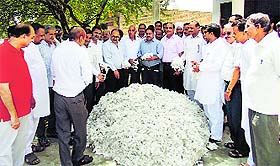 Abohar, August 27
The purchase of cotton produce started at the new grain market here today. Ami Chand of Kala Tibba and Bhagwan Dass of Bhangarkhera village sold about 5,000 quintals of cotton with private traders offering Rs 4,511 against the minimum support price (MSP) of Rs 3,950.



Traders buy cotton in Abohar on Wednesday. Tribune photo
Two students killed as car rams into tree near Morinda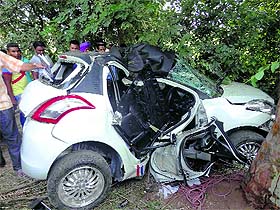 Morinda, August 27
Two students of Chandigarh University, Gharuan, were killed and as many injured when their car rammed into a tree on the Chandigarh road here today. The deceased, Prabhjot Singh (23) and Navreet Singh (20), both residents of Kurali, were students of BBA. Injured Parveen Singh and Tanveer Singh, both brothers and residents of Ropar, were taken to a local hospital from where Tanveer was referred to the Ropar Civil Hospital, while Parveen was discharged after first-aid.


The mangled remains of the car near Morinda on Wednesday.
Complete bandh in Samrala
Samrala, August 27
A complete bandh was observed at Samrala in support of Valmiki community's demand to take action against a doctor of the local Civil Hospital who allegedly did not treat an injured youth properly, thus causing his death. All shops and commercial establishments remained closed and the city wore a deserted look today.
Nullah project hangs fire for want of funds
Sangrur, August 27
The local municipal council has failed to finish covering the ganda nullah passing through Nurpura locality outside the Sunami Gate due to shortage of funds. The project to cover the 14-ft wide, 150-yard-long nullah with slabs has been hanging fire.
Private solar plants to be reality soon
Chandigarh, August 27
Punjab has achieved a new first by pioneering net-metering policy for installation of solar photovoltaic power plants. This was stated by Revenue and Renewable Energy Minister Bikram Singh Majithia. He said the net-metering policy would be applicable to all domestic, institutional, industrial and commercial consumers of the Punjab State Power Corporation Limited (PSPCL).
Dera chief Ashutosh Maharaj case
HC lambasts govt over inability to end impasse
Chandigarh, August 27
The Punjab and Haryana High Court today lambasted the Punjab government for its inability to end the impasse over Ashutosh Maharaj's body being kept in a freezer by his followers on the pretext that the spiritual guru was in deep meditation.
HC summons Faridkot SSP in youth's kidnapping case
Faridkot, August 27
The Punjab and Haryana High Court today directed Senior Superintendent of Police, Faridkot, to appear before the court in a case of kidnapping of a 25-year-old youth. The victim's sister has filed a writ petition in the court, accusing the police of shielding the accused and failing to trace her brother.
Roadways GM arrested for bribery
Moga, August 27
The Vigilance Bureau today caught Sukhdip Singh, General Manager, Punjab Roadways, Moga, for accepting a bribe of Rs 15,000 from a transporter.